Nikon's new D5100 fills what has been a sizable gap in the current lineup between the D3100 and the spectacularly popular D7000. Though the Nikon D5100's predecessor (the D5000) has been available, its now antiquated features have generally left it relegated to the "also ran" position. Perhaps more importantly, Nikon shooters had been left to choose between a new but decidedly entry-level D3100 and a semi-pro oriented D7000 . But no longer: the D5100 combines an impressive set of features with a reasonable price, currently $799 or the body, or $893 with a kit lens.
The Specs
A quick comparison of the relevant features of these three cameras is in order before discussing the specifics of the D5100's new features. To expand the table, select 50 from the drop down box at the top left that currently reads "10".
Nikon D3100
Nikon D5100
Nikon D7000
Amazon Price (body only)
$626

$799
$1199
Body Material
Polycarbonate
Polycarbonate
Magnesium Alloy & Polycarbonate
LCD Size / Resolution
3.o"
230,000
3.o"
921,000
3.0"
921,000 pixels
LCD Articulated?
No
Yes
No
Highest RAW file bit-depth
12-bit
14-bit
14-bit
Sensor Resolution
14.2 Megapixels
16.2 Megapixels
16.2 Megapixels
ISO Range
100-3200
+6400
+12800
100-6400
+12800
+25600
100-6400
+12800
+25600
Total AF Focus Points
11
11
39
Cross-Type AF Sensors
1
1
9
Metering System
420 pixel RGB sensor evaluative
6% Center Weighted
2.5% Spot
420 pixel RGB sensor evaluative
2016 pixel RGB Metering Sensor
Built-In HDR Processing
No
Yes
No
Max Frame Rate : JPG
3fps
4fps
6fps
Shutter Speed Range
1/4000th - 30 sec.
+bulb
1/4000th - 30 sec.
+bulb
1/8000th - 30 sec.
+bulb
Maximum Flash Sync Shutter Speed (standard flash)
1/200th sec.
1/200th sec.
1/250th sec.
Built-In Wireless Control of Dedicated Strobes
No
No
Yes
Available HD Video Frame Rates
24fps @ 1080p
24 or 30 fps @720p
24 or 30 fps @ 1080p
24 or 30 fps @720p
24fps @ 1080p,
24 or 30 fps @720p
Media Type
SD / SDHC / SDXC
SD / SDHC / SDXC
SD / SDHC / SDXC
(2 slots)
Weight
455g (body only)
560g
690g (body only)
780g with battery
Viewfinder Coverage
95%
.80x
95%
.78x
100% Frame,
.95x magnification
.
Construction
The body of the D5100 is constructed of polycarbonate plastic, and is therefore more in line with the D3100, though that is to be expected in this price range.  Whether this is a drawback or advantage is a toss-up; many photographers prefer to carry a lighter body, especially when hiking or traveling, while others prefer the solid feel and durability of metal.
New to the D5100, though, is a high resolution, articulated LCD monitor. This 921,000 pixel screen puts the 230,000 pixel LCD of the D3100 (and D5000) to shame. Much like those found in the Canon T3i and 60D, the D5100's LCD can be flipped out to the camera's left side and swiveled 360 degrees (while the  D5000's hinged at the bottom). The ability for LCDs to face forward (unobstructed by the camera support) is popular among video bloggers and others who want to directly monitor the screen while recording themselves.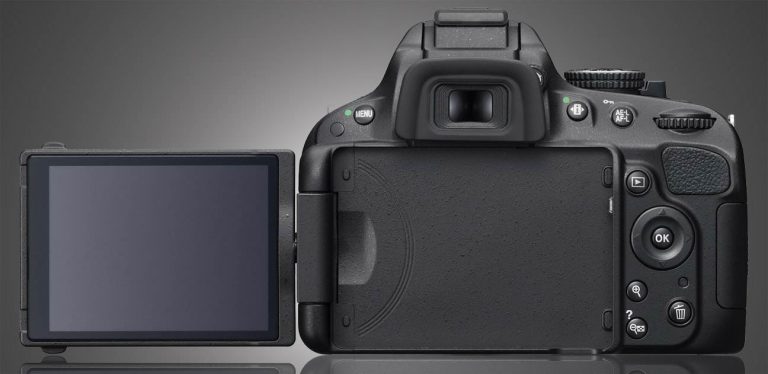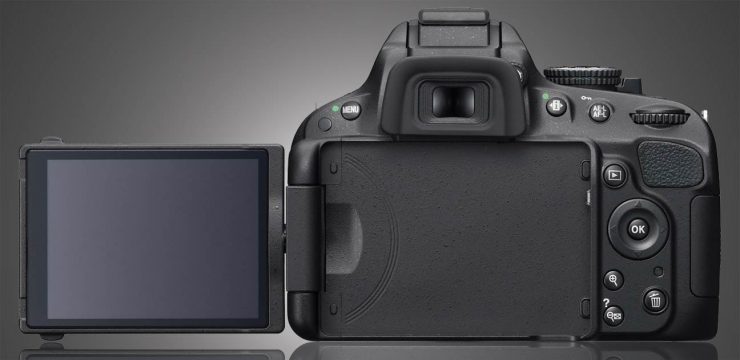 Performance
When it comes to image quality, we can expect very similar performance between the D5100 and the D7000, as they make use of the same sensor and report the same ISO range. The D3100's sensor is somewhat lower in resolution, but the practical difference between 14 and 16 megapixels is negligible for many photographers.
When it comes to auto-focus performance, though, the D5100 is on par with the D3100: it offers 11 AF points, and like the D3100, it appears that only one of them is a cross-type. The D7000, on the other hand, sports 39 AF points, 9 of which are cross-type (which perform better in difficult AF situations).  This is not to say that the AF system on the D5100 won't get the job done; the Canon 5D MarkII has been used by thousands of professionals, and has only 9 AF points, and 1 cross-type. It does mean, however, that you'll likely achieve more reliable AF performance with the D7000, particularly in difficult focusing situations.
As for camera speed, the D5100 is intermediate. It lacks the top shutter speeds of the D7000 (up to 1/8000th sec.), falling short at 1/4000ths of a second. While this is disappointing on paper, I can probably count the number of times that I've shot at 1/8000th sec. on my fingers, though all of my cameras since 1992 have had the capability. At 4 frames per second, the burst speed of the D5100 is intermediate between the D3100 (3 fps) and the D7000 (6 fps).
Flash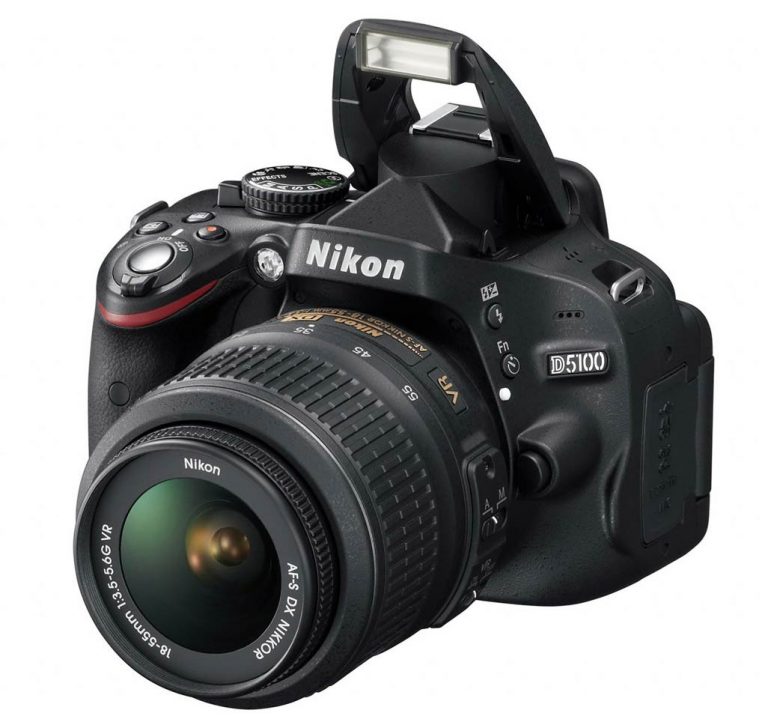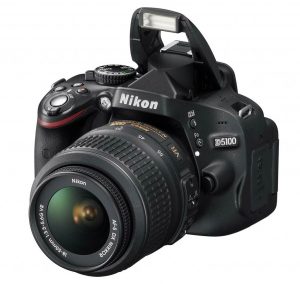 Adherents to the Joe McNally school of flash technique will be disappointed to discover that the Nikon D5100 does not incorporate the ability to wirelessly control off-camera flash. Though this is always achievable with the use of optional hardware (such as hot-shoe mounted Speedlights or Pocket Wizards), this is a native feature that will be sorely missed.  When it comes to sync speeds, the D5100 is on equal footing with the D3100 at 1/200th of a second, slower than the D7000's official 1/250th (though testing has shown that 1/320th is possible).
Video
It seems that Nikon has been listening to the SLR-for-video crowd. The D5100 is Nikon's most video-friendly camera to date.
First, Nikon has finally given us a camera that can shoot 1080p video at 30 fps in addition to 24/25 fps, which is an important feature for those working with US broadcast standards or other video cameras that are shooting 30fps. And, like the D3100, the D5100 offers full-time autofocus while shooting video, with face detection (though AF is still quite slow compared to phase-detect systems like the Sony A55).
The thought put into the D5100's audio recording is also worth noting. Like the D7000 (but not the D3100), the D5100 offers manual control of  audio recording levels (low, medium, and high gain) in addition to auto-gain. Nikon concurrently announced the ME-1, hotshoe-mount stereo microphone (sold separately), which not only offers higher quality stereo sound, its position outside of the camera housing eliminates noise from focusing and other control manipulations. Though similar devices have been available from 3rd party manufacturers, this is the first such offering from the camera maker.
Finally, Nikon offers in camera video editing and a variety of creative toning effects.
Which Should You Buy?
As usual, the answer depends heavily on your goals and in this case to a lesser extent, your skill level.
You Should Consider the D5100 if:
You want D7000-like image quality in a lighter package
Will make use of the additional video frame rates
Would like the added flexibility of an articulated LCD
You Should Consider the D7000 if:
Your work depends on the most reliable AF
You want a heavier, more professional feeling body and don't want to worry about breaking an articulated LCD
You're a Strobist or otherwise use a lot of flash
You have a collection of older Nikon lenses that require an in-body motor for AF operation
You Should Consider the D3100 if:
You want to get started with a Nikon but don't have the money to afford a D5100 and accessories, or
You're a casual photographer but want higher quality and more flexibility and control than is offered by a point and shoot
Comparing three complex cameras in such a short space necessitates leaving some issues out… so if I haven't answered your question, please feel free to leave a comment below and perhaps I'll be able to help.