T5i vs T4i: Which Should You Buy?
T2i? T3i? T4i? T5i? Canon has released so many variants of the Rebel series SLRs that it can be hard to keep track of them. The latest incarnation, the T5i, was released only 10 months after the T4i, so we expected the differences to be minor. I didn't expect them to be this minor. Below, I'll describe the differences. Very briefly.
The Gist of It
Let me just skip ahead to the important bit: the T4i and the T5i are virtually identical. There are no improvements in image quality, autofocus capabilities, or speed in the newer model. The T5i was probably given a new name simply because Canon wanted to release a new camera with their freshly developed 18-55mm STM kit lens. There are a couple of minor points to consider, though…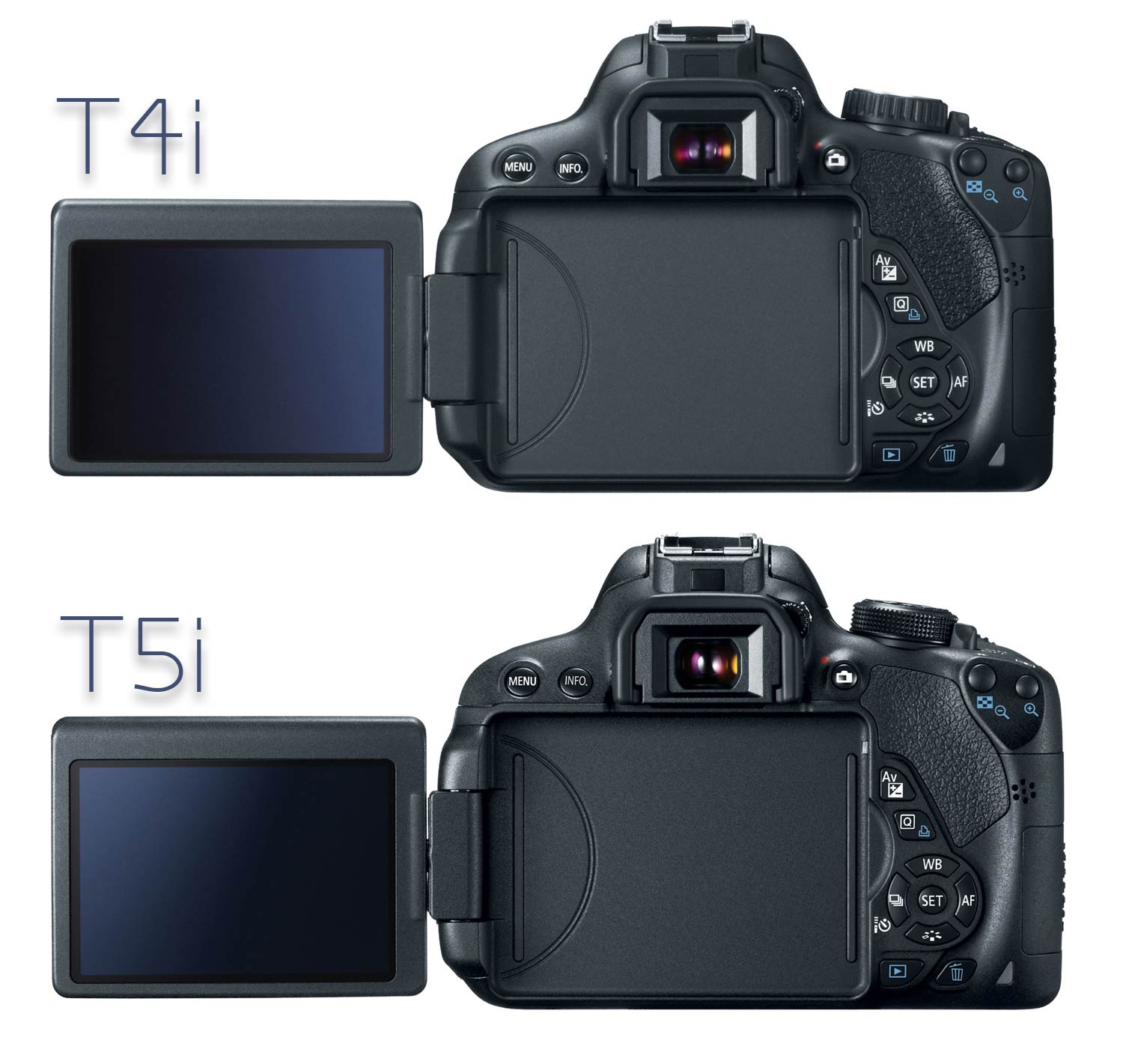 The Differences
This is a complete list of the differences between the Canon T4i and T5i. If you're curious how the cameras compare to more expensive models, such as the Canon 70D, my comparison of those cameras provides a much more complete listing of their stats.
Canon T4i
Canon T5i
Price
(body only)
$629
$599
Typical Kit Lens
EF-S 18-55mm f/3.5-5.6 IS
EF-S 18-55mm f/3.5-5.6 IS STM
Mode Dial
Limited Rotation
360 Degree Rotation
"Creative" Filters
Processing Required for Preview
Real Time Preview
NOTHING
NOTHING
NOTHING
The change to the ironically named "Creative Filter" 1 These are factory pre-sets; no creation or innovation is required. preview is just a minor software update. It does appear that the change to the mode-dial is a legitimate hardware difference, though it is utterly inconsequential to the user. And that brings us to…
The Lens
The Canon EF-S 18-135mm f/3.5-5.6 IS STM lens was new with the release of the T4i, and is a truly excellent kit lens, and as I've said before, I'd recommend for most entry-level photographers. The Canon T5i is also available with a new lens: the EF-S 18-55 f/3.5-5.6 IS STM, very similar to Canon's earlier kit lens but with the addition of a faster, quieter stepping-motor for autofocus. This is unquestionably better than the earlier lens in terms of sharpness (though the previous one was just fine) and speed, but I'd still recommend the 18-135 STM as a kit lens, if you can afford it; it's a much more useful range, allowing you to cover most shooting situations while only carrying a single lens.
Who Should Buy the T4i?
In general, prices for the T5i are lower than those for the T4i, which were quickly discontinued, so there is no reason to prefer the T4i. If you happen to run across some T4i old-stock in a store and it's a great deal, then go ahead and buy it, especially if it's bundled with the 18-135mm STM lens. If it's bundled with the old 18-55mm, you might want to think about whether you'd rather spend a little more money and get the better kit-lens.
However, the Canon T3i is still around and is a great camera for significantly less money. For a full comparison, see my article comparing it to the T4i, but I've summed up why you might want to consider it below:
Buy the T5i or T4i (instead of the T3i) if you:
want to shoot cinema quality HD video with something close to the convenience of a video-camera (the Canon 70D really takes this to the next level)
shoot sports or action and want the higher frame rate (5 frames per second) and superior auto-focus system of the T5i
would appreciate the convenience of a touch screen LCD
shoot low-light landscapes or other low-motion shots that can utilize the new multi-shot noise reduction in JPG mode
Buy the T3i or T2i if you:
would like to save $100 or more on the camera price
are not interested in shooting video. The still capabilities are identical, for all practical purposes
are interested in shooting video, but prefer to shoot with manual focus or follow-focus rails (as most professionals do)
shoot primarily landscape or portrait photography, so the AF differences are less important (the 5D Mark II shares the same AF system with the T3i)
do not require the extra appox. 1 frame per second provided by the T4i
As usual, I've tried to keep this comparison brief and focused on the most important features, and I've excluded discussion of in-camera-processing, since these features can change with firmware updates and are probably better done in post-processing software on your computer anyway. However, please feel free to ask me any questions that you may still have in the comments section below!