Only seven months after the Sony a6300 began shipping in the USA, Sony announced the a6500. The a6500 is not intended as a replacement for the a6300 so much as a step-up in the camera line.
So which one should you buy? They're both incredible cameras for their price points, but there's no use in paying for features that you'll never need: if you can, you should always save money on a camera body to spend more on high quality lenses.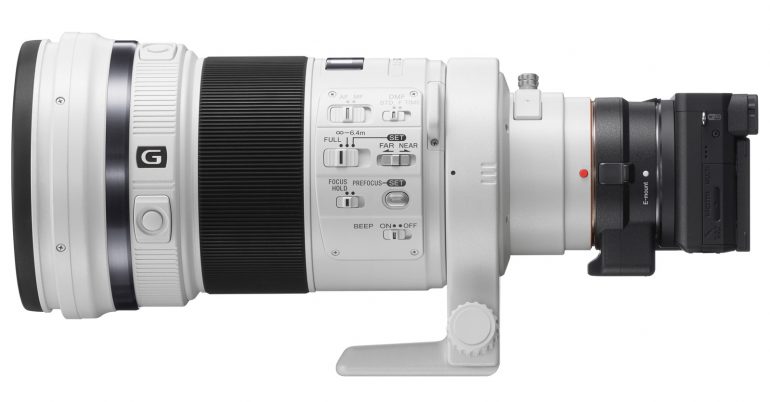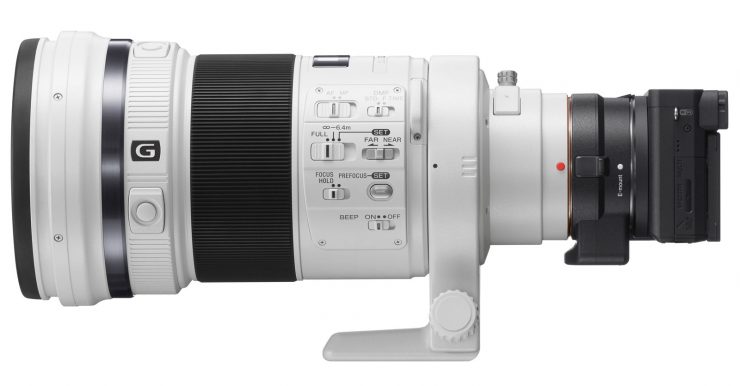 Where They Are Different
Let's begin by taking a look at where these cameras differ and where they are the same. Where one camera is better, the table cell is highlighted in green, although "better" is occasionally subjective.
Sony a6300
Sony a6500
Price (Body)
$1,499.95
$1,499.00
Body Material
Magnesium Alloy
Magnesium Alloy
LCD Size
3" TFT
921,600 pixel
3" TFT
921,600 pixel
Viewfinder
2.36 Megapixel OLED
2.36 Megapixel OLED
Continuous Live View
(no black out)
Up to 8fps
Up to 8fps
Articulating
Yes (up 90 deg., down 45degrees)
Yes (up 90 deg., down 45degrees)
Touch Sensitive
Yes
Yes
Touch Focus
No

Yes

Sensor
24.2 Megapixel Exmor
24.2 Megapixel Exmor
ISO Range
100-25600
+51200
100-25600
+51200
Shutter Speeds
30-1/4000th sec
+bulb
30-1/4000
+bulb
Expected Shutter Life
N/A
(probably 100k-150k)

200,000 shots

In Body Stabilization
No

Yes,5-Axis (5-stops)

Focusing System
4D FOCUS
4D FOCUS
Focus Speed
0.05 sec. claimed
0.05 sec. claimed
AF Points
425 Phase Detection
169 Contrast
425 Phase Detection
169 Contrast Detection
Frame Rate
11, 8, 6, or 3 fps
11, 8, 6, or 3 fps
Buffer Size
44 JPG Extra Fine shots
21 RAW Shots
233 JPG Extra Fine shots
107 RAW Shots
Flash Sync Speed
1/160th sec.
1/160th sec.
High Speed Sync
Yes
Yes
Wireless Flash Commander
Yes
Yes
Video Resolutions
4K, 1080p, 720p
4K, 1080p, 720p
Video Capture Method
6K capture, oversampled
6K capture, oversampled
Video Frame Rates
4K @ 30, 25, 24 fps
1080 @ 120, 100, 60, 50, 30, 25, 24 fps
720 @ 30, 25 fps
4K @ 30, 25, 24 fps
1080 @ 120, 100, 60, 50, 30, 25, 24 fps
720 @ 30, 25 fps
Video Codec
XAVC S MPEG-4, AVCHD Ver 2., MP4
H.264
XAVC S MPEG-4, AVCHD Ver 2., MP4
H.264
Video Picture Profiles
& Gamma
Yes, +S-log3, S-log2, S-Gamut
Yes, +S-log3, S-log2, S-Gamut
Clean HDMI Out?
Yes, 4:2:2 8-bit 4K and 1080, with time code
Yes, 4:2:2 8-bit 4K and 1080, with time code
Card Slots
Mutli-slot for UHS-I SDXC, microSDXC, Memory Stick Duo
Mutli-slot for UHS-I SDXC, microSDXC, Memory Stick Duo
Connectors
Micro USB, HDMI Micro, 3.5mm Mic (stereo)
Micro USB, HDMI Micro, 3.5mm Mic (stereo)
Bluetooth
No

Yes, 4.1

Wi-Fi
Yes
Yes
NFC
Yes
Yes
Battery Life
350 Shots (viewfinder)
400 Shots (LCD)
310 Shots (viewfinder)
350 Shots (LCD)
Body Size
Approx. 120 x 66.9 x 48.8 mm
Approx. 120 x 66.9 x 53.3mm
Weight
361g (no card or battery)
404g (with battery and card)
410g (no card or battery)
453g (w/card & battery)
Customizable Buttons
9

10

Weather Sealing
Yes
Yes
Headphone Jack
No
No
Image Stabilization & Focus
In-body image stabilization is the big, important difference between these two cameras, and for those who will use it, it should justify the higher price of the a6500. Sony's Steadyshot Inside 5-axis image stabilization system promises 5-stops worth of stabilization, which is remarkable: if you're using a 180mm non-stabilized lens, the rule of thumb is that you'd need a shutter speed of over 1/250th sec. to hand-hold a shot without significant impact from camera shake1 The rule is 1/focal length, which would appear to mean 1/180th, but this is an APS-C, so the 1.5x crop factor makes it 1/270th sec. I rounded down. . With the a6500, you should be able to hand hold the same shot at 1/8th sec.
And you'll get this benefit with the best, non-stabilized lenses available. Want to use Sigma's ART series 18-35 f/1.8, or 50mm f/1.4 lenses, or the 30mm f/1.4 C? You'll get them, stabilized… something Canon and Nikon can't do (though Pentax can).
That said, when you have an f/1.4 lens and a camera that can easily shoot at ISO 3200-6400 (or higher), stabilization is less important than it once was.
Both cameras share the same autofocus system: the same number of AF points, the same type of AF points, and the same AF speed. The only difference? The a6500 has touch-pad focus control, too.
Processor & Buffer
The BIONZ processor of the a6500 has a new front-end LSI, just like the new a99 II, where a custom front-end LSI dramatically improved the camera's performance. A front-end LSI (Large Scale Integration) is a microprocessor that performs a first stage of specialized operations on the data before sending it to the main processor, making it more fast and efficient.
How does this affect the a6500? So far, the only way that we know for sure is that it allows for the increase in the camera's buffer size. While the a6300 can shoot 21 RAW shots in a row at full speed, the a6500 can shoot 107.  Though few photographers will actually need to shoot that many consecutive shots, it does mean that there is almost no risk of running out of buffer space while shooting multiple shorter bursts when on a sports assignment.
There is some possibility that the front-end LSI will create a small advantage for the a6500 when dealing with sensor noise, but that remains to be seen, and will likely be insignificant.
Body & Screens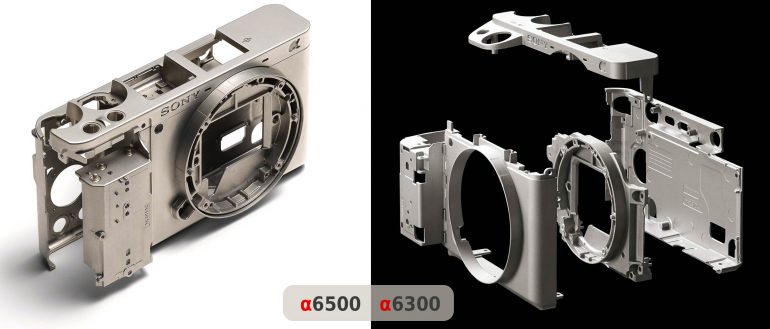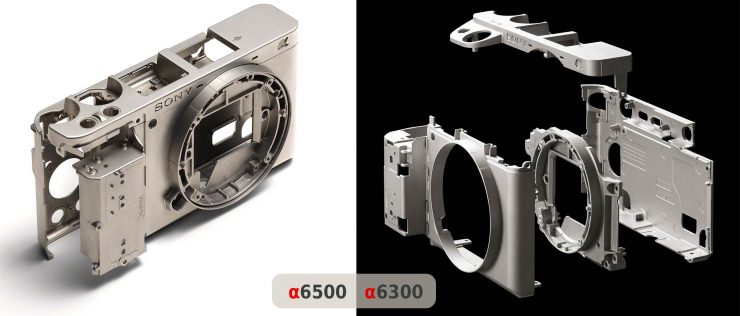 The differences in the bodies and controls between the two cameras are minor. First, they both have durable magnesium alloy bodies with weather sealing. They both have the same fast, sharp EVF. The bodies are virtually the same size, though the a6500 is about 5mm thicker to accommodate the stabilization system. Unsurprisingly, the a6500 is about 50g heavier than its predecessor (50g is about the weight of a medium chicken egg).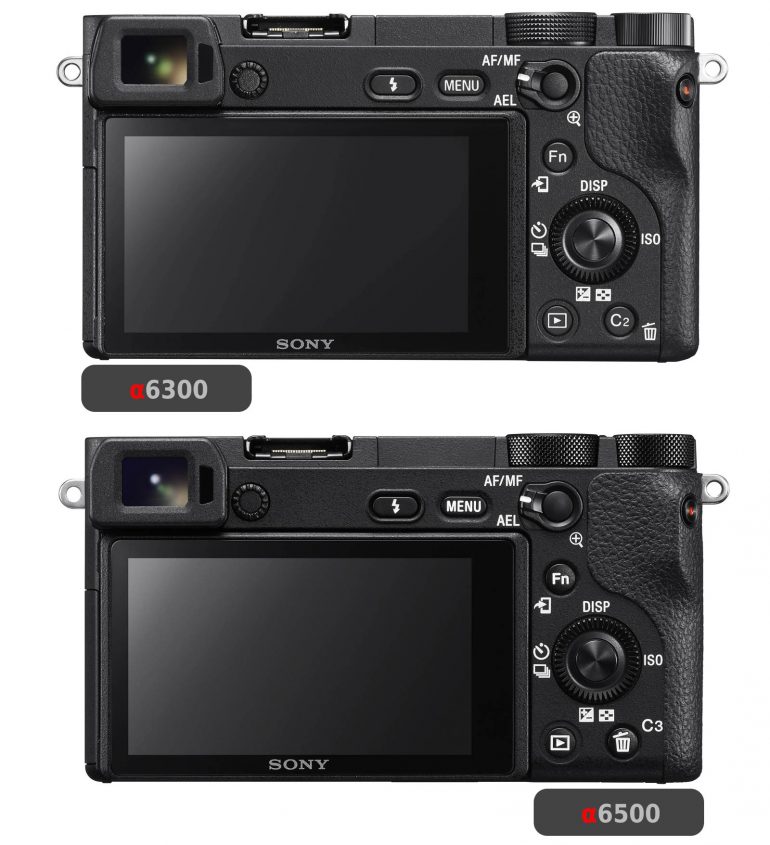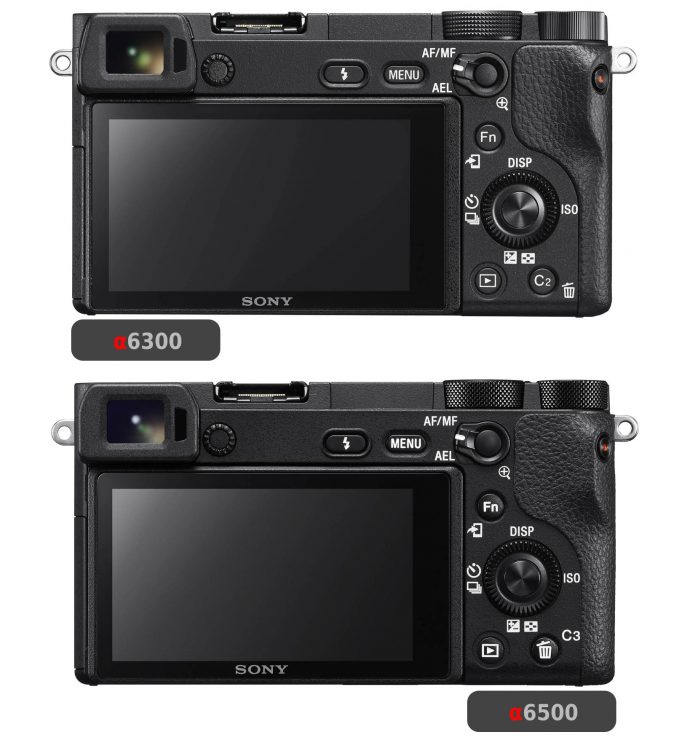 However, there are some significant differences. The most important is that the rear LCD of the a6500 supports touch-pad focusing when shooting video or photos with live view. This means that you can easily track your subject with your finger on the screen, or pull focus on a subject with just a touch when shooting video.
The a6500 has been given an additional custom button, located on the top of the camera: it now has C1, C2 and C3, while the a6300 has only C1 and C2. The grip and main thumb control dial have some minor differences in ergonomics.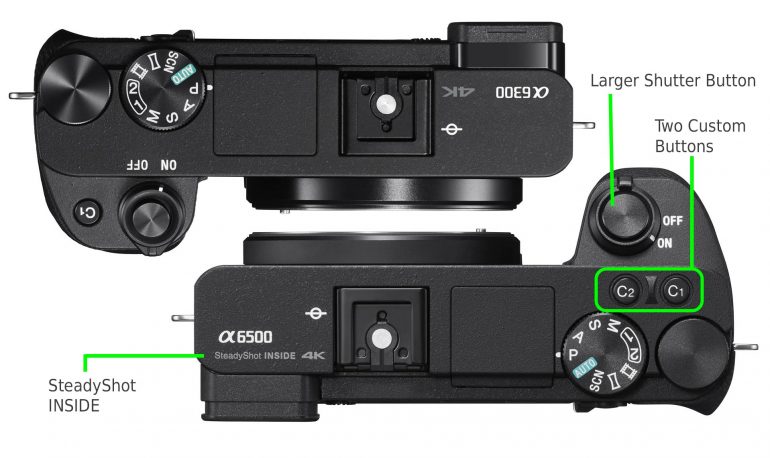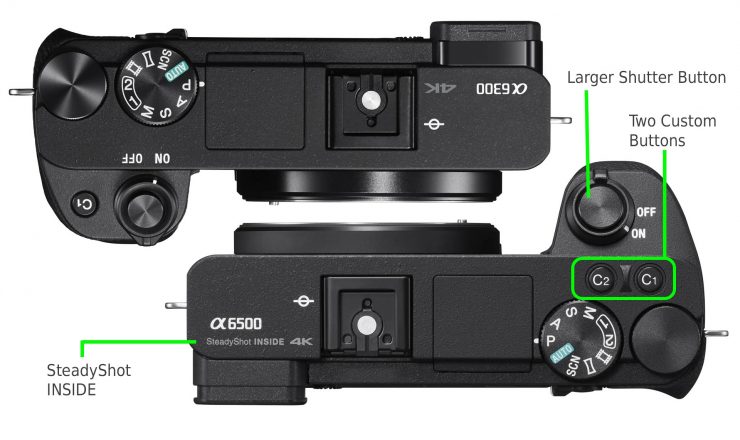 Who Should Buy the a6500?
Almost everyone will benefit from image stabilization now and then. So, perhaps it will make more sense this time to point out who will not benefit much from buying the a6500 rather than the a6300:
if you shoot action and want sharp images, the stabilization won't be much help: you'll still need fast shutter speeds. Stabilization only helps with camera shake, not subject movement.
if you're a landscape photographer, portrait photographer, product photographer, or any other type of photographer that regularly shoots from a tripod, then you don't need the a6500's stabilization. It does the same thing as a tripod, only not as well.
if you always shoot with flash or strong, bright light, you'll be fine with the a6300. Not sure who this would be.
if all of your lenses are already stabilized, or if the lenses you'd use are stabilized, then getting the a6500 probably won't add much benefit. It may give you an extra stop of stability, but probably maybe not a few hundred dollars worth.
if you're a vlogger/YouTuber who keeps the camera tripod mounted
However, you should seriously consider buying the a6500 if:
you regularly shoot indoors, or in low light
if you're a travel photographer and don't often carry a tripod
if you shoot video and want the best stabilization without special equipment
if you shoot video and want to use touch focus
if you shoot action in RAW format and frequently shoot longs bursts of images (longer than 10 or 20 images at a time), the buffer on the a6500 will allow you to do so.
Image and video quality in these two cameras will be identical, as far as we know. If you're shooting RAW, there is no reason to expect a difference. If you shoot JPG or video, there is only potential for a very minor difference, since the sensors are identical.
Still, most of us will be included in the second list, since most of us shoot indoors frequently, and travel photography is perhaps the most popular of all styles. That should make the decision relatively easy for you, if you're on the fence, especially if you shoot a lot of action.
Questions? Comments?
As usual, I'm interested to hear your opinions about these cameras, and about Sony's choice to produce a more expensive camera less than a year after releasing the a6300. And of course, I'll do my best to answer any questions that you may still have.