For several years, it appeared that Nikon had abandoned the idea of a successor to the D300s, with rumors of a D400 materializing into the D7000, D7100, and D7200. Then, almost 7 years after the announcement of the D300s, Nikon surprised us with a new, professional-level APS-C camera: the Nikon D500. Packed with powerful features, a new processor, a remarkable AF system, and a new (but lower resolution) sensor, the D500 also doesn't come cheap, at about $2000 for the body. In some cases, the higher resolution sensor of the D7200 will provide sharper, higher resolution photos than the D500, and it is lighter, more compact, and almost $1000 less expensive to boot. So which one is right for you? (SKIP to Conclusion)
Nikon D500 vs D7200: What's the Difference?
Let's begin by taking a look at where some of the important differences in specs, which I'll delve into in greater detail below.
Nikon D500
Nikon D7200




Price (body)

$1997
$1097
Price With Kit Lens
$3067 with 16-80mm f/2.8-4E VR
$1397 with 18-140mm f/3.5-5.6 VR
Body Material
Magnesium Alloy and Carbon Fiber
Partial Magnesium Alloy Frame, Plastic
Dust/Weather Sealed Body
Yes
Yes
Sensor Resolution
20.9 Megapixel
24.2 Megapixels
(Sony)
Anti-Aliasing Filter [OLP]
(Reduces sharpness, prevents moire)
NO
NO
ISO Range

100 - 51200

100 - 25600
Total AF Points

153 (55 selectable)

51
Cross-Type AF Points

99 (35 selectable)

15
AF Motor In Body
(For Using Older AF Lenses)
YES
YES
AF Light Level Range

-4 to +19 EV

-3 to +19 EV
Autofocus Fine Tuning
Adjustments
YES
YES
Shutter Speed Range
1/8000th - 30 sec.
+bulb
1/8000th - 30 sec.
+bulb
Max Frame Rate

10 fps

6 fps
(7 shots in 1.3x crop mode)
Max RAW Burst
(buffer size)
79 shots 14-bit
200 shots 14-bit compressed
18 shots 14-bit compressed
Max JPG Burst
(fine, Large)

500+

100
Flash Sync Speed
1/250th sec.
1/250th sec.
Wireless Flash With
Built-in Commander
NO (no built-in flash)
YES (with additional equipment)

YES

Nikon RADIO Wireless Flash Compatible

YES

NO
Auto FP Flash Mode
(High Speed Sync)
YES
YES
Media Slots
1 SDXC
1 XQD
2 SDXC
Quick Access User Modes
(Saved U1, U2 programs)
No

Yes

LCD Size
3.2"
2,359,000 pixels
3.2"
1,228,800 pixels
LCD Articulated
YES
No
LCD Touchscreen

YES

No
Built-in GPS
No
No
Bluetooth

YES (v4.1)

No
Built-in WiFi
YES
YES
Body Weight
760g (no battery)

675g (no battery)

Body Size
147 mm x 115 mm x 81 mm
136 x 106.5 x 76 mm
Battery Life
1240
CIPA Standards
1,110 shots
CIPA Standards
Viewfinder Coverage
100%
1.0x Magnification
100% Frame
.94x Magnification
Video Codec
MPEG-4 / H.264
.mov
MPEG-4 / H.264
.mov
Video Resolutions

3,840 x 2,160 (4K: 30, 25, 24 fps)


1920 x 1080 (60, 50, 30, 25, 24 fps)
1280 x 720 (60, 50 fps)
640 x 424 (30, 25 fps)
1920 x 1080 (60, 50, 30, 25, 24 fps)
1280 x 720 (60, 50 fps)
640 x 424 (30, 25 fps)
Digital Stabilization
for Video
YES
(Reduces image area; not available for 4K resolution)
NO
Video Length Limit
29 min 59 sec.
29 min 59 sec.
Headphone Jack
Yes
Yes
Internal Mic
Stereo
Stereo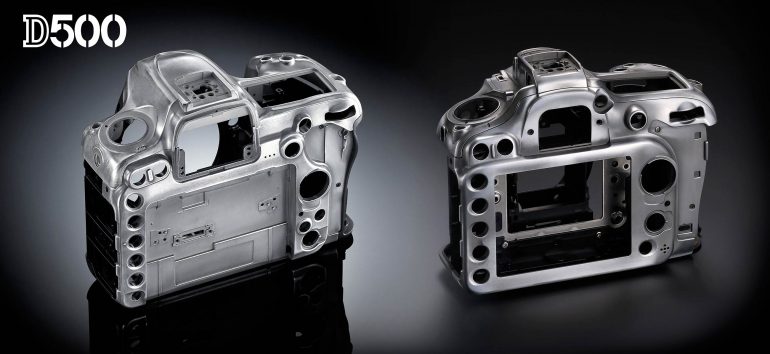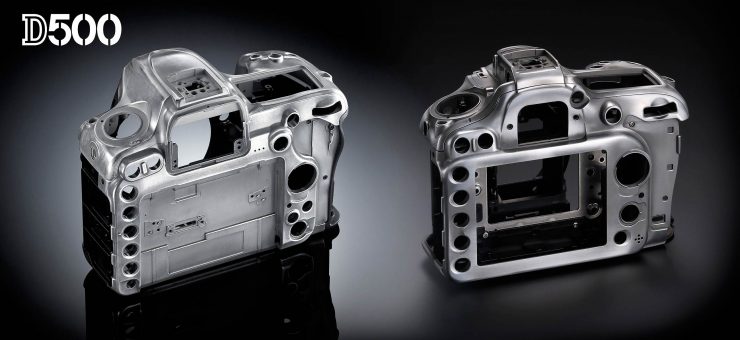 Build Quality
Both cameras are solidly built, with partial magnesium alloy frames, finished with carbon fiber or polycarbonate to keep them light weight. Both cameras have weather sealing to protect against raindrops and dust (though many lenses are not weather sealed, so caution is recommended). They'll both stand up to plenty of travel and rough treatment.
However, the D7200 is still a compact SLR, while the D500 is a standard size SLR.  In more precise terms, this means that the D500 is about 1cm taller and 1cm wider than the D7200, and about a half centimeter thicker, making it feel considerably larger in the hand (it's the same size as the old D300, a bit taller than the D800). The difference in weight is not dramatic, but it is significant: about 85g. 85 grams, if you don't have a good feel for it, is about the mass of an average apple (an extra-large chicken egg might be as much as 60-70g).  It's still less than half the weight of even a small prime lens, like the 35mm f/1.8G, which weighs 200g, but it's enough weight that you'll notice the difference.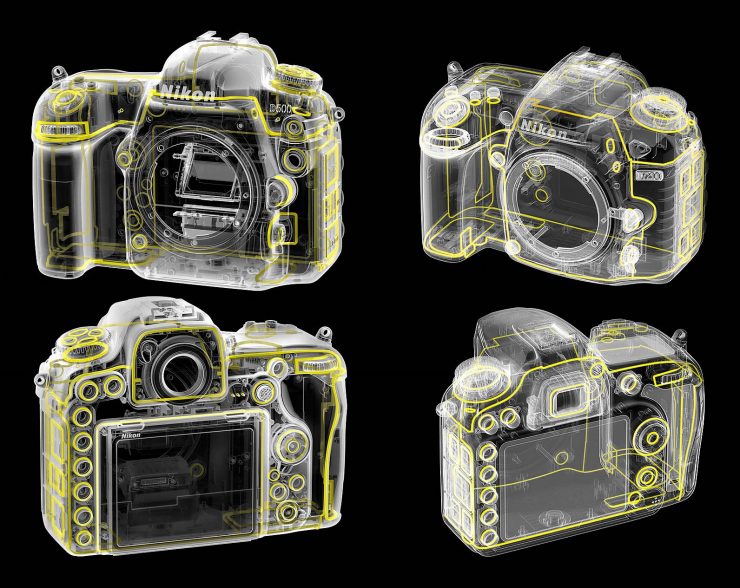 The Sensors : Resolution and Low Light Performance
Some people were surprised to discover that the D500's sensor has lower resolution (20.9 megapixels) than that of the older, less expensive D7200 (24.3 megapixels). There are a few reasons why Nikon made this choice.
First, and most importantly, is Nikon's concentration on high-ISO performance with the D500. More pixels on a sensor means smaller pixels1 Technically speaking, these are properly called photo sites or receptors on the sensor, but since we're talking about the sensors in terms of mega-pixels, it's fair to be loose with terminology . Smaller pixels collect less light, but the sensor's electronics still generate background noise. This results in a worse signal to noise ratio (like a quiet voice talking in the car over the road noise), and thus, more digital noise in the image that results, especially at high ISOs (where the sensor tries to get by with even less light).
The D500 has fewer 'pixels' on its sensor, so they're larger. As a result2 At least, in part. New sensor technology all around and signal processing also play an important part. , the D500 has a top native ISO of 51200, compared to the 25600 of the D7200: a full f-stop of difference. We find that the D500's noise at ISO 6400 is comparable to the D7200's at ISO3200, when shooting RAW, though the D7200's noise is slightly less pronounced and the D500 remains slightly more contrasty.
Second, Nikon developed the D500 to compete with the Canon 7D Mark II, which can shoot 10 frames per second. That produces a lot of data for any camera to deal with. At higher resolutions, cameras produce larger files, which are harder to move quickly through the data pipeline to storage. A lower resolution sensor's smaller files are easier for the camera to deal with at high speeds, making it easier for Nikon to reach that 10 frame per second milestone.


And finally, for most photographers, the difference in resolution between 21 and 24 megapixels just isn't very significant in real-world use. Remember that most of us use computer monitors that are no larger than 4K resolution (about 8 megapixels), but the vast majority use full HD (1080p is just 2 megapixels), and very few photographers print these days. And if you're resizing an image from 21 megapixels down to 10% of its original size, all of the fine differences in detail will be thrown out anyway.
But if you do print? Then you'll have to print LARGE to be able to see these differences… probably 16 x 24 inches or perhaps larger.
And that's assuming that you are able to capture a difference to begin with. Only the sharpest lenses have high enough resolution to make a difference, and even then, only when shot from a tripod at the lens' sharpest apertures, with no vibrations from the wind, ground, shutter, etc. A full frame sensor with the same pixel density of the D500's 20.9 megapixel sensor would hold 46.5 megapixels, and Nikon has already admitted that not many lenses can meet the demands of the D800/D810's 36 megapixel sensor.
Who works like this, regularly? Landscape photographers often do, and so do some commercial/studio photographers and fine-art photographers. But journalists, event photographers, sports photographers, and hobbyists generally do not.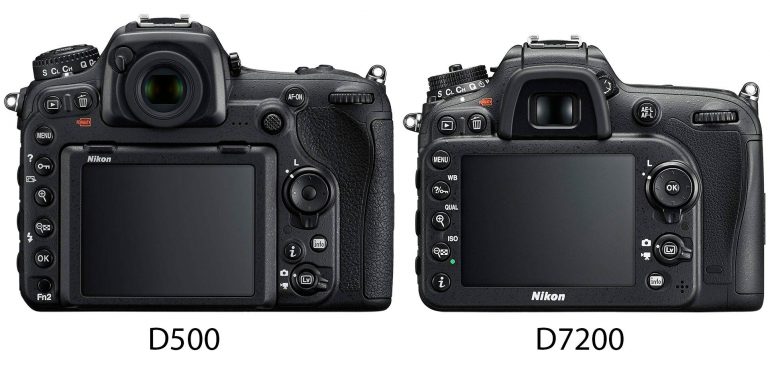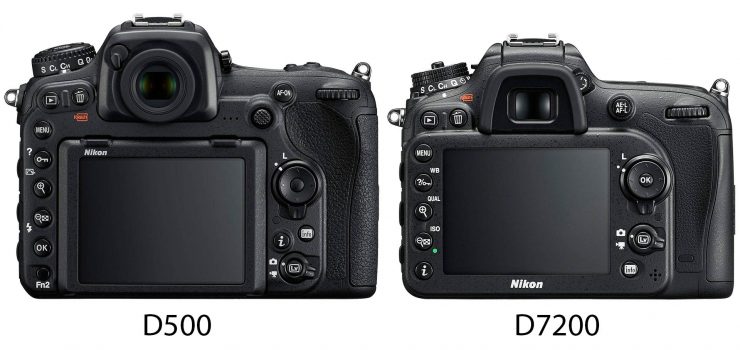 Speed
While the D7200 is no slouch, the D500 takes action photography to a new level for Nikon APS-C cameras: it can shoot at 10 frames per second, and just as importantly, it can shoot that fast for quite a while. The D7200 can shoot at 6 frames per second, but if you're shooting RAW, it can only shoot 18 shots in a row (3 seconds) before the buffer is full and it needs a break to write to the SD card.  On the other hand, the D500 can shoot the same compressed RAW files for 20 seconds: 200 continuous shots! And while most photographers don't have any reason to shoot bursts that long, we do frequently shoot many shorter bursts within a few minutes time, which can also cause problems with a small buffer.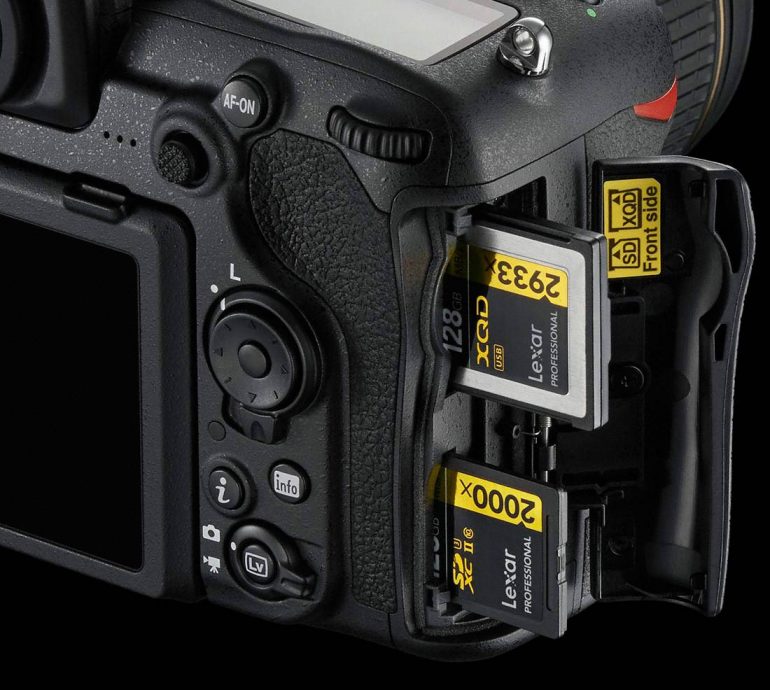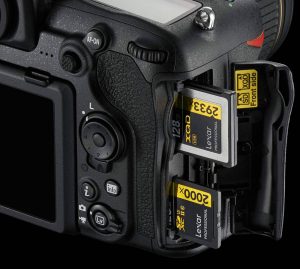 There is a caveat here, though. The Nikon D500 has an XQD card slot, which supports data transfers beyond 300 MB/s. If you're using the camera's SD card slot, you probably won't get anything like this kind of buffer performance (an older Nikon video shows the difference in write speeds). If you want the XQD performance, you'll need to budget a couple hundred dollars more for the cost of a fast card (prices seem to range from $100–400 for the fastest XQD cards, if you can find them at all).
Of course, if you're willing to shoot JPG, then the D7200 has no problem, as it is able to shoot bursts of more than 100 shots in that format.
Who needs this? Journalists, action photographers, event photographers, wildlife photographers, and anyone else who needs to capture images in copious quantities very quickly. Travel photographers, maybe.  Portrait, landscape, product and commercial photographers? Probably not.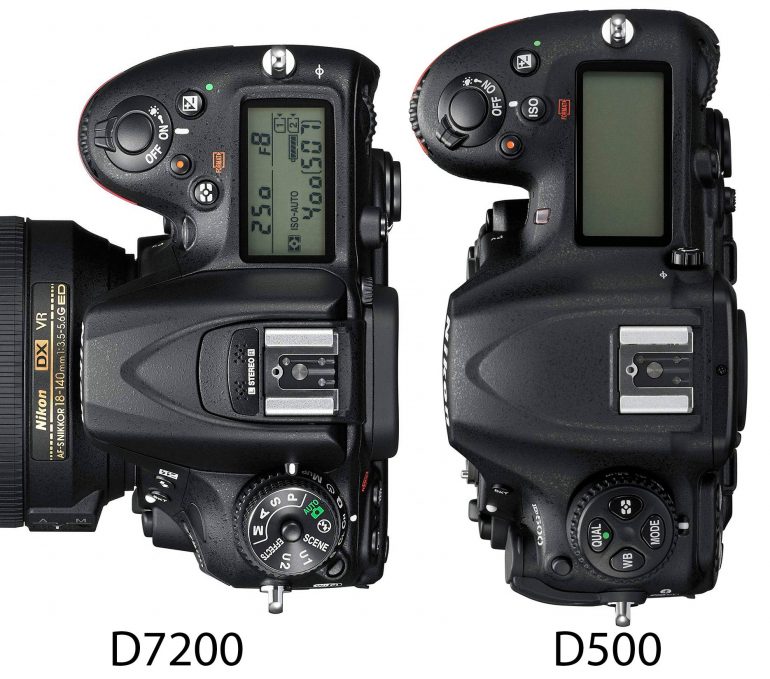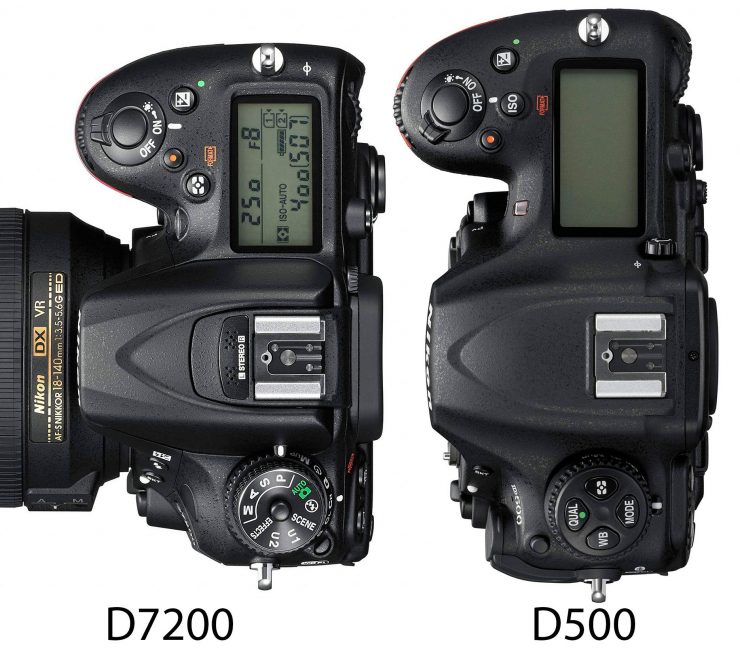 Autofocus System
The D7200 has had one of the best autofocus systems available in an APS-C camera: the 51-point Multi-CAM 3500DX II, which is shared with the flagship Nikon D4s. Not surprisingly, though, the D500 has managed to improve on it with the 153-point Multi-CAM 20K, which it shares with the upcoming Nikon D5.
Though there is a large increase in the overall number of autofocus points, the real improvement in the D500's system is in the number of cross-type points, which has increased from 15 in the D7200 to 99, though only 35 are can be selected manually. If you're not sure what cross-type points are, I recommend watching our short video on cross-type points for a quick explanation. In short, they're much more reliable than standard AF points.


Beyond the number of AF points, the AF system of the D500 has become more sensitive for use in low light; it can focus in light levels of -4EVs (almost too dark for the human eye to see), just half of the light level in which the D7200's AF system can focus (-3 EVs). Both are very impressive, but if you've ever failed to grab focus in dim light, you'll understand how important this extra degree of insurance is for event-shooters.
That said, for all but the most hardcore of sports and action photographers, if you have problems getting in-focus images with the D7200's AF system, you should probably look at your own technique rather than the camera for problems. If you are like many photographers and select a single AF point to track a subject (or compose your image by selecting the near eye in a portrait, for example), then the additional AF points of the D500 will be of minimal value, since only 55 of them can be manually selected (just 2 more than the D7200's 53).
Who will find this useful? Again, sports and action photographers, probably not portrait, landscape, or commercial photographers.
Video
It is tempting to just say "The Nikon D500 can shoot 4K video and the D7200 can't" and leave it at that. While the fact is true, there are some ugly details.
The D500 shoots Full HD video much as you would expect, using the full width of the frame to capture 16:9, 1920 x 1080 video. You also have the option of capturing that video from a 1.3x cropped section of the sensor (which is, of course, already 1.5x cropped compared to an FX sensor).
However, when the D500 captures 4K video, you are forced to use a cropped section of the sensor that is even smaller than the 1.3x cropped section that is optional at 1080p. It can be seen in our graphic, below: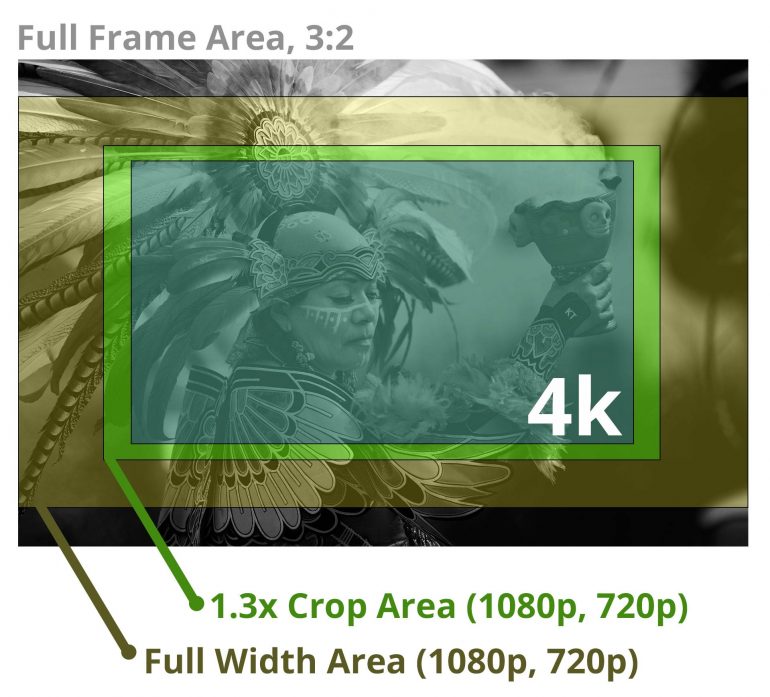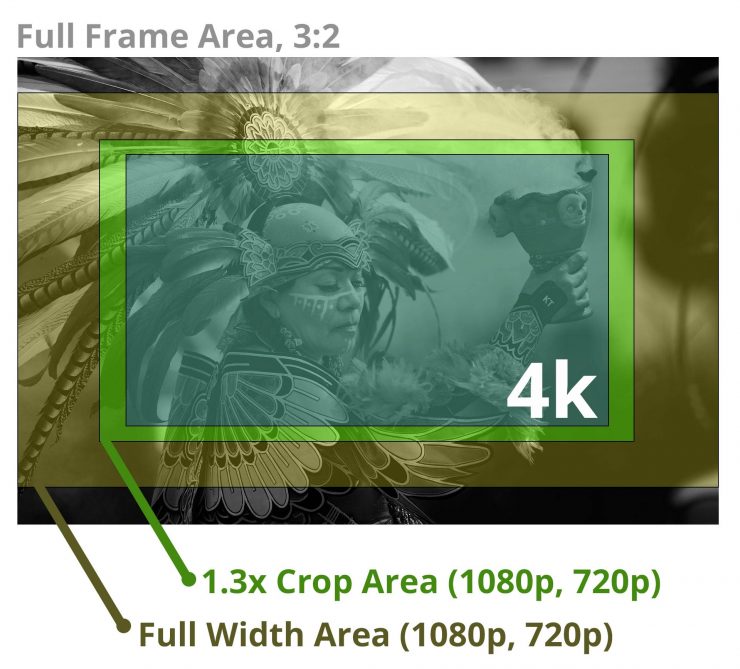 This may be perfectly acceptable for those who only shoot telephoto video; it provides remarkably high resolution video and a roughly 1.5x crop, making a 200mm lens perform like a 450mm lens (1.5x crop + 1.5x crop). However, for those times when you want to shoot wide angle, you'll need to use an ultra-wide angle lens just to get close; while a 16mm lens might normally give you a full-frame 24mm lens's field of view, you'll need an 11mm lens to get something almost equivalent if you're shooting 4k.
So, if you're looking for a camera just to shoot 4K video, the D500 is hardly ideal.
However, if you're mostly shooting 1080p or 720p, then the D500 has one more trick up its sleeve: digital image stabilization, which can be used in conjunction with optical image stabilization. You will lose a little bit of the frame, but the sensor has plenty of resolution to spare, so there's no loss in resolution, and the addition of digital stabilization goes a long way towards giving you smooth, jitter-free video. Nikon has also (finally) added electronic aperture control while shooting video, as well as exposure smoothing capabilities when moving from dark to bright areas (using auto ISO and electronic aperture control).
The Nikon D7200, unfortunately, does not have electronic aperture control, nor digital image stabilization. It does, however, have 1.3x crop mode, like the D500, and both can output video to an external recorder.
Additional Considerations
There are, naturally, several minor differences in the layout and handling of the controls between the two cameras. Most are not very significant. It is worth mentioning, though, that the D500 has an articulating touch-screen, while the D7200's monitor is fixed position and not touch sensitive.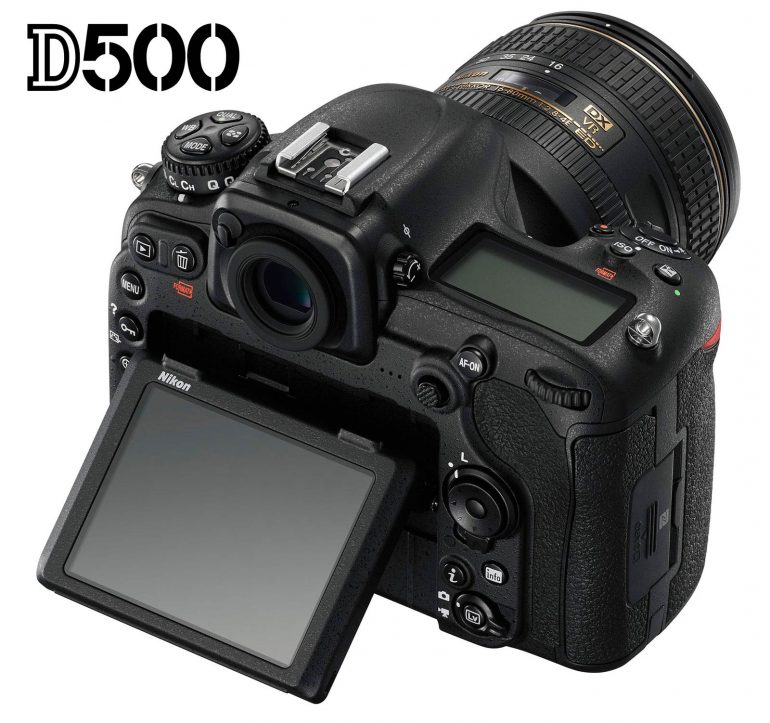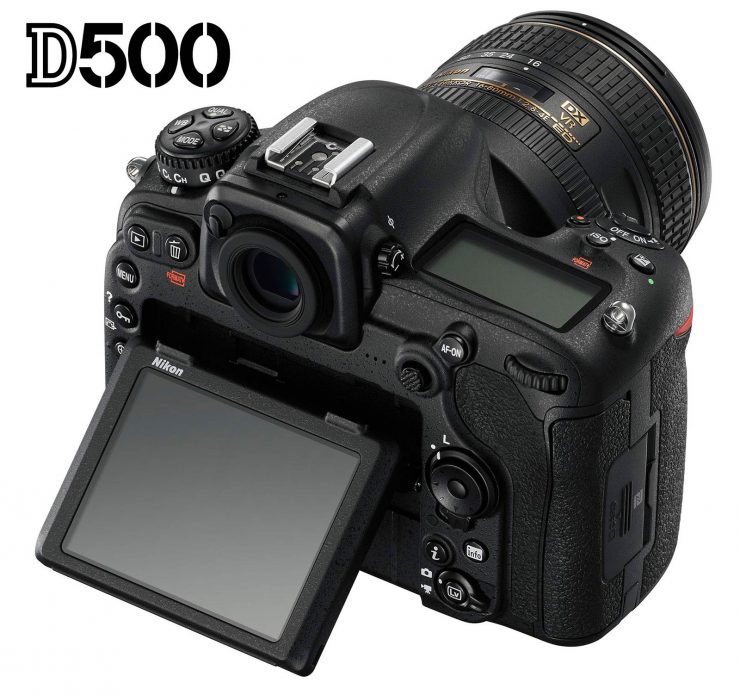 The Nikon D7200 does not support the new Nikon radio-controller (WR-R10/WR-A10) and SB-5000 flash system, which can control up to 18 speedlights. However, there are countless 3rd party radio-triggering systems already available on the market, from Pocket Wizards and RadioPoppers to the Nissin Air 1 Commander and the Phottix Odin, so this should be only a minor consideration for most people.
Conclusions
The new features of the Nikon D500 will primarily benefit photographers who shoot events and long bursts of action, particularly those who shoot them in low light with high ISO. Those photographers will get better performance with the D500: better speed, more reliable autofocus, and less digital noise. This all comes at the cost of a larger body with more weight and potentially lower resolution images.
However, if you normally shoot at low ISO, and if your primary interest is not fast moving action, then the D7200 will give you equally good results, and in some cases, it may give you better images. If you shoot with impeccable technique3 This generally means shooting from a sturdy tripod with a remote release or timer, with the camera's mirror locked up to reduce vibrations, at least. with a top quality lens set in its sharpest aperture range, the D7200's sensor is capable of capturing more detail than the D500's.
You Should Buy the Nikon D500 If…
you plan to shoot a lot of action like: sports, news events, weddings, wildlife
you plan to shoot events in a dark setting: concerts, clubs, weddings, wildlife
you need to shoot 4K video, especially telephoto, or digitally stabilized HD Video
you want to use Nikon's SB-5000 flashes and radio trigger system
you want a touch-screen and/or articulated rear LCD
You Should Buy the Nikon D7200 If…
you shoot landscapes or other detail oriented genres at low ISOs, including: studio portraits, product images, still-life works
you hike or travel with your camera and would prefer a lighter weight body that is still weather sealed
you shoot action photography but don't need a full 10 frames per second (the D7200 is a very capable action camera)
If you do decide to buy either one and have found this article helpful, please support us by purchasing your camera from any of the links found in this text, or from the stores listed here: Amazon.com, Adorama Photo, Best Buy (online), or  B&H Photo.
Buy the Nikon D7200: From Amazon.com | From B&H Photo | From Adorama
Buy the Nikon D500  : From Amazon.com | From B&H Photo | From Adorama
Questions? Comments?
I've attempted to concentrate on the most important differences between these cameras in practical use for photographers who shoot RAW files, but there are other minor differences. They may or may not be relevant to the way you shoot. However, if you still have any questions about which camera you should buy, please feel free to ask me in the comments section below! I'll answer as quickly as I can.