This week I've been getting some hands-on time with the newly announced Sony A7R III at PhotoPlus, mostly with the intention of comparing it with the remarkable new Nikon D850. I wasn't allowed to keep any photos from the Sony, since only pre-productiom models were available, but I did start getting a feel for the camera. It seemed that the Nikon D850 was the perfect camera1 The Nikon D850 was the first 35mm DSLR to ever receive a score from DxO of 100 points. I take their ratings with a large grain of salt, but it's still quite a feat., but the Sony A7R III has made me reconsider.


The Basic Stats
As usual, it's worth taking a look at the cameras' basic stats. I've marked the "better" stats in green, with the understanding that "better" can be a subjective term.
Sony A7R III
Nikon D850
Body Price

$3198
$2,496.95
Kit Price
(24-70 f/2.8)
$
$4,093.90
Kit Price
(24-105/120)
$4496
$3,593.90
Sensor Resolution
42.4 MP

45.4 MP

Sensor Type
BSI CMOS
BSI CMOS
AA Filter on Sensor
No
No
Built-In Stabilization
5.5 Stop
5-Axis
No
Pixel-Shift Stacking

Yes, 169.6 megapixel equivalent

No
Native ISO Range
(Expanded Range)
100-32,000
(50-102,400)
64-25,600
(32-102,400)
Dynamic Range
(*claimed, not tested)
15 stops*
14.8 Stops
(DXO test)
RAW Frame Rate

10 fps

7fps
(9fps with MB-D18)
RAW Buffer Size

76

29 (14-bit)
51 (14-bit lossless compressed)
170 (12-bit lossless compressed)
Focus Points (Phase Detection, Total)


399

153
Cross-Type AF Points
?
99
AF Sensitiviy
-3 to +20 EV

-4 to +20 EV

Highest Video Resolutions
3840 x 2160 4K 30p, 25p, 24p
3840 x 2160 4K 30p, 25p, 24p
4K Capture Method

5K Capture, Oversampling

Pixel Binning
Slow-Motion Speeds
at 1080p
120 fps
30p x4
Headphone Jack
Yes
Yes
Clean HDMI Output
Yes
Yes
Autofocus for Video
Excellent Phase-Detect
Slow Contrast Detection Only
Card Slots
2 SDXC (1 UHS-II)
1 XQD
1 SDXC
Weather Sealing
Yes
Yes
Battery Life
530 shots
(viewfinder)
1840 shots
(viewfinder)
Body Weight
(CIPA)

(1.45 lbs.)
1005g
(2.22 lbs)
Viewfinder Coverage
Magnification
100%
.78x
100%
.75x
For Travel / Field Use
If you're a travel photographer, a landscape photographer, a photojournalist, or just someone taking vacation pictures, there are a few important criteria: the ideal camera will be compact and lightweight, but sturdy and well sealed.


Both cameras are well built, but the Sony is considerably smaller and somewhat lighter. While the
D850
is a medium sized DSLR, the
A7R III
is more comparable in size to a compact point-and-shoot camera. It is just a half centimeter wider than the Sony a6500.


Though it is smaller, the Sony is still a robust piece of hardware, and weights only2 I admit, a half pound is a considerable amount of weight difference, but considering the size difference, it could have been more. about a half pound less than the Nikon. While the back and top plates of the Nikon are magnesium, the entire body of the Sony is metal, which helps account for its heft.
Both cameras are heavily sealed, so extended use in the field should not be a concern. Given its weight and size, I'd rather carry the Sony. If you have large hands, the camera may be more comfortable with the battery grip attached.
If you're going to be away from a power source for a while, though, battery life is also a serious consideration, and has long been a drawback of mirrorless cameras.
Stabilization
It's hard to over-state the importance of image stabilization when shooting in poor light. Yes, you'll still get motion blur in a moving subject, but sharp surroundings can save an image that would otherwise be worthless. Many of the best lenses these days have stabilization built in, but none of Nikon's camera bodies have it built in. The Sony A7RIII does: it has a 5-axis stabilization system that can provide up to 5.5-stops of stabilization.
With built-in stabilization, you get the benefits with any lens that you use. Want to shoot with a manual focus Zeiss Batis or Loxia lens? With the Sony, you get stabilization. This also means that you don't need to pay for more expensive stabilized lenses, and you don't have to carry around the extra weight of stabilized lenses.
Of course, a wide range of stabilized lenses are made for Nikon, and many of them offer 3 or 4 stops of stabilization, perfectly tuned to the performance of that particular lens. You'll pay for it, and you'll have to carry around the extra weight, but most focal lengths are covered.
For Shooting Action
Action photographers need to prioritize two things: a camera's autofocus system and its speed and responsiveness.


On paper, the Sony A7R III has the superior autofocus, with a hybrid-AF system containing more than double the number of phase detection AF points and covering twice the amount of view-finder real estate, plus another 425 contrast-detection points that work in conjunction with them. However, it's unclear how many of the phase-detection points are cross-type points (which are more reliable). I tested it on numerous passers-by, but no fast action. Still, it was nice and fast, and the face and eye detection make focus tracking a breeze. And unlike many previous Sony cameras, the A7R III has a joystick on the back to quickly select the AF points manually.
The Nikon D850 has fewer overall AF points, but nearly 100 of them are cross-type, and the AF module is the same as that found in the Nikon D5, which has arguably the best autofocus system in a DSLR for shooting action. Early tests show that the AF system in the D850 still doesn't quite match the D5, but it is still quite capable.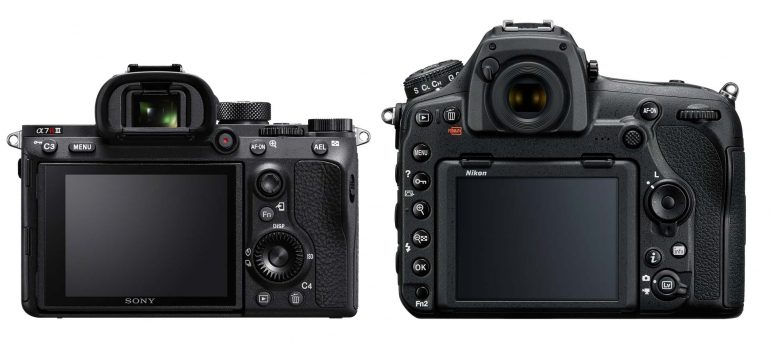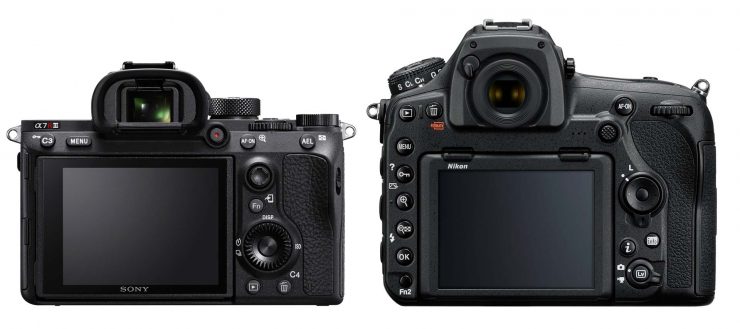 Speed
When it comes to speed, the Sony is ahead of the Nikon again. The Nikon's maximum frame rate is 7 fps, 9 when the power-boosting battery grip is attached.  The Sony A7RIII gives you 10 fps whether you're using an extra grip or not. But it's not just a matter of how fast you can shoot, but how long: the Sony can shoot 79 of its 14-bit, uncompressed RAW files in a row, while the Nikon will bog down after 51 lossless compressed shots (assuming that you're using a fast XQD card, and even fewer with an SD card). It's not usually a significant difference, since even most sports photographers rarely shoot more than 20 or so shots in a row.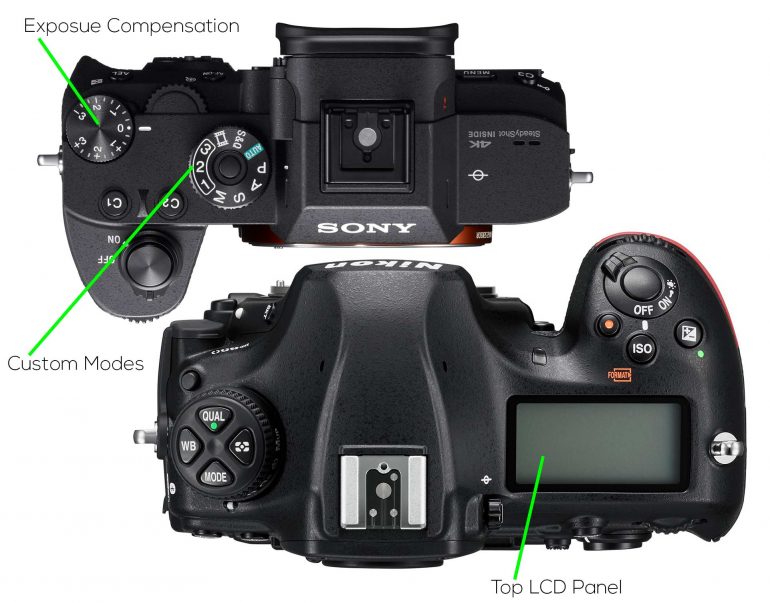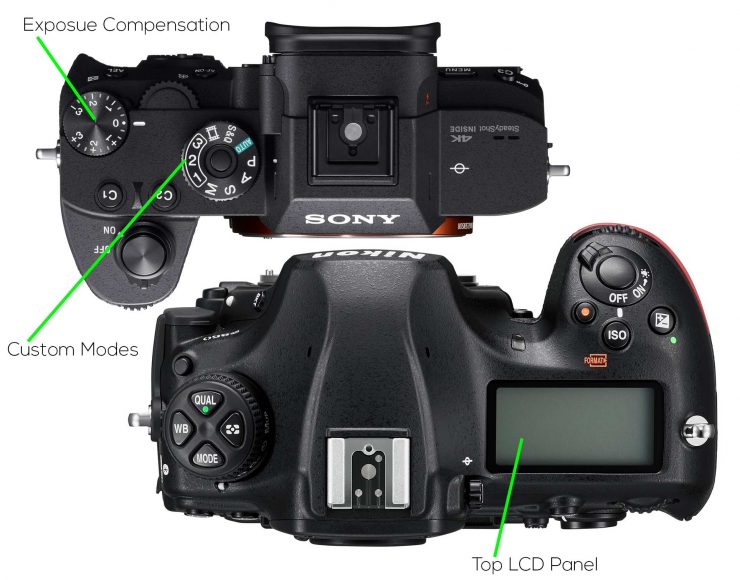 Ease of Use
Back with my first Canon EOS film cameras, I grew accustomed to having exposure compensation accessible instantly on my thumb wheel, and when I started shooting Nikon digital cameras, I missed it sorely. The Nikon D850 uses the typical Nikon system: there's a (+/-) button that you have to press on the top of the camera and then you make adjustments with the main dial. It's fine, but I prefer direct access. The Sony A7R III has a dedicated dial for exposure compensation by the right thumb.
And although I never use them, many owners of the Nikon D7000 series cameras love the custom user mode positions on the main mode dial (U1/U2). The D850 doesn't have a command dial, or these easy to access settings. The Sony, on the other hand, has three of them.
For Shooting Stills
When photographing landscapes, products, and portraits, extra resolution is always desirable. In this case, the Nikon D850 has a slightly higher resolution than the Sony (45 megapixels vs the Sony's 42). This is a very modest difference, but capturing more data is always better, as far as I'm concerned. Both sensors are back-side illuminated and therefore perform exceptionally well in low light, and both cameras can provide about 15 stops of dynamic range at their lowest ISOs. The minor differences between them (at ISO 64 vs ISO100) should be insignificant in real-world use.
The Nikon D850's bonus in resolution will primarily be an advantage for portraits and candid shots, though. For almost anything that you'd shoot from a tripod, the Sony A7R III has pixel-shift stacking3 Pentax cameras also have this features, and it works remarkably well., which can produce files with approximately 170 megapixel resolution. Because the Sony's sensor is floating rather than fixed (for image stabilization), the camera can take four sequential shots, with the sensor shifted one pixel up, down, or over, so that each point of the image is captured with a red, blue, and green receptor.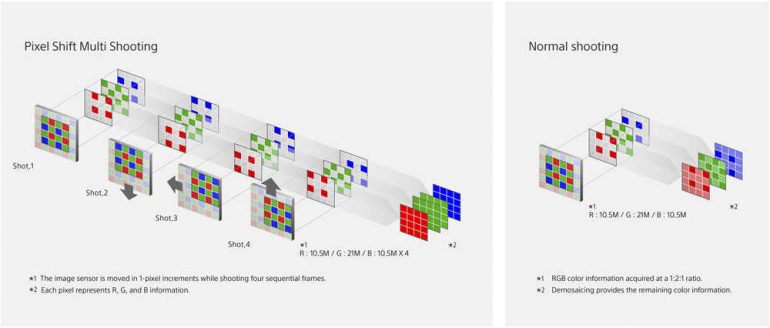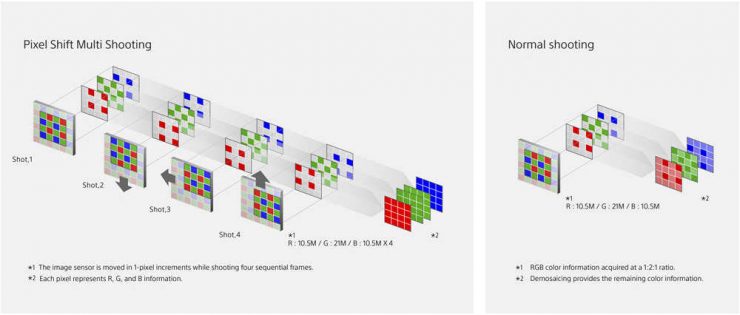 Not only does this dramatically increase resolution, it creates a file in which each point has been sampled in all three colors, like a Foveon sensor, for excellent color reproduction, at least theoretically. With the Sony, unlike Pentax counterparts, the images are processed and combined out-of-camera.
And for focus-critical work, the Sony (and all mirrorless cameras) has an inherent advantage: the camera focuses based on the image on the sensor, not on predictions from a separate AF module that's not on the focus plane. So, while DSLRs and certain lenses may front or back-focus at a certain distance, a mirrorless camera lenses should never need micro-focus adjustment.
For Shooting With Speedlights
Nikon has long been known for it's Creative Lighting System (CLS) and its sophisticated flashes, dating back at least to the early 1990s, and even today, they are at the head of the class. Photographers like Joe McNally4Joe McNally is one of the most prodigious photographers of our times, and was the last staff photographer of LIFE Magazine, if my memory serves me. He's also shot covers for Time, Newsweek, Sports Illustrated… the list goes on and on., author of the books The Hot Shoe Diaries and Sketching Light, have shot countless magazine covers and portraits with Nikon's remarkable flashes. And even if you don't care about Nikon's own flash system, there are numerous third party flashes and triggers that are are made to work seamlessly with Nikon cameras.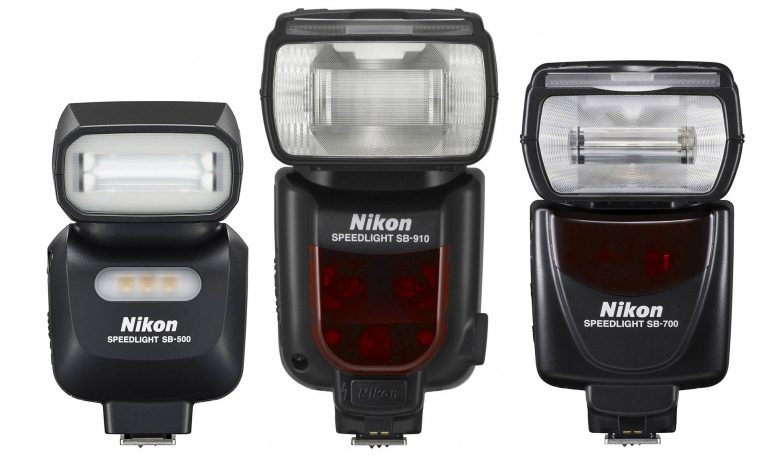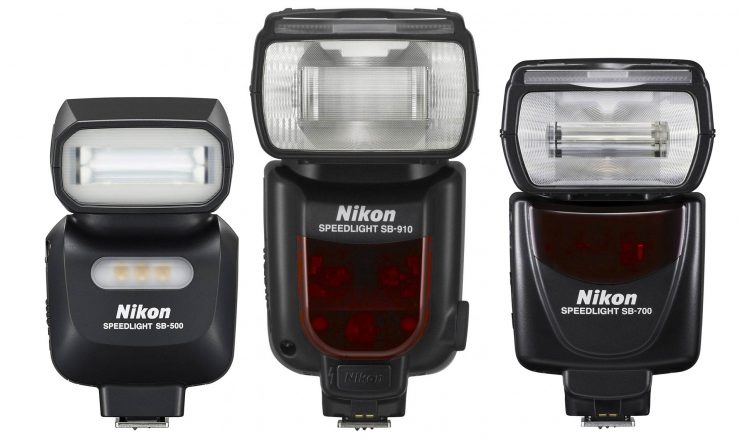 Sony, on the other hand, is a relative newcomer to the flash game. A few years ago, I'd have been hesitant to recommend the Sony to anyone who does a lot of flash photography. However, Sony has really made strides in the past several years. They now have a wireless flash system of their own, and 3rd party triggers and flash units for Sony are fairly common. In the studio, the likes of ProPhoto Air Remote now support Sony cameras with full TTL capabilities.  Still, figure out whether your needs are supported by Sony before you purchase.
For Shooting Video
I don't shoot much video, so I'll leave the details of this comparison to people more experienced, but there are a few easy, important factors to consider.
First, when it comes to autofocus while shooting video, there is no comparison: the Sony is dramatically better than the Nikon. For some reason, Nikon still relies solely on contrast-detection auto-focus for live-view and video, which is unusably slow. Sony A7R III, being mirrorless, is just as fast and reliable when shooting video as when shooting stills. For manual focus, the Nikon D850 has no focus peaking, while the Sony does.
Second, while both cameras shoot full-frame 4K, the capture process is different5 For a thorough but easy to understand explanation of the difference between pixel-binning, pixel-skipping, and over-sampling, I recommend this post at DPreview.. The Nikon uses pixel-binning to reduce the readout of the 45 megapixel sensor down to the roughly 8 megapixels displayed in 4K video, which is generally agreed to be a less than ideal method of video capture; it tends to create moire problems and suffers in low-light. Sony, on the other hand, uses oversampling, creating a 5K image for each frame and then resizing that down to 4K on the fly. This is a more processor-intensive method, and can potentially generate more heat, but generally provides superior image quality.
Finally, I'll add that the Sony can capture S-LOG video, a format that captures a greater range of tones and detail (though it appears flat and desaturated) but requires color grading during post processing. The Nikon D850 does not offer LOG capture, yet, though I've heard that they offer a decent "flat" profile for shooting video.
All in all, the Sony seems like a much stronger, more professional option for film-makers.
As A Complete System
When you buy a camera body, you're buying into a complete system of lenses, flashes, and other camera accessories. How do the Sony and Nikon systems compare?


Nikon has a 100 year history of making cameras and lenses, and the D850's "F" mount has at least basic compatibility with all of the "F" mount lenses made within the past 58 years, currently at least 4006 https://www.nikonusa.com/en/learn-and-explore/a/products-and-innovation/nikon-f-mount.html] of them, plus hundreds of additional 3rd-party lenses. Tamron, Sigma, Zeiss, Samyang, Tokina and Irix, among others, all make lenses to fit Nikon cameras. Whether you'd want to actually use many of those lenses is another question.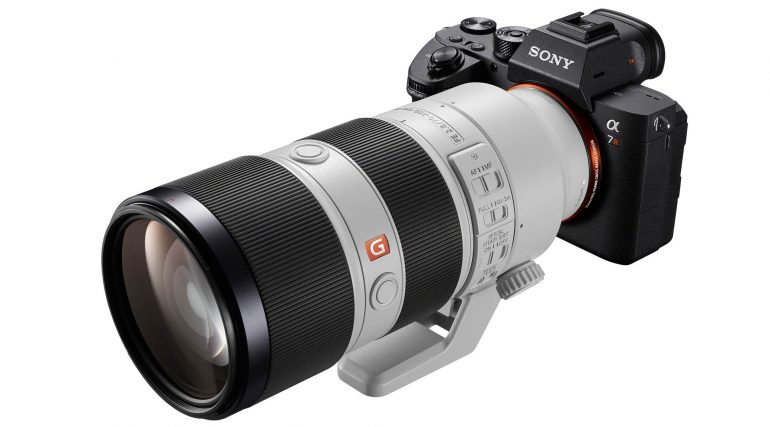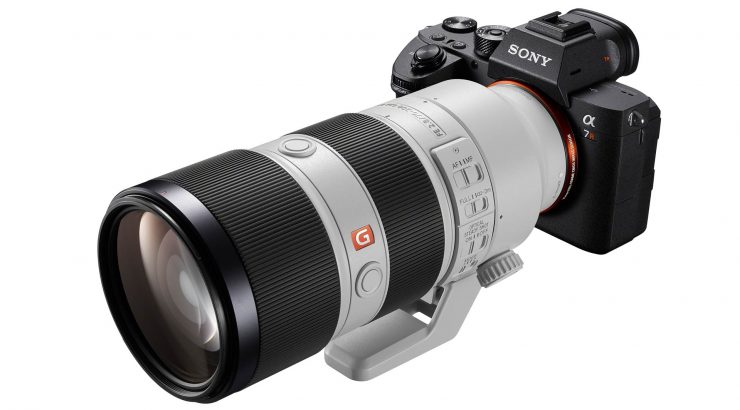 Sony is a relative newcomer to the camera market, and their own lineup E-mount lenses is modest in comparison, with fewer than 25 full frame lenses available. Sigma and Tamron don't make any full-frame Sony lenses (and only a couple of APS-C), and Tokina doesn't make any autofocus lenses for Sony E, though their manual-focus FiRIN range fits Sony. On the other hand, Samyang makes a line of autofocus lenses exclusively for Sony E-mount.
Between Sony and Samyang's lenses, most of your bases will be covered, but not all of them. Sony doesn't make any large aperture super-telephoto lenses, yet, so you'd need to use Canon's lenses and an adapter. We all know that the lenses you use with your camera are just as important as the body (probably more important, in fact), so make sure that you can meet your needs with Sony before rushing into the system. Luckily, Zeiss and G-Master lenses that Sony makes generally have an excellent reputation (though their prices can be high).
Finally, it's worth thinking about the professional support system offered by the companies. Nikon Professional Services has a great reputation for handling equipment problems and returns, replacements in the field, repairs, loans, cleaning and a variety of other services for professionals.
Sony launched their own professional services system in 2014 (Sony Imaging Pro Support), but their reputation has not been so great. YouTuber Matt Granger has famously written-off Sony solely because of the poor treatment that he received from Sony support, and he's not the only one who has complained of poor service. However, Sony has been addressing these problems and has recently expanded their Pro Support system, now with a 24/7 call center and walk-in spots around the country. It's clear that Sony is serious about Pro support, but it's not for the hobbyist7 You have to own two full frame bodies, pay $100/year, and be approved as a professional by Sony. and time will tell whether they're able to live up to the standards of NPS and CPS.
Conclusion
I've been skeptical of Sony's cameras for professional use for years (they often seemed like they contained a laundry list of great features, haphazardly thrown together in a body, not thoughtfully produced tools), but that time is gone. On paper, it appears that the Sony A7R III is an almost ideal camera for most photographers, especially those who also shoot a lot of video. Our primary concerns remain with the Sony's autofocus system (for professional sports photographers), which performed well in my limited trials, but it doesn't have the Nikon's pedigree and street cred. However, with my experience of the Sony A7R III, along with that of my colleagues, I'm satisfied that Sony finally has the real deal with the A7R III (and probably the Sony A9 as well).
But no camera is one-size fits all. I'm still happy to recommend the amazing Nikon D850 to those photographers who don't have the same needs as I do for their work. You should buy the Nikon D850 if you :
need native, high-quality super-telephoto lenses. Sony doesn't have them. This may be a deal-breaker for professional sports and wildlife photographers
need the highest resolution possible from a single shot
need the best battery life possible
need a trusted autofocus system that is high in cross-type AF points
want a larger, more comfortable camera body
don't need a small, light camera
want to use the extended features of Nikon's CLS flash system
only trust Nikon's NPS support system
Questions? Comments?
As always, if you have any questions or comments, please leave them below! I'll do my best to answer them as soon as I can.



[Update 11-28-2017: This article has been updated to reflect the fact that Sigma's full-frame lenses for Sony are A-mount, not E-mount, and are therefore not compatible with the A7RIII without an adapter.]