Pelican 1560 Hard Camera Case
Final Word:
A robust case that will make you glad that it has wheels.
One of the things that I love most about being a photographer is traveling, but flying can be hard on camera equipment. Carrying camera bags on the plane is an option, but that option comes with its own problems: they're heavy, big bags are not allowed, it restricts what else you can carry on, and if you board late on a full flight, you might be forced to check your bag through anyway. That's why I bought a Pelican 1560 flight case five years ago.
When I was a teenager, Pelican products came with a guarantee label that covered them against breakage and leaks in all cases except shark bite, bear attack, and children under 5. I haven't seen that label in years, but Pelican cases are still among the most trusted cases in the world for protecting expensive and fragile equipment. I've been using the Pelican 1560 rolling case (with foam insert) for the past four years, and here are some of the things that I love and hate about it.
Build Quality & Protection
This is why people buy Pelican cases: they're strong, safe, and trustworthy. Anything that can stand up to being thrown around by airline baggage handlers (unlike the infamous Taylor Guitar) can handle just about anything, and my Pelican case has been survived numerous flights unscathed. Yes, I'll find new scratches and the occasional gouge, but there are no cracks or dents, no broken handles or clasps. It's still completely waterproof. And more importantly, I've had no broken camera equipment.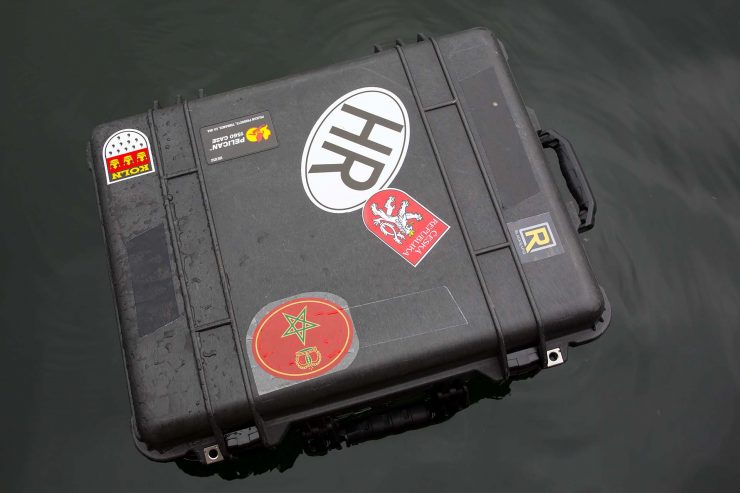 Design
PROS: Pelican's general design is simple but ingenious: it consists of a hard plastic outer shell with perforated foam interior. Small, individual cubes of the foam can be plucked out to customize spaces for equipment of just about any size or shape. This works wonderfully, as long as you don't try to get too fancy (in which case complex shapes will start to fall apart with extended use). With foam hugging every inch of your equipment's surface, it's virtually impossible for it to get damaged during travel, though it is important to leave sufficient space between pieces of equipment to protect during hard impacts.
This is a big case, and luckily has been designed with wheels and a roller-handle, both of which are made of the hard, durable plastic of the case's shell. This makes airline travel much easier. I also like to collect stickers from the places I travel and stick them to the case, and I can't do that with a soft, roller bag1 I suppose that if I were really motivated I could collect patches and sew them to a fabric bag, but that would limit my options quite a bit, and I'd probably never get around to it. And it would probably affect the water resistance .
The two carrying handles both have a rubber grip which makes them much more comfortable to carry than the plain plastic grips on smaller cases. Good idea.
CONS: The 1560 has double-throw latches keeping it closed. While this makes the 1560s much easier to open than many of the smaller cases, it actually makes them a little too easy to open. The first time that I flew with my new case and checked it, it came off of the baggage retrieval conveyor belt with both clasps open and the case ajar. I hadn't used a padlock. It was pure luck that nothing was missing or broken.
After that, I bought a package of brightly colored, heavy duty zip-ties, and I put one through each set of lock holes when I check it, and I've had no problems yet. TSA approved locks are generally not any harder to circumvent, and with zip ties, I'll at least know as soon as I get the back that it's been tampered with if there's a problem.
The hard-plastic wheels are a bit noisy on rough surfaces (parking lots, roads, etc), especially with the resonance of the hard case. I'd have preferred soft, rubber wheels, but they are at least sturdy and they work. It's also pretty easy to replace these wheels with softer ones, if you prefer… it will just cost $12 or so.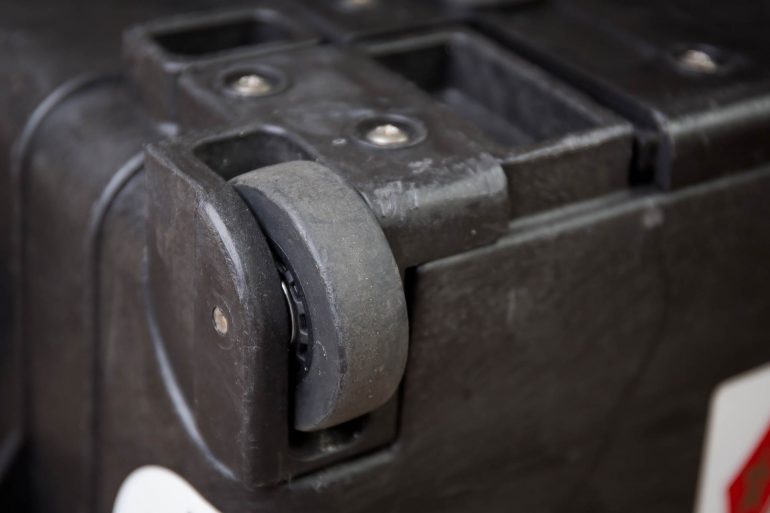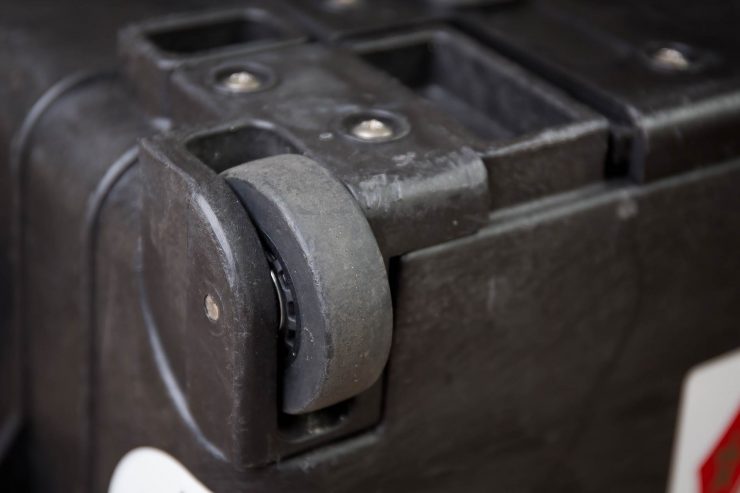 Size and Weight
Let's get this out of the way: the Pelican 1560 is a heavy case. Even without your gear in it, it weighs 20 lbs, and loaded up it's not unusual for mine to weigh almost 40 lbs. The case can hold two at least two full-size DSLR bodies, a 70-200mm f/2.8 lens, another five smaller lenses, two flash units, and an assortment of other batteries, flash triggers, filters and small items.
The 1560 is technically too large to be a permissible carry-on for most American domestic airlines at about 22 x 18 x 10.5 (the Pelican 1510 and new 1535 are carry-on legal: 22 x 14 x 9 is typical carry-on size), but I've never had a problem rolling it through security in dozens of trips. At the Tampa airport, I was once asked to stuff it into the size-check box by an ambitious TSA man, and the fit was tight enough that it wouldn't go all the way in, but apparently it was close enough and they let me by. That said, I never actually carry it on. My general scheme is to roll it with me to the gate to avoid paying the extra baggage fee, but my flight crew invariably offers complimentary carry-on check at the gate, which I accept.
And I do this because the Pelican 1560 case is bordering on heavy when empty, and dangerously heavy when full. If I accidentally let this case slip from an overhead bin and fall on someone's head, I'd be facing a serious lawsuit. And who wants to deal with luggage that size in a cramped airplane, anyway? I bought this case so that I can check my gear and not worry about it.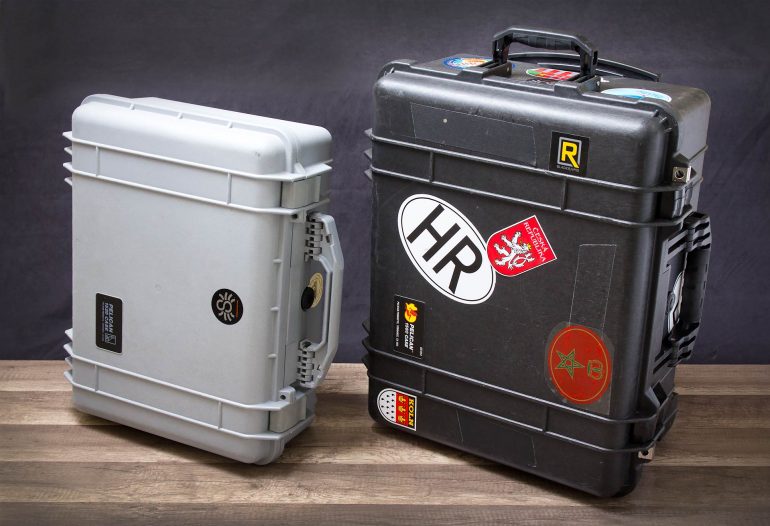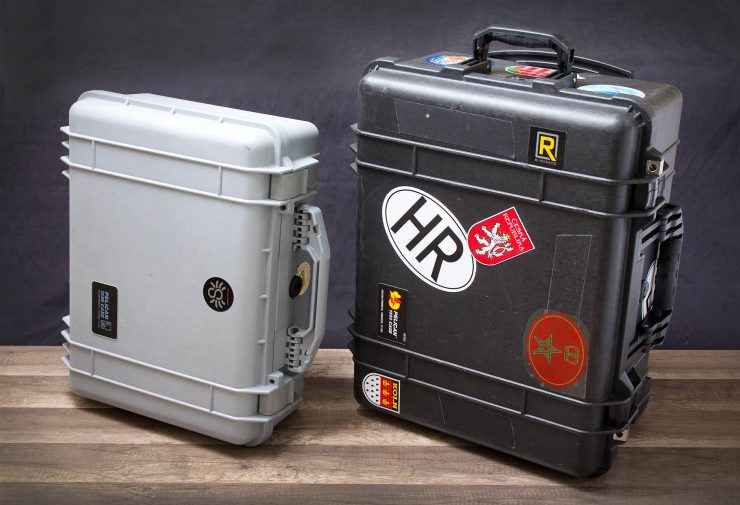 If you actually want to carry on a roller bag full of camera gear, I'd suggest going with something lighter and softer, like the ThinkTank or Tenba bags; I've had nothing but good experiences with both manufacturers.
Cost
Camera equipment is expensive, so it's always a bit of a surprise to find anything that is high quality and relatively inexpensive. The Pelican 1560 is exactly that, at only about $165 or less (depending on color). Doesn't sound so inexpensive to you? Consider the cost of fabric roller camera bags by Tenba($325), ThinkTank($250–390), and even Vanguard($190). There are less well-known brand hard-cases that are cheaper, but they won't save you much… the Seahorse brand still runs $136, and even the "Amazon Basics" brand costs $140. ThinkTank and SKB have recently joined up to make cases with padded dividers rather than foam, and while they are more efficient with space, I don't believe they will protect your gear as well… and they're not cheap. Padded dividers are also available for the Pelican 1560, though they cost about $100., or you can buy the 1564 case with dividers instead of foam for about $250.
Conclusion
If Pelican had come up with a latch design that would reliably stay closed during a day of air travel, this case would have received a truly excellent rating, since it is otherwise well designed, well built, and reasonably priced. As is, some photographers have taken to drilling a hole in the plastic ridges surrounding the buckles and lacing a zip-tie through them during flights to keep them from accidentally popping open, which is an even better solution than using zip-ties in the lock holes.
Still, I'd choose Pelican cases over any fabric roller bag to protect my gear on a flight any day, at least when checking the bag as luggage: I can hand the case over and not worry about it again during my trip, even if I know the planes will be loaded in monsoon rains, or if I have to walk several blocks in a storm to my hotel.
Overall Score: 8.1 out of 10
Solid. Heavy. Secure... with a bit of help.
Comments? Questions?
Still have any questions about this case, or anything else relevant to this review? Let me know in the comments section below. I'll answer as quickly as I can.