Tamron officially announced four new lenses for Sony E-Mount this evening, including the highly anticipated 70-180 f/2.8 (in development) and 20mm, 24mm, and 35mm f/2.8 primes. Those who live and die by their bokeh may not appreciate the primes, but the rest of us who have more practical needs will love their compact sizes and modest prices.
Tamron 70-180 f/2.8 Di III VXD
To compliment their existing 17-28 and 28-75mm f/2.8 lenses, Tamron is developing a compact 70-180mm f/2.8 lens to fill the role of a typical 70-200mm f/2.8 in a somewhat modified version of the "holy trinity" of professional lenses1The trinity has typically included 16-35mm, 24-70mm, and 70-200mm f/2.8 lenses over the last couple of decades, though variations are common.. Tamron says that the lens will have "superb optical quality" and a short minimum object distance (about 33.5 inches) for versatility, and the lens will be weather sealed as well.
Following in Sony's footsteps, the lens will use a fast new "VXD" linear motor for focusing rather than a more common "USM"-type or a stepping motor.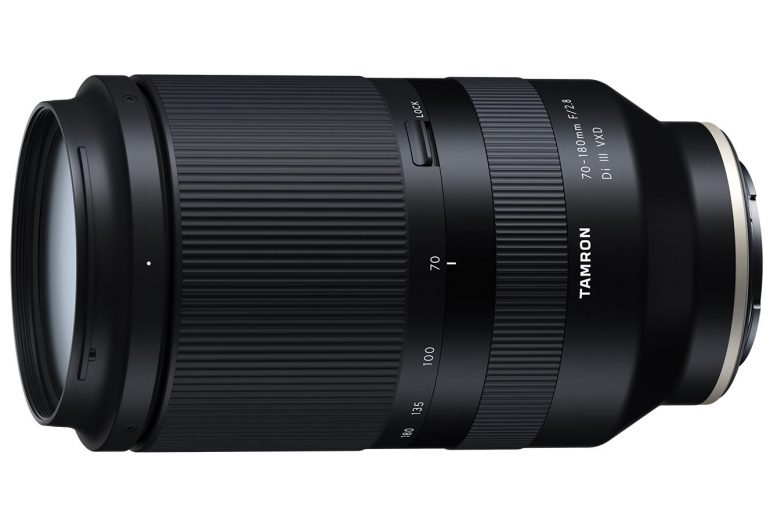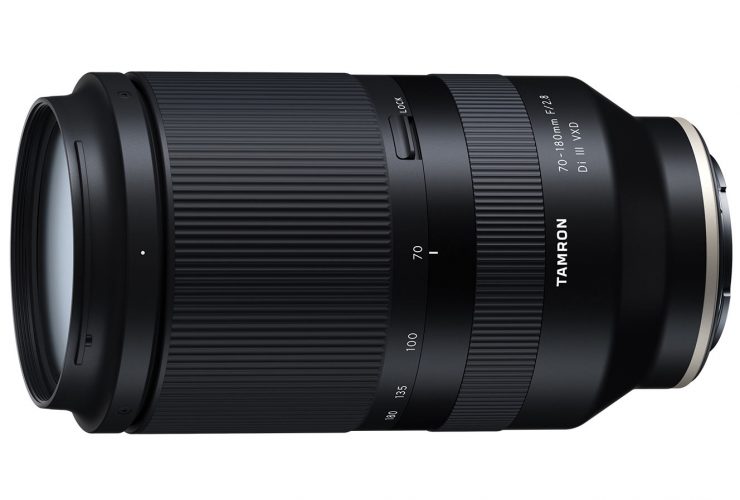 Some photographers will undoubtedly lament the truncated focal length at the telephoto end of the zoom, preferring a true 200mm, but many 200mm zooms have actually measured much shorter than 180mm when shooting nearby subjects anyway, due to "focus breathing".
I'd also prefer 200mm reach, but the new Tamron's advantage in size and weight over the heavy alternatives like the Sony 70-200 f/2.8 GM (3.3lbs) will go a long way in making up for it. The Tamron will weigh about half that much, at 1.8lbs.
Unfortunately, you'll have to wait for it. Tamron is planning to begin shipping the lens in the spring of 2020, and no price has been announced yet (though it's likely to be less than half of the Sony's $2500).
Tamron 20mm, 24mm, 35mm Di III OSD M1:2 f/2.8
This lenses in this trio share several features: they're all about the same size (2.5″ / 64mm long, 73mm diameter) and weight (215g, +/-5g) with 67mm filter threads, they share "Optimized Silent Drive" focusing motors, they all can focus down to a 1:2 magnification ratio (ie, the image on the sensor is half the size of the real object), and they're all weather sealed. The minimum object distance for the 20mm lens is 4.3″, for the 24mm lens it's 4.7″, and the 35mm has a 5.9″ minimum object distance.
Tamron claims that all of the lenses are designed with high resolution sensors in mind, with low dispersion and molded-glass aspherical elements, (10 elements in 9 groups, except the 35mm, which has 9 elements in 8 groups).


And of course, all of the lenses are compatible with all of the focusing features of Sony cameras, such as eye detection and in-camera lens correction.
Price & Availability
On November 20th, the Tamron 24 and 35mm f/2.8 lenses will begin shipping at a cost of $349 each. The 20mm will not be available until January, but will also cost $349. For comparison, the Sony 35mm f/1.8 lens costs about $750, and the Sony Zeiss Sonnar 35mm f/2.8 costs just under $800.
---