Tamron's 70-300mm lenses have been among the best in the world for decades, often sharper than their OEM counterparts, so I was intrigued when the Tamron 70-300mm f/4.5-6.3 Di III RXD for Sony E-mount went on the market few months ago (Nov. 2020). Sony's own 70-300mm G lens is also very well regarded, and has OSS (Sony's image stabilization) built into the lens; it was a comparison that was screaming to be done1Both lenses were temporarily provided by the manufacturer for review, but the review is not sponsored in any way, and all opinions are my own.. And the result?
Both lenses are very sharp, but the Tamron provided even better resolution than the Sony, especially away from the center of the image, and it does it at less than half the price! The Sony lens currently costs $1,173.00, while the Tamron costs only$. Both lenses are compatible with full-frame cameras like the A7 series as well as APS-C cameras like the Sony a6100 and a6400.
But is it really that simple? Almost, but not quite. Keep reading for the details.
Build Quality & Handling
In the hand, there's an obvious size difference between the Tamron and Sony 70-300mm lenses. The two are roughly the same in length, but the Sony's girth is considerably more hefty, and it has the weight to match: the Tamron weighs 1.2 lbs (545g), while the Sony weighs 1.9 lbs (854g), about 40% more. Both lenses extend to the same length when zooming to 300mm.
Though the Tamron is lighter, its polycarbonate body doesn't feel cheap or flimsy; as they have done for all of their mirrorless lenses for Sony, Tamron has made a decision to keep their lenses as light and compact as possible, to balance with the smaller form factor of Sony cameras, and all of their E-mount lenses use 67mm filters.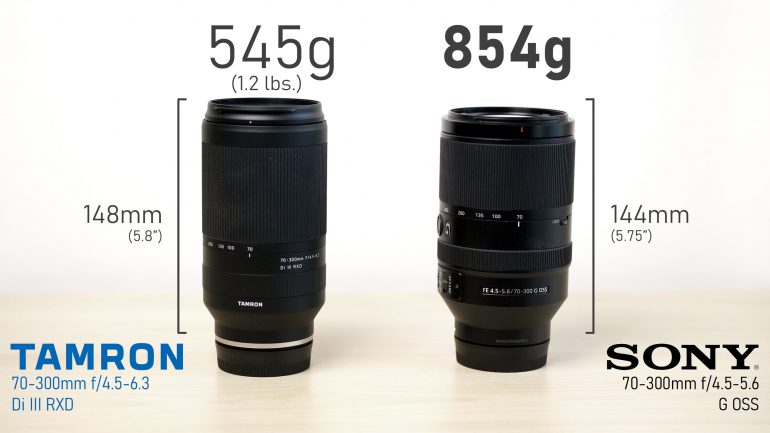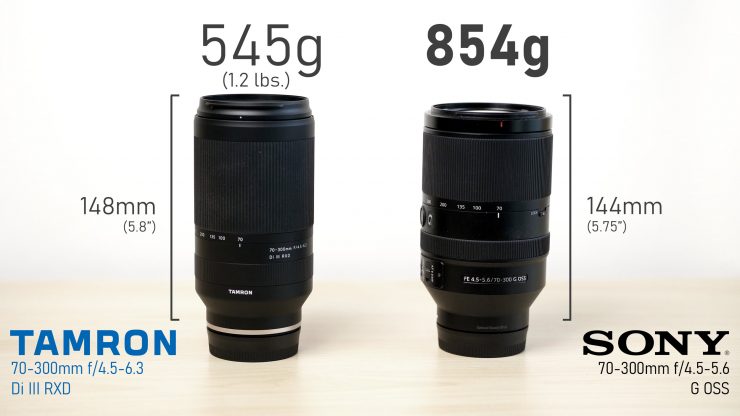 However, Tamron has continued their design trend of including no manual switches or buttons on the lens body. While this undoubtedly makes weather sealing easier, there are times when I would like to quickly switch to manual focus without dedicating one of my precious custom buttons to it. Tamron, please give me a manual focus switch!
Tamron's lens also has a maximum aperture of f/6.3 at 300mm, which is 1/3rd stop less light than the Sony's f/5.6, which contributes to the lens's smaller size. This is not a big difference in terms of transmission, but it is not insignificant, either. Lens manufacturers have been creeping downward with maximum apertures over the past decade (with Canon releasing an RF lens with an f/7.1 zoom at 105mm, recently, along with f/11 super-telephotos). Yes, it's easy to add 1/3rd stop of extra ISO and treat the two lenses the same, but it comes at the cost of digital noise and lost dynamic range.
Image Stabilization
One of the reasons that the Sony lens is so much bigger and heavier than the Tamron is that it has OSS (Optical Steady Shot = Optical Image Stabilization). Stabilization is a hugely important feature (especially on long telephoto lenses) when it's the only stabilization available, often the difference between a sharp image and something that you'd be embarrassed to show to your friends on Instagram. With no stabilization, you'll want a shutter speed of 1/320th sec. or faster to get a sharp image at 300mm. With 3 stops of of image stabilization, you should get good results at 1/45th of a second (assuming that the subject isn't moving).
Tamron's full-frame lenses for E-mount do not include image stabilization (yet, though I suspect that their 100-400mm and 150-600mm lenses might, in the future), because Sony's modern full-frame cameras all include in-body image stabilization (IBIS), usually claiming 5 stops of stabilization.
So, although I'll show you some examples of differences in resolution in these lenses below, the tiny differences there are insignificant compared to the difference that you'd see between using a stabilized and non-stabilized lens, hand-held2Of course, if you're shooting from a tripod, image stabilization is irrelevant. This means that if you're shooting with a full-frame camera with IBIS, the Tamron will be great for you. If you're shooting with an APS-C camera like the a6100 or a6400 which do not have IBIS, then the Sony lens with OSS offers a dramatic advantage, and you should consider spending the extra money on the Sony lens.
Resolution & Detail
As I mentioned above, both of these lenses provide excellent resolution. In my tests, though, the Tamron often provided better detail than the Sony.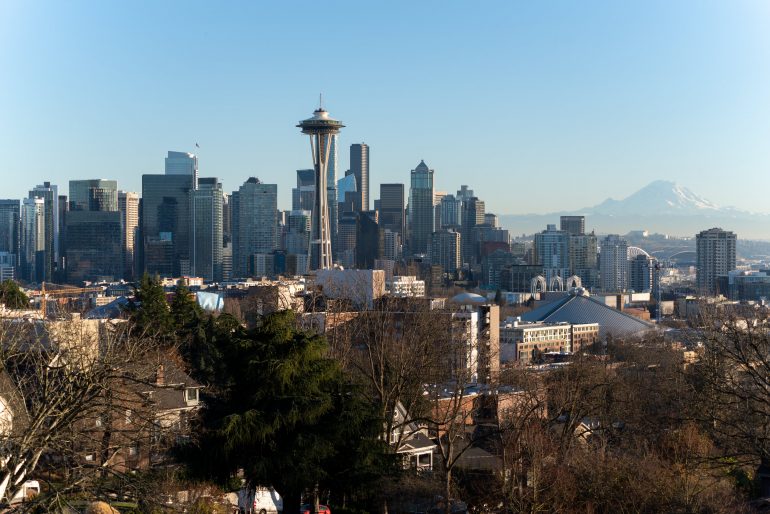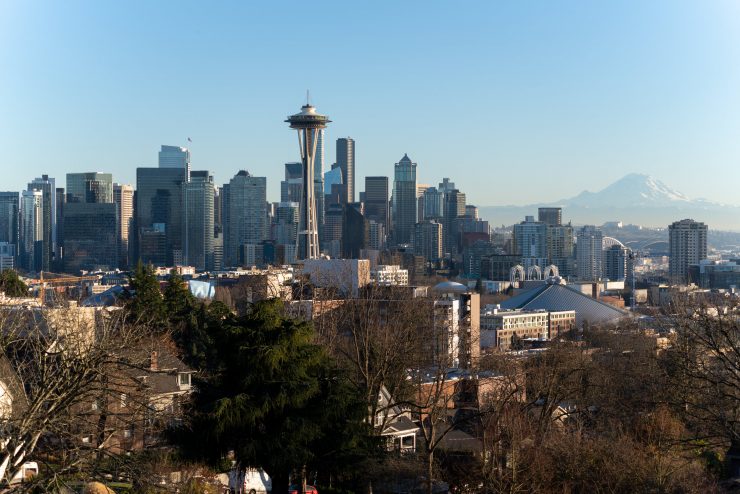 In the center of the frame, there difference is very minor; the two lenses look almost identical from f/4.5 to 5.6 at 70mm, with the Tamron emerging as significantly sharper at f/8.
At 300mm, the Tamron enjoys a slight advantage wide open at f/6.3 that keeps getting better as the lenses are stopped down to f/8.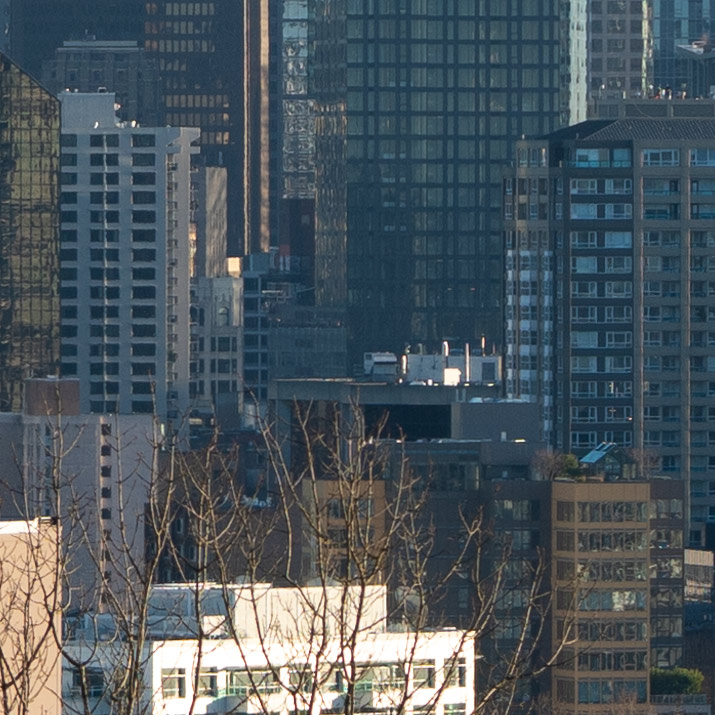 Mid-frame, the Tamron's advantage is obvious from wide open onward, at both ends of the zoom range, and the further from the center of the lens, the more obvious the difference is.
Even at it's worst (wide open aperture near the edge of the frame), the resolution of the Sony 70-300 f/4.5-5.6 G OSS lens is still quite good for this type of lens.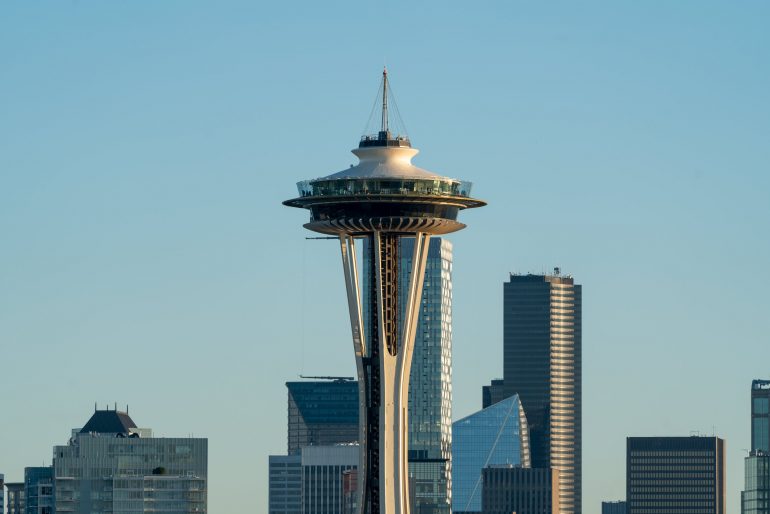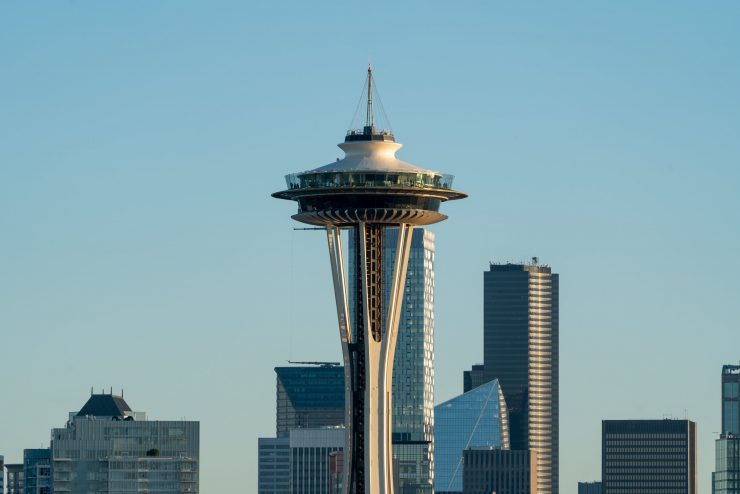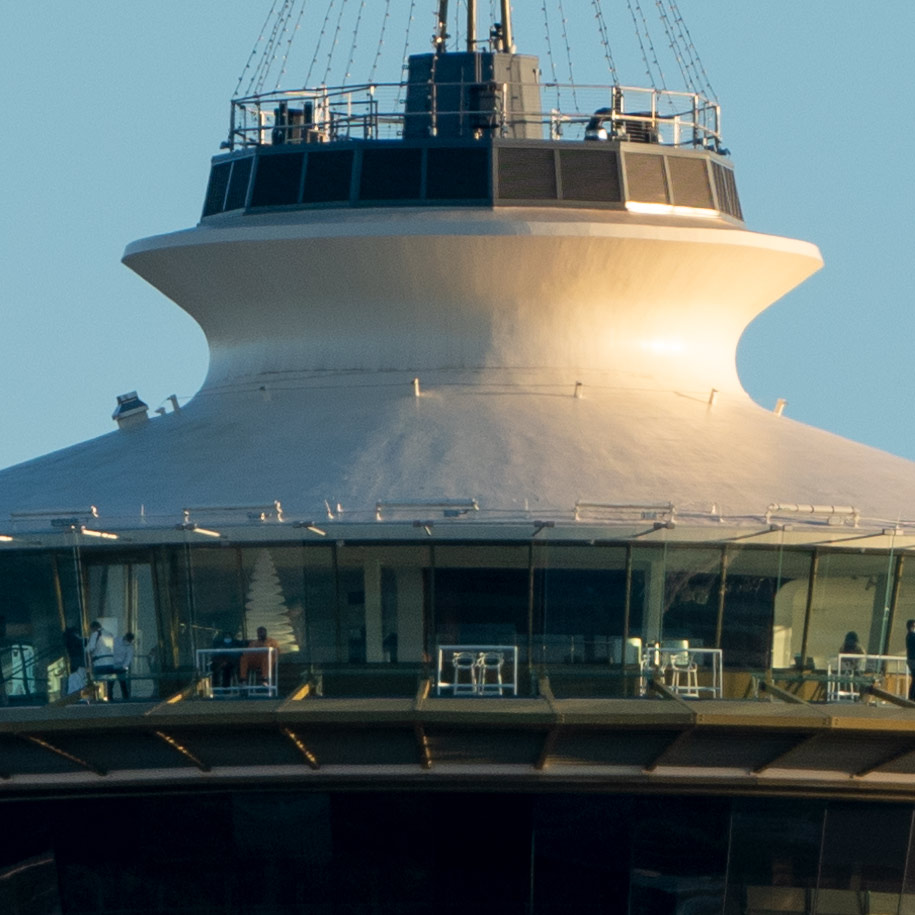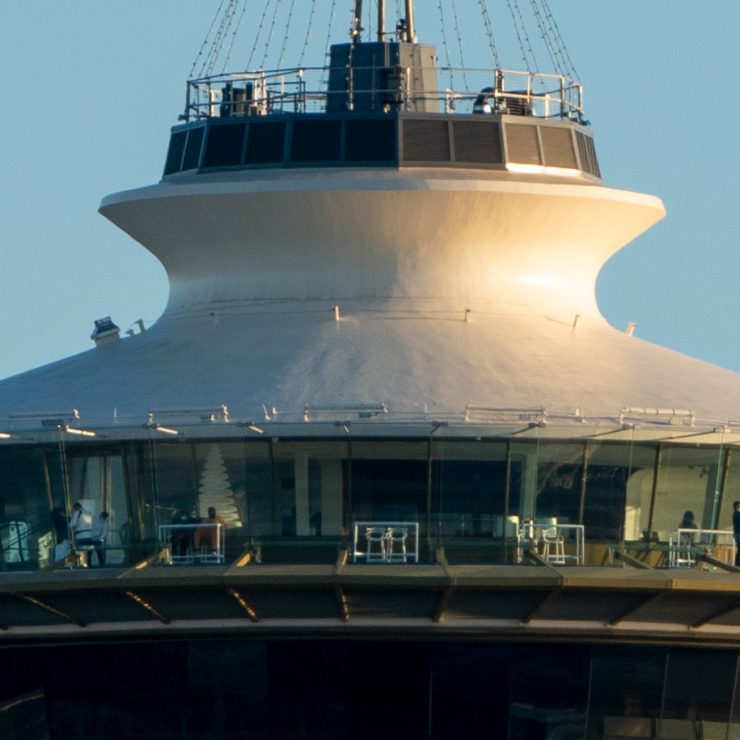 Autofocus Performance
When the Tamron 70-300 lens arrived in the mail and I first attached it to my camera, I thought that it wasn't working because the autofocus was so quiet. I couldn't hear it at all. The Sony lens gives me a more typical whisper-quiet (USM-style) focus sound… both of them are quiet and suitable for video shooting.
They're also both pretty fast, but neither of them is going to make you want to give up your 400mm f/2.8 GM lens, either. For general sports and action shooting in good light, both lenses will get the job done reliably, though they may miss a shot here and there, too.
Since we don't have any local team sports at the moment, I headed up to the mountains to shoot some snowboarders in December.
With a few exceptions, both lenses did a good job of tracking smoothly moving subjects, even ones that were speeding towards me or rapidly changing directions.
Landscapes & General Shooting
Though I had already sent the Sony lens back, I took the Tamron lens with me when I went out shooting at Cape Disappointment State Park in January. I've always enjoyed using telephoto lenses for shooting landscapes, and the Tamron 70-300 is plenty sharp enough to be suitable for the job.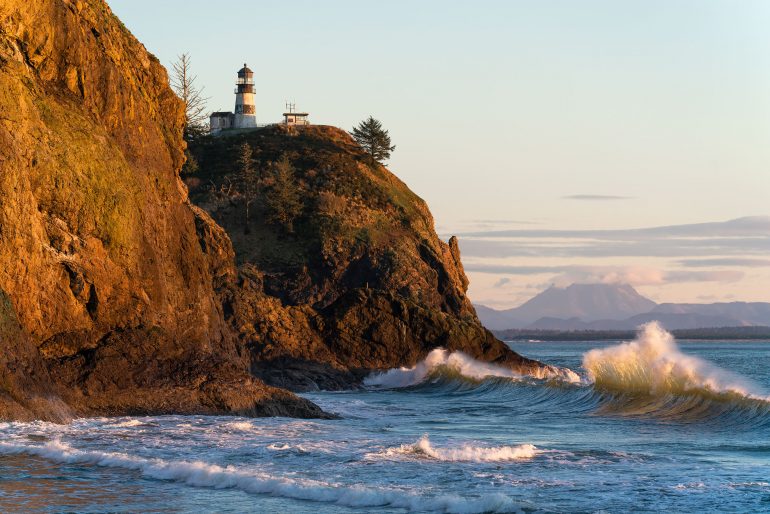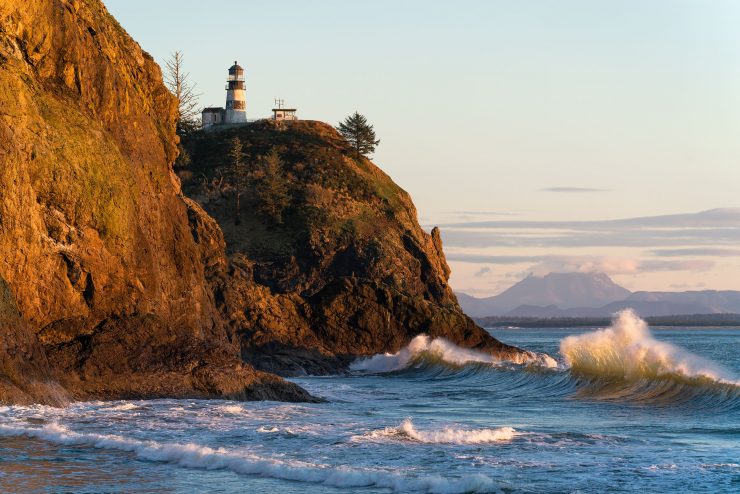 Generally speaking, the zoom range was useful for capturing the fine details that I couldn't reach with the Tamron 17-70 f/2.8 lens that I was also using, and a 300mm lens can pull the background in close to a subject, which can also be very useful.
At Cape Disappointment, I was very happy with the results of that I got with the Tamron 70-300 until sunset. While I was able to continue shooting with the f/2.8 lens well after sunset, I had to bump up the ISO on my A7RIII a few times to keep using the 70-300, and even then, my images were so soft that I eventually had to give up. A tripod would have solved this problem, but I was intentionally shooting without one.
Conclusion: Should you Buy the Tamron 70-300mm f/4.5-6.3 Lens?
Considering the excellent optical quality, convenient light-weight build, and the very reasonable price of the Tamron lens, I would not hesitate to recommend it to anybody shooting with a full-frame Sony camera with IBIS. However, for those using a non-stabilized a6000 series camera, I'd recommend the Sony 70-300 OSS lens instead, or another stabilized lens.
To Sum Up
Buy the Tamron 70-300mm f/4.5-6.3 lens :
if you will be using a camera body with in-body image stabilization (IBIS) like the A7 series cameras and the a6500 or a6600.
or if you'll be shooting from a tripod and want the highest resolution possible from a 70-300mm lens
if you're going to be traveling or carrying your camera for a long time and want the lightest lens to cover the zoom range with high image quality
if you don't have a bottomless bank account. The Tamron costs about $500, and can be purchased from Amazon, B&H, or Adorama, among others.
Buy the Sony 70-300mm f/4.5-5.6 lens :
if you'll be shooting with a camera that does not have IBIS.
you frequently use the manual buttons or switches on the body of Sony lenses (AF lock, manual focus, focus limit, OSS).
Questions? Comments?
Please let me know if you have any questions or comments! As usual, I did not cover every possible detail in this review; I chose things that I thought would be relevant to the photographers who are likely to buy these lenses for the purposes that they're typically used for. If I didn't cover something that you'd like to know more about, just let me know!
---