We have written an updated version of this article, comparing the new Nikon D5600 and the Nikon D7200. Click here to read the new article, or click here to open it in a new tab.
The newly announced Nikon D7200 has finally been given a significant performance boost, making the choice between it and the D5500 (a less expensive camera that provides identical image quality) a much more difficult one to make.  It's also worth noting that the changes between the new D5500 and D7200 and their predecessors are not very significant, so you may prefer to save money and buy the older models while they're still available. My general advice is always this: buy the least expensive camera that will meet your needs, and buy the best lenses that you can afford. Below, I'll cover the differences between these cameras and explain which types of photographers will find the different features useful.
New In the D5500
If you're deciding between D5500 and older D5300, here's the difference:
That's it! The D5500 and D5300 are virtually identical, otherwise, so as the price drops on the D5300, many photographers who don't care about having a touch-screen or who want built-in GPS will be able to pick it up at a great price. Currently, the D5300 body costs $597 while the newer D5500 body costs $747.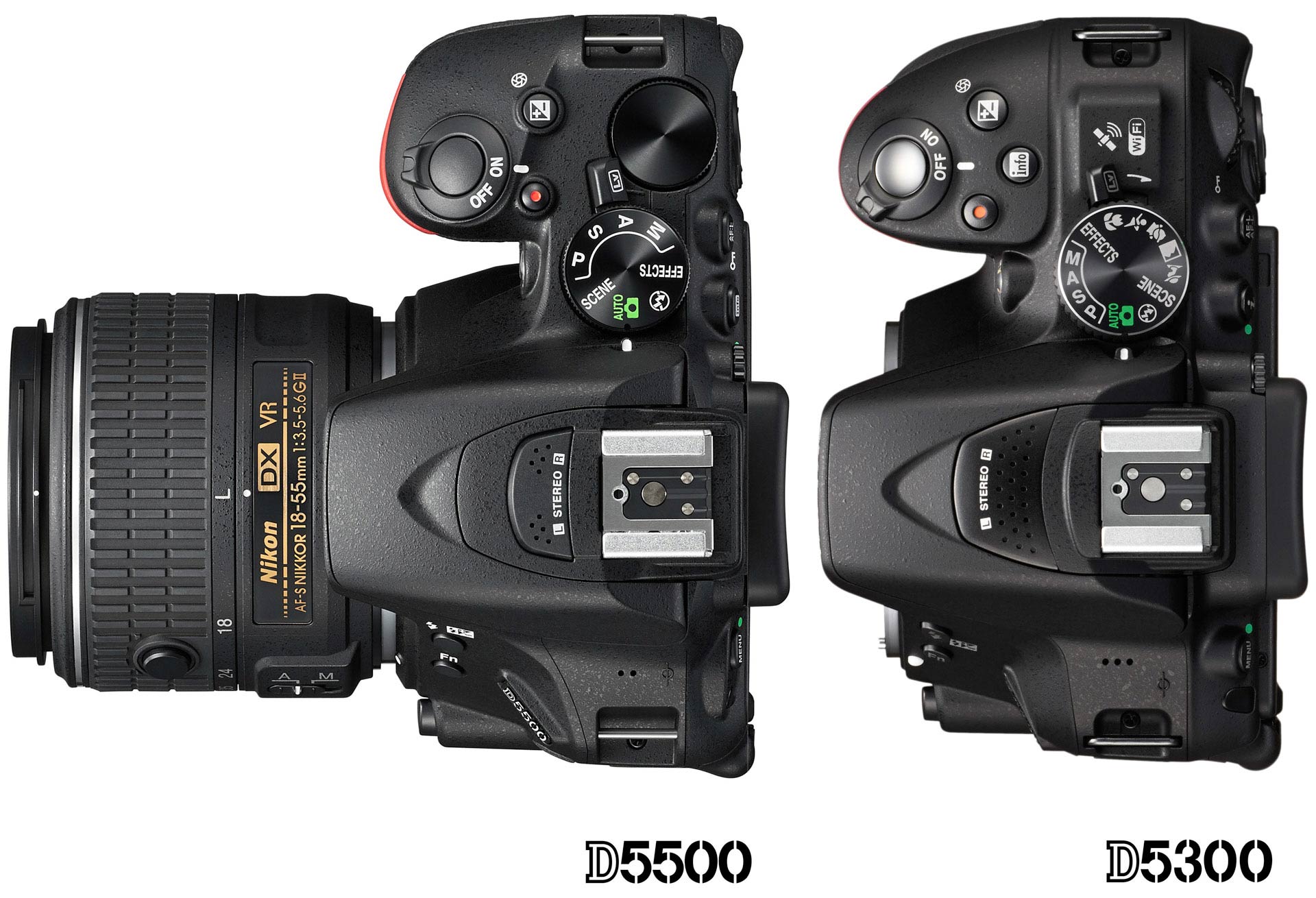 Nikon D5500 vs D7200: What's the Difference?
To begin with, we can take a look at the most significant specs for the D5500, D7100 and the new D7200.
Nikon D5500
Nikon D7100
Nikon D7200






Price (body)

$746
$796
$1096
Price (with 18-140mm kit lens)
$1046
$1096
$1396
Body Material
Sereebo, (carbon fiber reenforced plastic) body-chassis
Partial Magnesium Alloy Frame, Plastic
Partial Magnesium Alloy Frame, Plastic
Dust/Weather Sealed Body
None

Yes

Yes

Sensor Resolution
24.2Megapixels

24.1 Megapixels
24.2 Megapixels
Anti-Aliasing Filter
(Reduces sharpness, prevents moire)
NO
NO
NO
ISO Range

100-25600

100-6400
+12800
+25600

100-25600

Total AF Points
39

51

51

Cross-Type AF Points
9

15

15

AF Motor In Body
(For Using Older AF Lenses)
NO

YES

YES

AF Light Level Range
-1 to +19 EV
-2 to +19 EV

-3 to +19 EV

Autofocus Fine Tuning
Adjustments
NO

YES

YES

Shutter Speed Range
1/4000th - 30 sec.
+bulb
1/8000th - 30 sec.
+bulb
1/8000th - 30 sec.
+bulb
Expected Shutter Life
100,000 Shots
150,000 Shots
Max Frame Rate
5 fps
6 fps
(7 shots in 1.3x crop mode)
6 fps
(7 shots in 1.3x crop mode)
Max RAW Burst
(buffer size)
6 shots, compressed 14-bit
7 shots lossless 12-bit
6 shots lossless 14-bit

18 shots 14-bit

Max JPG Burst
(fine, Large)
100
33
100
Flash Sync Speed
1/200th sec.

1/250th sec.


(1/320th* sec, or slower,)

1/250th sec.

Wireless Flash
(Built-in Commander)
NO

YES

YES

Auto FP Flash Mode
(High Speed Sync)
NO

YES

YES

Media Slots
1 SD / SDHC / SDXC

2 SD / SDHC / SDXC

2 SD / SDHC / SDXC

LCD Size
3.2"
1,036,800 pixels
3.2"
1,228,800 pixels
3.2"
1,228,800 pixels
LCD Articulated

Yes

No
No
LCD Touchscreen

YES

No
No
Built-in GPS
No
No
No
Built-in WiFi

Yes

No

Yes

Body Weight
420g (no battery)
470 (with battery)
675 (no battery)
675 (no battery)
Body Size
124 x 97 x 70 mm
136 x 107 x 76 mm
136 x 106.5 x 76 mm
Battery Life
820 shots
CIPA Standards
950 shots
CIPA Standards
1,110 shots
CIPA Standards
Viewfinder Coverage
95% Frame
.82x Magnification
100% Frame
.94x Magnification
100% Frame
.94x Magnification
Video Codec
MPEG-4 / H.264
.mov
MPEG-4 / H.264
.mov
MPEG-4 / H.264
.mov
Video Resolutions
1920 x 1080 (60p, 60i, 50i, 30, 25, 24 fps)
1280 x 720 (60, 50 fps)
1920 x 1080 (60i*, 50i*, 30, 25, 24 fps)
1280 x 720 (60, 50 fps)
640 x 424 (30, 25 fps)
1920 x 1080 (60, 50, 30, 25, 24 fps)
1280 x 720 (60, 50 fps)
640 x 424 (30, 25 fps)
Video Length Limit
29 min 59 sec.
29 min 59 sec.
29 min 59 sec.
Headphone Jack
No

Yes

Yes

Internal Mic
Stereo
Stereo
Stereo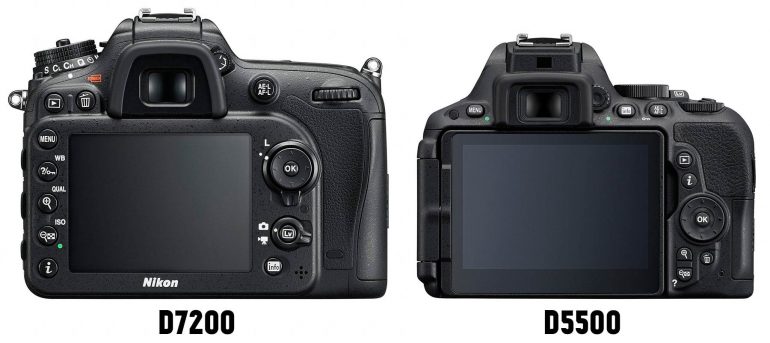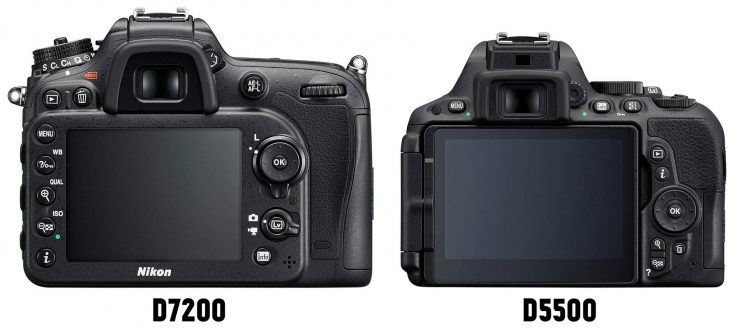 Build Quality
Perhaps the most obvious difference between the D7200 and the D5500 is in their construction. The D5500 body is significantly smaller and lighter, built of carbon-fiber reenforced plastics (Sereebo), while the D7200 is heavier and built for durability, with a metal (magnesium alloy) back and top, and importantly, it is weather sealed. Since the D5500 also uses a smaller battery, the carry-around weight of the D7200 is about 40% more1 Actually 38.6% than the D5500.
Whether this is an advantage or disadvantage depends on your photographic needs; some photographers (especially those with larger hands) prefer a larger camera with some 'heft' to it, while others prefer something more lightweight and easy to carry around, especially travelers and hikers. Needless to say, those who work in harsh conditions will also prefer the D7200's weather sealing and heavier-duty construction, as a matter of practicality.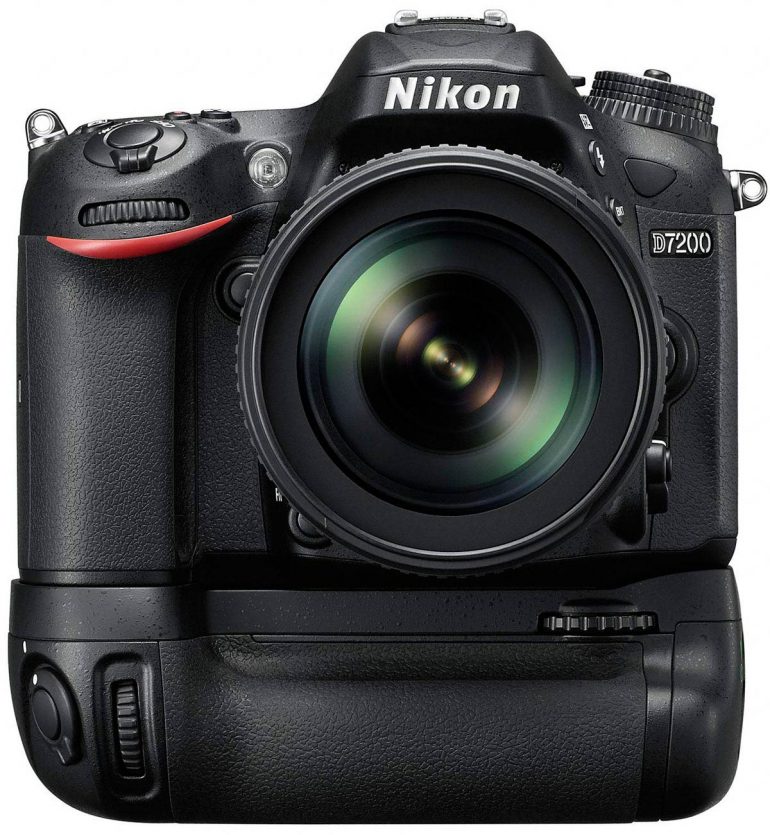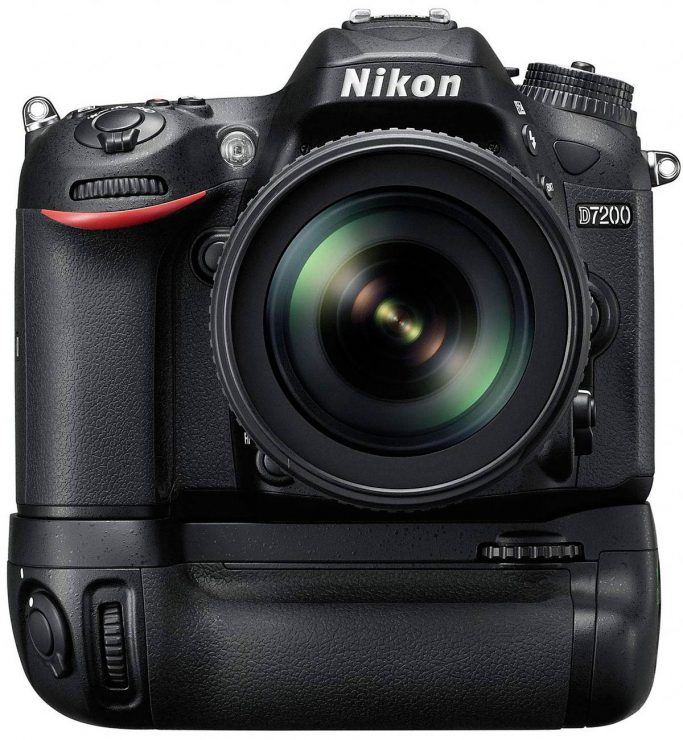 The Sensors : Exactly the Same
Like the previous generation, Nikon's D5500 and D7200 both have 24-megapixel sensors, and neither one makes use of an anti-aliasing filter. Consequently, if you shoot RAW files, you will not be able to detect any difference in image quality between these two cameras, and since both cameras now use the same processor, the JPGs should be equally indistinguishable.
More AA Filter Info
The success of the D800e may have led directly to Nikon's decision to produce an APS-C camera without an optical low-pass/anti-aliasing (OLP/AA) filter, but whatever led to the fact, the D7200's sensor is naked. Before the D800e, all of the major SLRs produced their sensors with an AA filter: essentially an extra layer in front of the sensor that blurs the image slightly, in order to reduce the jagged edges and moire 1 that have traditionally been associated with digital capture. With modern improvements in image processing software, though, Nikon was confident that the moire and jaggies could be avoided without the AA filter, so they opted to remove it
2
To be more precise, the Nikon D800e does have an AA filter, but it also has an AA-canceling filter, so it does not have one in practical terms. The D810 does not have an AA filter at all, nor do the D5500 and D7200.
and allow the cameras to capture finer image detail.
With the success of the D7100, Nikon also decided to remove the AA filter from the D5300 and D5500's sensors, and now the D7200. For all practical purposes, there is no difference between the sensors the D7200 and D5500, so there should be no difference in image quality if you shoot RAW. Though this lack of AA filter does provide the potential to for the camera to produce sharper images, don't expect too much.

Why does that matter?
Comparisons of images produced by the D800 (AA Filter) and D800e (no AA Filter) have shown that the principle works; there are subtle improvements in fine detail in the D800e's images. However, we should not expect such significant improvements in the D7200's images. The receptors on the 24 megapixel sensor of the D7200 are already much, much smaller than those of the D800e. In fact, the D7200 and D5500 fit about 56% more pixels into the same sensor area as the D800e.
Why does that matter? Even with the much larger receptors of the D800, lens resolution has become a serious bottle-neck for image quality. Nikon has already produced a special list of lenses that can allow you make the most out of your D800 sensor. The dramatically higher pixel density of Nikon's 24-megapixel APS-C sensors will tax lens resolution even more, meaning that the D7200 and D5500's images won't get much sharper unless lenses get sharper first.
Auto Focus Systems
Unlike most entry and mid-level SLRs, the Nikon D5500 has a very sophisticated autofocus system. While cameras like the Canon T6i and 70D have 19 autofocus points, the D5500 has 39, though only the central nine of them are cross-type 3 If you're not sure what cross-type points are, or why they're important, check out our short video on the subject, here. . This autofocus system, which also incorporates color information, has been adopted from the Nikon D7000.
The D7200, however, shares the same AF system with the flagship Nikon D4 and the D810: 51 AF points, including 15 cross-type… the best system available in a Nikon body.
For all but the most dedicated action photographers, the system in the D5500 will be more than sufficient, even if you're buying a camera primarily for shooting sports. If your paycheck, however, is going to depend on your focusing system, the extra several hundred dollars will be well spent on the D7200.
Speed
When it comes to speed, the differences between the D5500 and D7200 are more modest that you might expect. The D7200 does have a top shutter speed that is one full f-stop faster than the D5500's (ie, 1/8000th vs 1/4000th). When it comes to shooting bursts of photos, though, the D7200 only provides an additional frame per second over the D5500's 5 fps (unless you're shooting in 1.3x crop mode, in which case it will give up an additional frame per second).
However (unlike the D7100) the D7200 has a significantly larger buffer, allowing longer continuous bursts of shooting. While the D5500 (and D7100) can only shoot 6 14-bit RAW files in a row before filling the buffer and getting bogged down, the D7200 can shoot 18 RAW images in a row, three times more than the D7100 (though it still lags significantly behind Canon's original 7D, which could shoot 25).
Shooting JPG gives you even more freedom to hold down that shutter button. The D7200 can shoot bursts of 100 frames or more (at 6 fps), just like the D5500. The D7100 was only capable of shooting 33 in a row.
The D5500's Downfall
Flash. With the popularity of "Strobist" techniques over the past several years, flash photography has become increasingly important to amateur and semi-pro photographers, and this is where the D5500 falls short: it lacks high-speed-sync4 For a quick explanation of what high-speed-sync is, watch our video here. (Auto FP Flash, henceforth AFP) and external flash control with the built-in flash. External flash control may not be a big deal; many of us prefer to use radio-units instead… though the built-in IR system can be very useful with Nikon's Creative Lighting System (CLS).
The lack of AFP, however, is a serious problem. Consider this situation: you're shooting a portrait outdoors during the day, and you want to use a large aperture to blur the background… perhaps f/2 or f/1.4 . This will push your shutter speed beyond 1/1000ths of a second, much higher than the camera's 1/200th sec. maximum sync speed. So, if you want to use a flash to soften the shadows or create a catch-light in the eyes of your subject, forget it: the flash will not sync. The same is true if you want to use flash for sports and a high shutter speed, and while you can purchase external command modules or radio transmitters for off-camera-flashes, there's nothing you can buy to work around the lack of AFP. You'd need to buy the D7200 instead.
In some instances, a neutral density filter can be used to bring the shutter speed down within the range of the D5500's sync speed. There are several problems with the method, though: the image through your viewfinder can become quite dark, making it hard to frame your shot and making it hard for your camera's AF system to pull focus, you lose flash power, if you're shooting with a telephoto lens, shutter speeds at the camera's sync speed might not be safe for hand-holding, and they'll always be too slow for sports or fast action (if you're balancing flash and ambient light).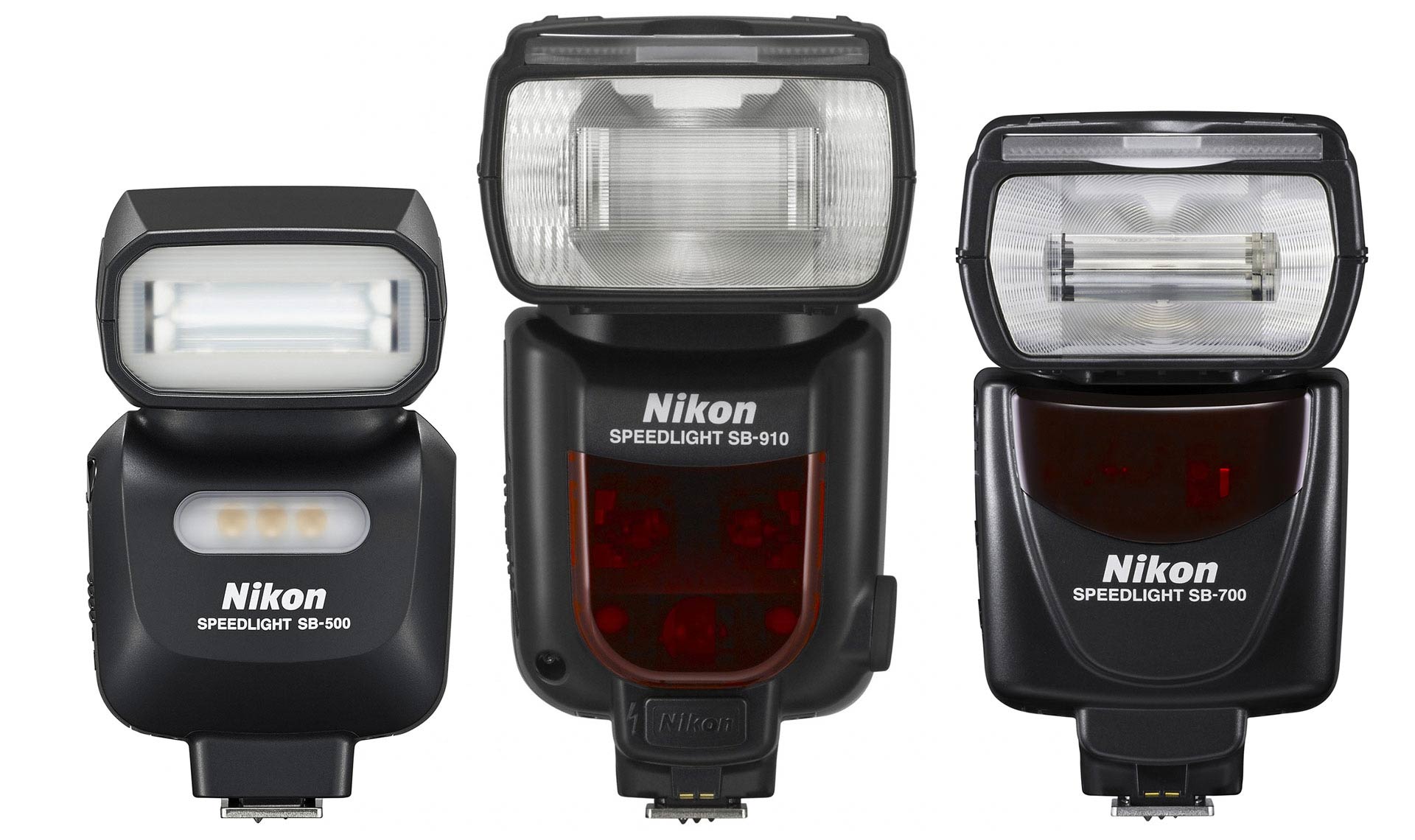 All the Little Things
There are a few other assorted differences that deserve mention here, but they're mostly the same differences that we saw between the D5100 and D7000. First, the D5500 does not have an autofocus motor built into the camera body, so it will not be compatible with the full range of (old school) Nikon lenses, while the D7200 does posses the motor. And speaking of "focus", the D7200 is capable of micro adjustments to correct for front or back-focus problems on lenses, while the D5500 is not.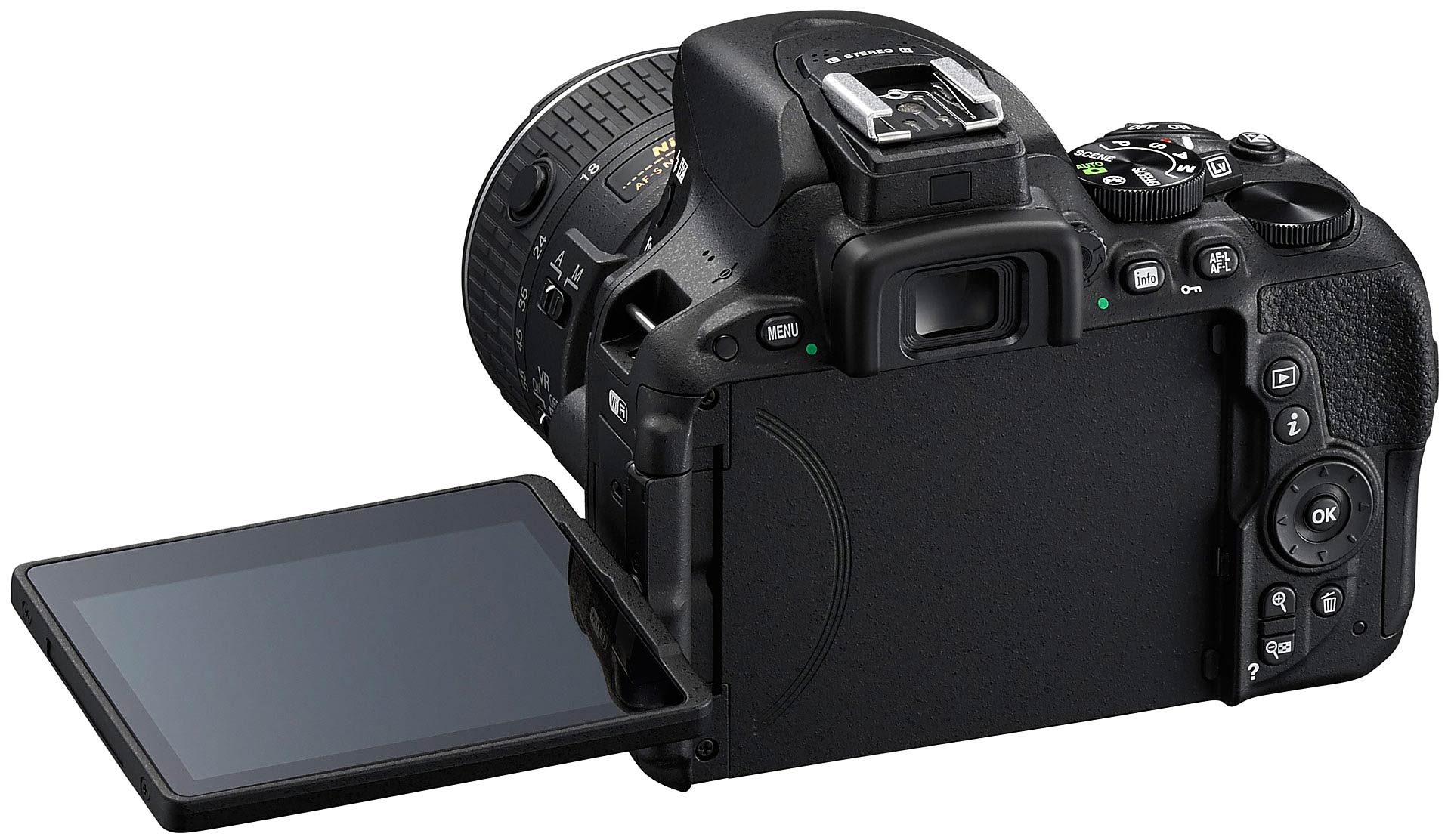 As should be obvious from the images above, the D5500 has an articulated LCD screen, which some people find helpful for ground-level shots and video but others find a breakage hazard or amateurish.
The D7200 has dual SD card slots. It's can be nice to have two slots if you want to record JPGs to one card and RAW to the other, perhaps sending JPGs to an Eye-Fi card, for example. However, if you only need storage space, a single slot is fine. These days, a single 64GB SDXC card costs only $30, and I rarely shoot more than 32GB per day, even at all-day events.
The D5300 has built-in GPS tagging, a feature that requires additional equipment with the D7200. This feature was dropped in the D5500, perhaps the result of the ubiquity of smartphones and apps such as GeoTag Photos Pro, but there are also reports of problems with battery drain using the GPS in the D5300, among other issues that I have yet to confirm.
Finally, if you are interested in video, the D7200 has been given a headphone jack for monitoring audio while you shoot. The jack is absent in the D5500 (and D5300, D7000). All of these cameras can shoot video at up to 1080p 60fps, except for the D7100, which can only shoot at 30fps at that resolution.
Which to Buy?
The Nikon D5300 and D5500 are great cameras, and I'd recommend them for the vast majority of amateur photographers, with the exception of those who need superior flash capabilities.
To summarize, you should buy the D5300 if you:
Buy the D5500 ONLY IF you:
Buy the D7100 if you:
Buy the D7200 if you:
For the sake of simplicity I've tried to focus on only the differences that, in my experience, will actually be important. There are, of course, numerous differences between the two cameras, though, and some features may be more important to particular photographers. If you think that I've left out something important, please feel free to let me know.
Please Comment!
If you have additional questions or comments, please let me know, below. I'll do what I can to answer questions and clear up any confusion.