Pentax DSLRs have been easy to ignore for the past decade, with less than 4.5% of the market share until 2015 (Canon holds about 55%, Nikon 37%)1 Ricoh/Pentax is now in 3rd place for DSLR market-share, at a little less than 7%, having taken over the spot from Sony last year. However, this is probably best explained by Sony's departure from the SLR market in favor of mirrorless cameras rather than an increase in Pentax's popularity. Market share numbers can be seen here. . However, following the release of their full-frame K-1 last winter, and the similarly impressive K-70 more recently, Pentax has become a brand that should seriously contend for your consideration, with remarkable resolution, in-camera stabilization, weather sealing, and first-rate sensors.
Yet the Nikon D5500 is also a remarkably good camera for its price (and much more popular), building on several generations of Nikon DSLR technology, not to mention access to hundreds of Nikkor lenses. So, which one is better? And which should you buy?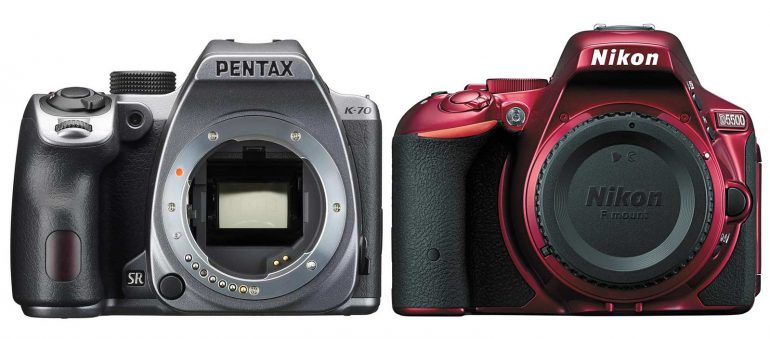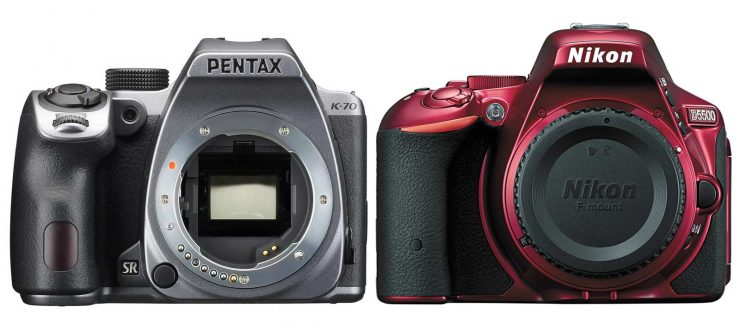 The Basics
Before getting into the details, take a look at the cameras' basic stats. They don't tell the whole story, but they do introduce most of the important characters:
Pentax K-70
Nikon D5500
Nikon D7200




Price (body)

$647
$746
$1096
Price (with 18-140mm kit lens)
$847
(18-135mm)
$1046
$1396
Body Material
Unknown
Sereebo, (carbon fiber reenforced plastic) body-chassis
Partial Magnesium Alloy Frame, Plastic
Dust/Weather Sealed Body

Yes

None

Yes

Sensor Resolution
24.24
24.2Megapixels
(Sony)
24.2 Megapixels
(Sony)
Anti-Aliasing Filter
(Reduces sharpness, prevents moire)
NO
Has sensor shift AA simulation
NO
NO
ISO Range

100-102400

100-25600
100-25600
Total AF Points
11

39

51

Cross-Type AF Points
9
9

15

AF Light Level Range

-3 to +18 EV

-1 to +19 EV

-3 to +19 EV

Autofocus Fine Tuning
Adjustments

Yes

NO

YES

Shutter Speed Range

1/6000 - 30 sec

1/4000th - 30 sec.
+bulb
1/8000th - 30 sec.
+bulb
Max Frame Rate

6 fps

5 fps
6 fps
(7 shots in 1.3x crop mode)
Max RAW Burst
(buffer size)

10 shots

6 shots, compressed 14-bit

18 shots 14-bit

Max JPG Burst
(fine, Large)
40

100

100
Flash Sync Speed
1/180th sec.

1/200th sec.

1/250th sec.

Wireless Flash
(Built-in Commander)
NO
(Only with external flash attached)
NO

YES

Auto FP Flash Mode
(High Speed Sync)

YES

NO

YES

Media Slots
1 SD / SDHC / SDXC
1 SD / SDHC / SDXC

2 SD / SDHC / SDXC

LCD Size
3.0"
921,000
3.2"
1,036,800 pixels
3.2"
1,228,800 pixels
LCD Articulated
Yes
Yes
No
LCD Touchscreen
No

YES

No
Built-in GPS
No
No
No
Built-in WiFi
Yes
Yes
Yes
Body Weight
628 (no battery)
688 (with battery)
420g (no battery)
470 (with battery)
675 (no battery)
Body Size
126 x 93 x 74
124 x 97 x 70 mm
136 x 106.5 x 76 mm
Battery Life
410
820 shots
CIPA Standards
1,110 shots
CIPA Standards
Viewfinder Coverage
100% Frame
.95x Magnification
95% Frame
.82x Magnification
100% Frame
.94x Magnification
Video Codec
MPEG-4 / H.264
.mov
MPEG-4 / H.264
.mov
MPEG-4 / H.264
.mov
Video Resolutions
1920 x 1080 (60i, 50i, 30, 25, 24 fps)
1280 x 720 (60, 50 fps)
1920 x 1080 (60p, 60i, 50i, 30, 25, 24 fps)
1280 x 720 (60, 50 fps)
1920 x 1080 (60, 50, 30, 25, 24 fps)
1280 x 720 (60, 50 fps)
640 x 424 (30, 25 fps)
Video Length Limit
25 min
29 min 59 sec.
29 min 59 sec.
Headphone Jack
No
No

Yes
The Sensors: Advantage Pentax
The imaging sensor is truly the heart of any modern SLR, and the K-70's sensor is excellent. In simple terms of resolution, it's roughly equal to that of the Nikon: they're both about 24.2 megapixels. However, when it comes to low-light performance, the K-70's sensor is rated at a top native ISO of 102400, a full two-stops higher than the Nikon's top native ISO of 25600. Tests of  older Pentax sensors (from the K-3ii, for example) show them performing similarly to (just a hair below) the Nikon D72002 This is according to DxO Mark numbers, which many people believe are biased. These lab measurements are often meaningless in practical use. , and so we can expect the K-70's sensor to be even better, though we will know more when production models are available.
If you like to shoot with live view or shoot video, though, the Pentax has a clear advantage when it comes to autofocus: the sensor contains hybrid-autofocus pixels on the sensor to allow fast, accurate AF performance (as opposed to the slower AF provided by Nikon's contrast-detection system).
The Pentax Floating Sensor
Even more important than the sensor itself is how the sensor is mounted, namely in a floating image-stabilization system.  This provides the obvious benefit of about 4.5 stops worth of image stabilization with ANY lens, including budget manual focus lenses (like Rokinon). In practical terms, here's what the means: to avoid image blur from camera-shake, a good rule of thumb is to shoot with a shutter speed of 1/focal length of the lens (eg, 1/200th sec for a 200mm lens, 1/50th sec. for a 50mm lens, 1/400th sec for a 400mm lens, etc). However, with image stabilization of 4.5 stops, you can cut that shutter speed in half 4.5 times, and still not have problems with camera-shake. So, rather than 1/200th sec, you can hand hold at about 1/9th of a second3 That is: cut in half once= 1/100th sec. Twice = 1/50th sec. Three times= 1/25th sec. Four times= 1/12.5th sec. And a half more: 1/9.3th sec. , at least in theory.  This also means that you can use lenses like Sigma's amazing 18-35mm f/1.8 lens (and indeed, many of their ART series models) with image stabilization.
If you shoot with the Nikon, you'll have to buy image-stabilized lenses (lenses with "VR"). These lenses are not only larger than standard lenses, they're also much more expensive, and some focal lengths are still not available with stabilization.
Just as importantly, though, the mobile sensor permits Pentax's "Pixel Shift" system which allows for dramatic gains in resolution. When using the pixel-shift system, the Pentax takes multiple shots of the same scene (when the camera is mounted on a tripod) shifting the sensor just a couple of microns in between shots. The images are then combined in the camera, producing an image that has remarkable detail and resolution: the 24 megapixel sensor of a K-70 will produce images with more detail than the 36 megapixel sensor of a D810, and with less moire.
It's also worth noting that both the Nikon and the Pentax use sensors without an anti-aliasing [AA] filter, allowing for sharper images, but increasing the risk of moire. An additional feature of the K-70's moving sensor is that, to simulate an AA filter, the camera can vibrate the sensor during a shot, effectively creating the minute amount of blur that would have been produced by the filter. I'm not sure how many people will ever use it, but it's a clever bit of engineering.
The Bodies
Although many camera bodies have dust and weather sealing, it is generally considered a safety measure, not a product feature. With Pentax, it is a selling point. Pentax ads regularly feature photos of their cameras being doused with water or caked with dirt. The Pentax K-70 is no different: it is fully weather sealed and dust-proof. You're expected to use the camera in the great outdoors; you don't have to baby it.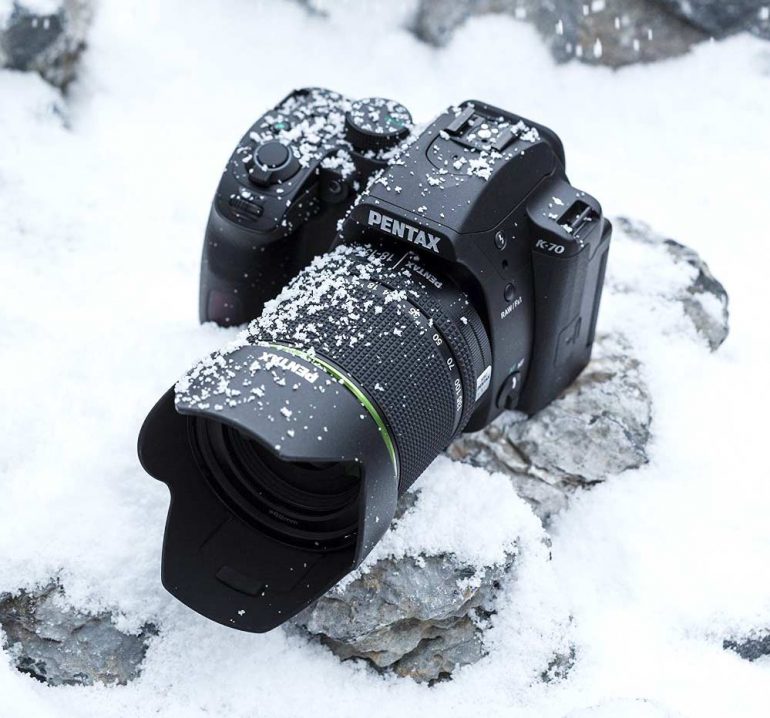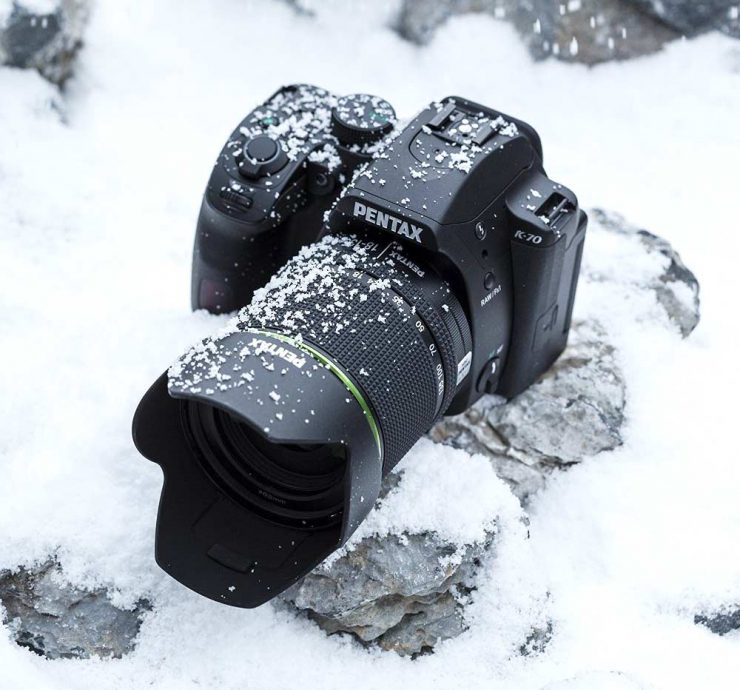 The Nikon D5500, unfortunately, is not weather sealed. If you want a weather sealed Nikon, you'll need to step up to the D7000 series, and even then, you'll usually need to keep your camera out of the elements because most of Nikon's lenses are not weather sealed (even Pentax's kit lens, an 18-135mm zoom, is water resistant).
That said, the Nikon has its own advantages. To begin with, it's constructed of lightweight Sereebo, a carbon-fiber composite, which means that it's a lighter than the Pentax. In fact, the Pentax weighs 200g more, nearly a 50% increase over the 420g Nikon D5500! The K-70 is just slightly lighter than the Nikon D7200, which has a partial magnesium-alloy body. But the Pentax isn't much larger then the D5500: the K-70 is a mere 2mm wider and 4mm thicker, but 4mm shorter… making it very comparable in size to D5300, which was slightly taller and thicker than the Pentax. Even with a smaller body, though, the Nikon manages a slightly larger rear LCD: a 3.2″ compared to the K-70's 3″ screen.
Control Layout
Control Layout assessment is generally a matter of personal preference, often based on past experience, but there are a few differences worth noting. First, the Pentax has two command dials, one on the front below the shutter button and one on the top-back for the thumb  (like higher-end Nikons), while the Nikon only has one on back (though it is probably more easily reachable by the thumb than that of the Pentax). This means that in manual mode, the Pentax has a dedicated dial for shutter speed and one for aperture. To me, the Pentax controls a little more simple and intuitive, but I prefer the control pad on the back of the Nikon to the Pentax's group of buttons.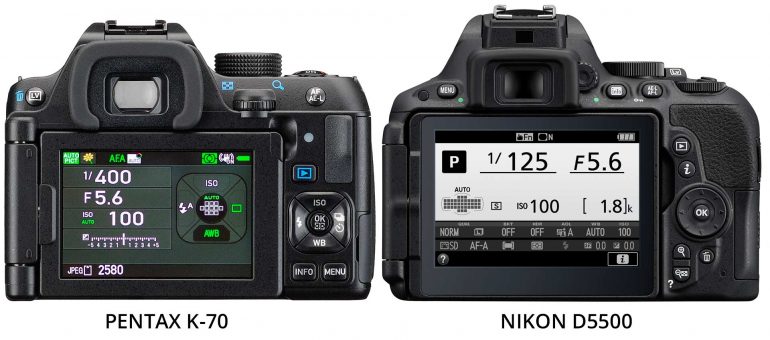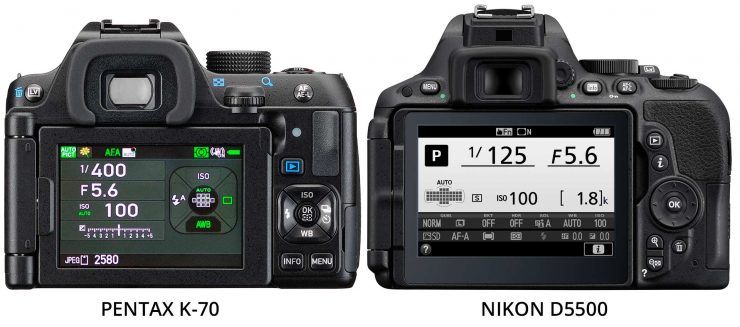 However, the D5500 has a touch-screen LCD, while the Pentax does not, so if you prefer making your changes on the LCD, this is a significant advantage.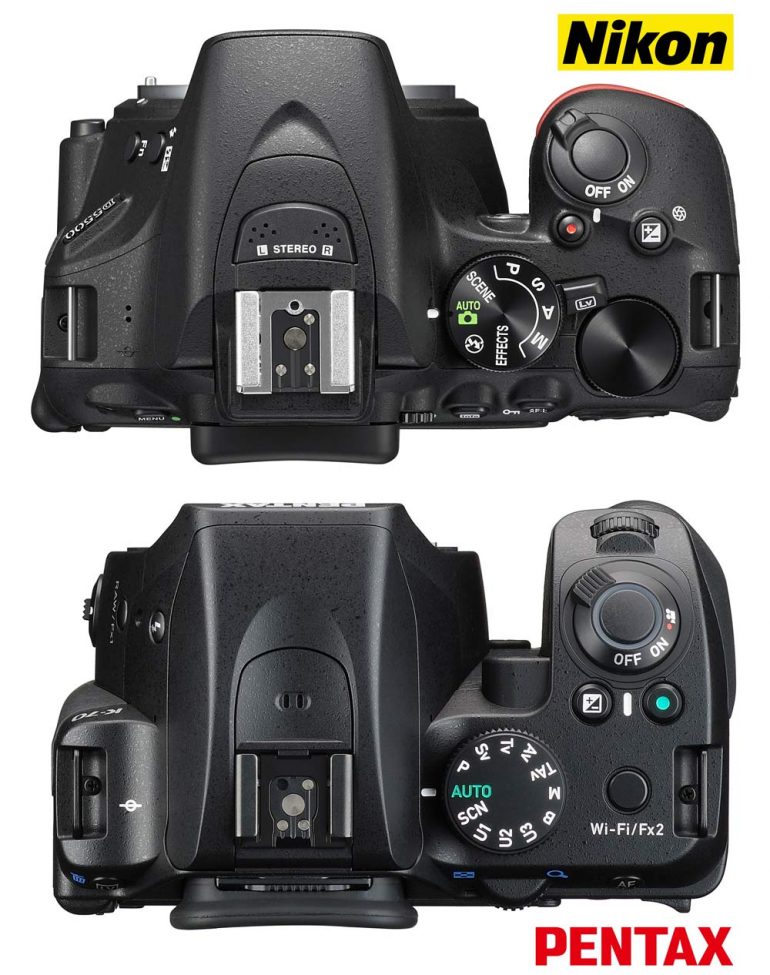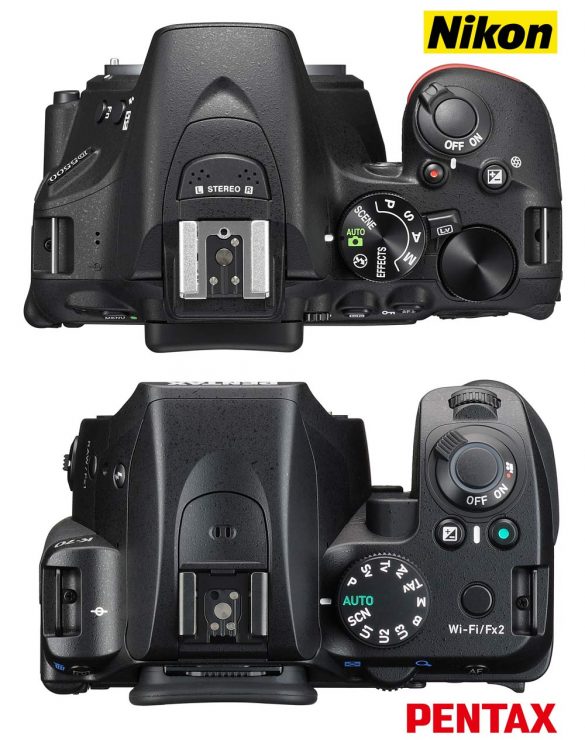 Speed : Advantage Pentax
For sports and action photographers, the speed of the Pentax K-70 makes it a stout competitor. While the Nikon D5500 is no slouch, shooting 5fps, the Pentax matches the D7200's 6 fps shooting rate, and while the shutterspeed of the Nikon tops out at 1/4000th sec, the Pentax improves on it by a half stop, providing a 1/6000th sec. top speed. Shooting RAW, the buffer of the Pentax can handle about 10 shots in a row before filling up, while the Nikon manages only 6. Shooting JPG, both cameras will give you more than you'll ever reasonably need, but the Nikon claims 100 shots while the Pentax claims only 40.
Flash: Advantage Pentax
When it comes to flash, the Pentax also excels, with one exception: the Nikon has a slightly higher flash sync speed (for true flash), at 1/200th of a second compared to 1/180th for the K-70. It's a minor difference, but disappointing. However, the Pentax does support high-speed sync flash4 High-speed sync is not true flash, however. It transforms the flash unit into a continuous light source, essentially a very bright flashlight. It's not as bright as flash, it is affected by changes in shutterspeed (unlike true flash, below sync speed) and it won't stop action like flash will. , up to it's top shutter speed of 1/6000th second, though like the Nikon, the pop-up flash on the Pentax can not be used as a master controller for wireless off-camera flash units.
Autofocus: Advantage Nikon
If Pentax cameras have a general weakness, it is with their autofocus systems. While most cameras these days have dozens or even hundreds of phase-detection autofocus points, the K-70 has only eleven… matching my ten year old Nikon D80 (though the Pentax has nine cross-type points while the D80 had only one). The Nikon D5500, on the other hand, is replete with 39 total AF points, but matching the Pentax with only nine cross-type points.
There is an exception, though: live-view autofocus. While the D5500 can provide only contrast detection when focusing video (or live-view), Pentax has hybrid phase detection AF points that will provide significantly faster, more accurate focusing when the mirror is flipped up. This will make the Pentax much easier to use for people who are accustomed to shooting video with a video camera or phone that has autofocus.
It's also worth keeping in mind that 11 AF points may be sufficient for most people. Only five years ago, many professional photographers were still using the Canon 5D Mark II for protrait, landscape and documentary photography… and it had only nine selectable AF points. If you're mostly shooting landscapes, travel, or even children at play, the AF system of the Pentax should be more than sufficient… and many professional sports photographers choose to use a single AF point to track their subject in a busy field of view, so the total number of AF points shouldn't be a deal breaker.
The Whole System (Lenses, Strobes, Accessories) : Advantage Nikon
Along with Canon, Nikon is one of the two major consumer camera and lens manufacturers in the world, and it has been manufacturing F-mount lenses since 1959. Consequently, there are over 400 lenses out in the world that will fit Nikon DSLRs. Even after we take into consideration that many of these lenses are manual focus, that some of the autofocus lenses will not focus on the D5500, and that some of the lenses are just outdated enough that we probably wouldn't want to use them, Nikon still has the advantage. Want to put a $12,000 600mm f/4 lens on your camera? Nikon is the only way to go, and the same is true if you want a 400mm f/2.8 or OEM 300mm f/2.8 (though a Sigma is available for Pentax).  You'll also have trouble finding specialty lenses like tilt-shift models (though some 3rd party lenses like Samyang can be used).
So, if you're a professional sports photographer (or want to be), Pentax probably isn't for you. Otherwise, Pentax has its own range of excellent optics, and some of the best lenses made in the past few years… Sigma's Art lenses… are available in Pentax mount. Some are not yet available in Pentax mount, however.
When it comes to flash, Nikon's Creative Lighting System (CLS) is about the most advanced system available, period. Additionally, there are several German, Japanese and Chinese brands of flashes and triggers that are made for Nikon and Canon, but not Pentax. The same is true when it comes to triggering systems for studio strobe equipment, like ProFoto and Elinchrom: the B1 and Skyports either don't work with Pentax, or have only limited functionality.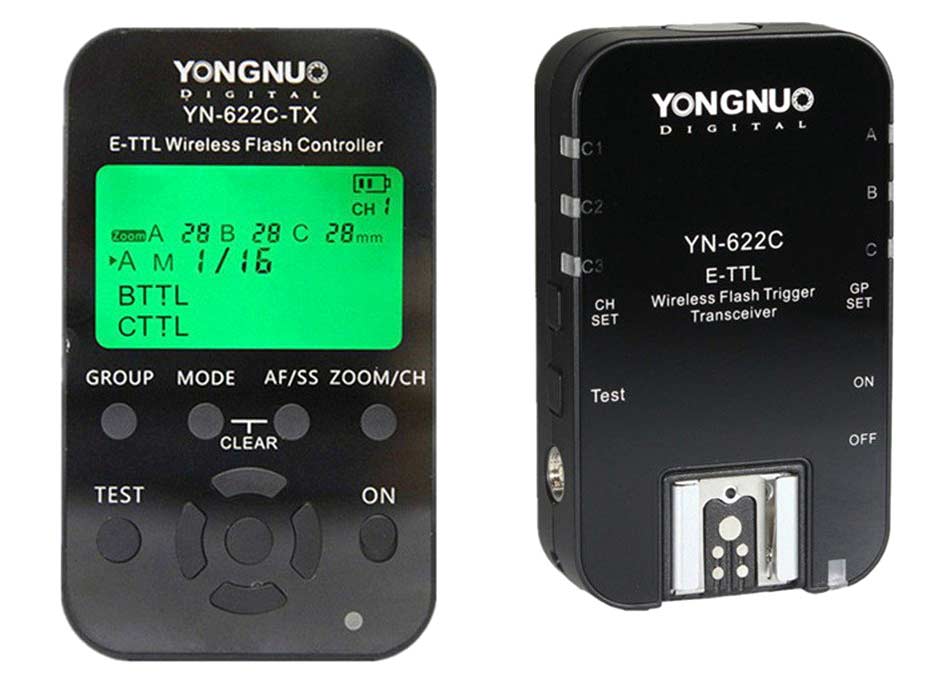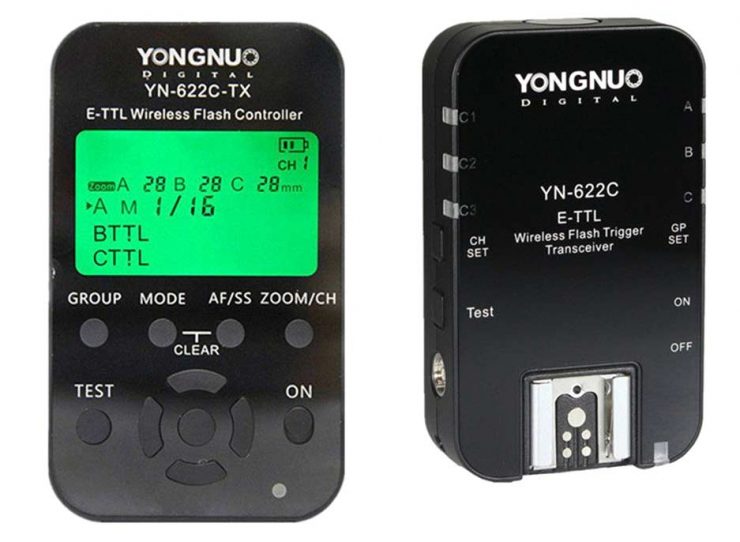 And of course, the same thing is true for all sorts of other random accessories… too numerous to mention. Last month, I reviewed a wi-fi remote camera controller called the CASE Air, which is available for Nikon and Canon, but not Pentax.
None of this should be an automatic deal breaker for Pentax. The important thing is: know your needs, figure out what is available, and make sure you can get what you need.
Conclusion
YES, the Pentax K-70 is less expensive, has some better features, and will probably give most people better image quality than they'd get with the Nikon D5500. The Pentax is heavily5 Pun intended; the Pentax weighs about 50% more than the Nikon weather sealed, while the Nikon is not. The K-70's floating sensor provides image stabilization with all lenses, unlike the Nikon. The sensor provides pixel-shift shooting for higher resolution results than are possible with the D5500. The Pentax shoots with a higher top shutter speed, more frames per second, more frames continuously, and can do so while focusing in significantly lower light. It's eleven point AF system will be more than sufficient for most people, and most won't miss the very limited touch-screen functionality of the D5500.
So, for those photographers who don't mind standing out in the crowd of Nikon and Canon camera equipment, and who don't need super-telephoto lenses, the Pentax K-70 is an excellent choice. Just make sure that any special equipment that you might need is available for the system, especially wireless flash equipment.
Buy the Pentax K-70 if:
you shoot landscapes or still-life photos that can make use of the Pixel Shift technology
you shoot hand-held travel photography and always want stabilization
you want to add image stabilization to lenses like Sigma's 18-35 f/1.8 or other ART series lenses
you hike or otherwise shoot out in the elements. The camera and most Pentax lenses are weather sealed
you want to shoot video with fast autofocus (though don't expect too much… early reports are that the new AF is not significantly faster than the older, contrast detection system)
Buy the Nikon D5500 if:
you need the lightest possible camera
you're a portrait shooter and need the wireless flash triggers that are not Pentax compatible
you want to eventually get a super-telephoto lens, and none of the Sigma, Tamron, or Pentax options is sufficient for you
long battery life is important to you (over 400 shots)
Questions? Comments?
As usual, I've done my best to cover the features and differences between these cameras that I believe to be most important for real-world use. However, if I've missed something, feel free to ask me in the comment section below. Similarly, if you think I've got something wrong here, let me know… I'm interested to hear any difference of opinion. Just keep it civil.
[Update 9-6-2016: This article has been updated the reflect that the Pentax's built-in flash can not act as a wireless controller for off-camera flash units. The original version mistakenly claimed that it could.]