The new Canon 77D is a remarkably capable camera, matching or besting the older (and more expensive) Canon 80D in several ways. However, the 77D is still basically a souped-up "Rebel" rather than a true member of the mid-level line (like the 60D, 70D, and 80D), built on a "Rebel" chasis. Does it matter? Let's take a look at where the cameras differ, and who will benefit from buying the 80D rather than the 77D.
Overview
Before we look at anything in depth, take a quick look at how the numbers compare for these cameras.
Canon 77D
Canon 80D
Body Price
(current Amazon)
$
$1,049.00
Body + 18-135mm Lens
(current Amazon)
$
$
Rear LCD
1,040,000 pixel
Touch Sensitive
1,040,000 pixel
Touch Sensitive
Sensor Resolution
(Megapixels)
24.2
24.2
Processor

Digic 7

Digic 6
ISO Range

100-25600


+51200
100-16000
+25600
Shutter Speeds
30-1/4000

30-1/8000

Flash Sync
1/200th

1/250th

Max. Frame Rate
6 fps

7 fps

Max. RAW Burst
21 or
27 (w/ UHS-I)
20 or
25 (w/ USH-I)
Max. JPG Burst
(fine)
190 or
Unlimited (w/ UHS-I)
77 or
110 (w/ UHS-I)
Autofocus Points
(All Cross Type)
45
45
Anti-Flicker
YES
YES
AF Sensitivity
-3 - 18 EV
-3 - 18 EV
Autofocus For Video
Yes, Dual Pixel CMOS AF
Yes, Dual Pixel CMOS AF
Touch Screen AF
YES
YES
Electronic Image Stabilization
(For Video Only)
YES
NO
Video Resolutions
1080p @ 24, 30, 60 fps
720p @ 30, 50, 60 fps
1080p @ 24, 30, 60 fps
720p @ 50, 60 fps
Card Slots
1 SD (SDXC)
UHS-I Support
1 SD (SDXC)
UHS-I Support
Connectivity
Wi-Fi
NFC
USB


Bluetooth

Wi-Fi
NFC
USB
Battery Life
(CIPA)
600

960 shots

Size
131.0 × 99.9 × 76.2mm
139.0 x 105.2 x 78.5mm
Weight
(CIPA)
540g
730g
Viewfinder Type
Pentamirror
Pentaprism
Viewfinder Coverage/
Magnification
95%
.82x
100%
.95x
Image Quality
Let's get this out of the way: the Canon 77D and 80D should give you identical image quality if you shoot RAW. As far as we can tell, the image sensors in the two cameras are identical, with the same resolution and capture characteristics. So, if you're taking portraits or landscapes with these cameras and shooting RAW, then you shouldn't expect your pictures to look better with one camera or the other. The new Digic 7 processor in the 77D may improve its high-ISO noise handling if you shoot JPG, however.
No matter what camera you use, if you shoot JPG, then you're throwing away 98%1 This is on a per-channel basis. JPGs carry 8-bits of data, or 256 tonal levels per channel. Canon RAW files contain 14-bits of data, or 16,384 tonal levels per channel.  256 is about 1.6% of 16,384. of the data that is captured by the sensor,  and there may be differences in the 2% the camera decides to keep. That will be dependent on your camera settings and the camera's firmware, among other things, but it's possible that the 77D will have a modest improvement in noise handling when shooting JPGs at high ISO.
Both cameras will benefit from anti-flicker technology when shooting under rapidly flickering artificial lights (such as LEDs, some fluroescents, and some HID lights) that are commonly found in sports arenas, gyms, and stages. With anti-flicker enabled, the shutter will release exactly when the light is at its brightest, giving you the best possible exposure. The 77D's new exposure metering system (which makes this possible) is very similar to that found in the 80D, both based on a 7560 pixel RGB+IR sensor, though the 80D uses an 18×12 zone grid while the 77D only has a 9×7, the difference will be minimal.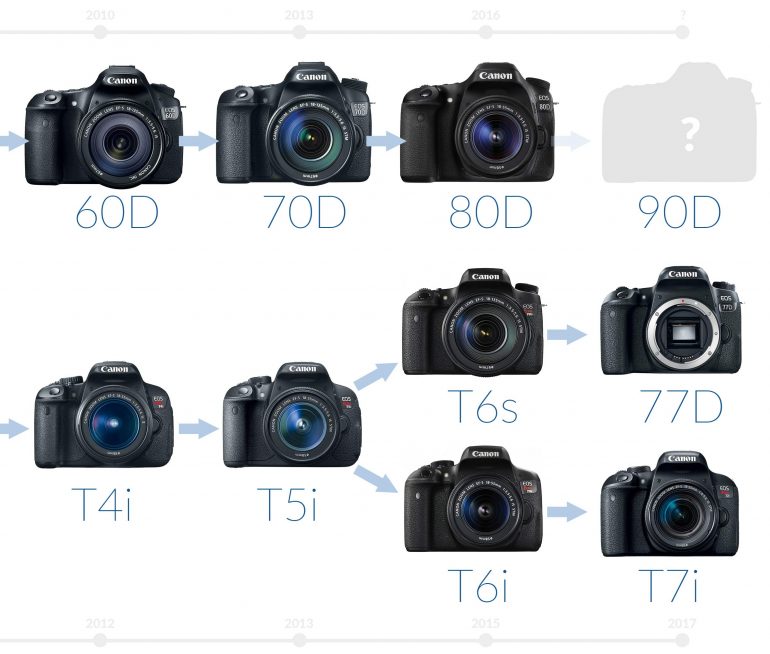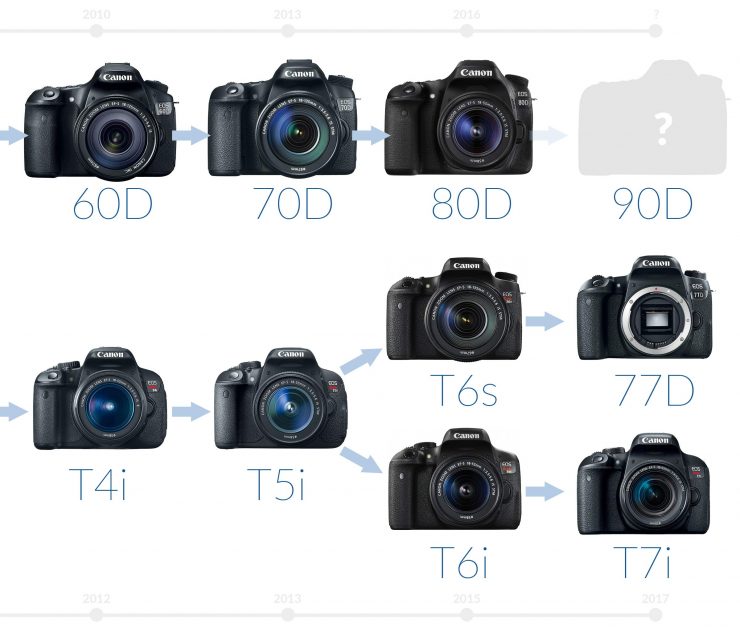 Shooting Sports & Action
When it comes to shooting sports and action,  autofocus and speed are both very important, and the 80D and the 77D are both excellent. In fact, the two cameras share the same autofocus system, both with 45 all cross-type focusing points, and both optimized for use in low-light environments2 In more technical terms, both can focus in light levels as low as -3 EVs, and they can focus reliably with lenses that only have a maximum aperture of f/8 .
However, the Canon 80D generally has the speed advantage, though it is not a dramatic one. First, the 80D has a higher top shutter speed: 1/8000th of a second, which is twice as fast as the 77D's top speed, and the 80D's top flash sync speed is slightly faster (1/250th of a second rather than 1/200th). The 80D also has a higher frame rate, shooting seven frames per second while the 77D shoots only six.
More experienced photographers may also notice that the Canon 80D feels more responsive, with a shutter lag3 This is the time between pressing the shutter button and the shutter actually releasing. of approximately 0.06 seconds, although Canon claims that the 77D's lag is only 0.07 seconds, a very minor difference. The entry level Canon T6, on the other hand, has a shutter lag of 0.12 seconds… double that of the 80D.
But there are two areas in which the Canon 77D has the apparent advantage, though it's easy to over-state their significance. The first is the camera's buffering system, which allows the 77D to shoot full-size JPG files at top speed until your UHS-I card is full. When shooting JPGs, the 80D is limited to about 110 shots in a row before the camera will slow down to write to the SD card. How significant is this? I can't think of a single time in my career as a photographer that I've shot (or wanted to shoot) more than 25 shots in a row, much less 110.
Similarly, the 77D can shoot 27 RAW shots in a row before the buffer is full, while the 80D can shoot only 25. This is a relatively small difference to begin with, and it becomes less impressive when you remember that it's the consequence of the 77D shooting those shots at a slower speed than the 80D, so it has more time to clear the buffer. Stated another way, after 3 full seconds of shooting, the 77D will have just finished its 18th shot, while the 80D will have reached its 21st shot. I suspect that most action photographers would prefer to get the shots up front.
The second area is ISO, where the 77D's top setting is 25600 and the 80D is rated at 16000. At best this is a difference of only 2/3rds of a stop, but unfortunately, this may not actually translate into better noise handling… so there may be no advantage at all. It is likely that the 77D uses the exact same sensor as the 80D, so it's unlikely that the RAW files will really be any different; it's more likely that the higher ISO numbers on the 77D reflect better noise processing for JPGs afforded by the new Digic 7 processor, so if you shoot RAW and do your noise reduction in your computer (where you'll have more options and more powerful processing), this advantage is not very important. However, until RAW files are available from a production Canon 77D, this is just speculation, and we should assume that the new camera may have a slight advantage here.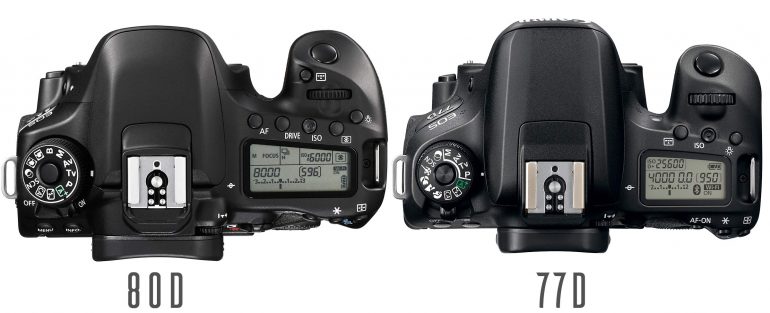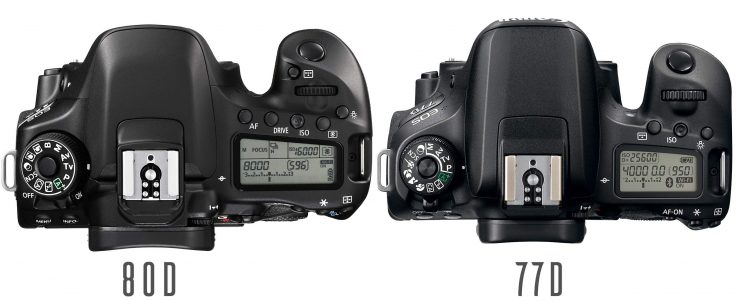 Video
For the past year, the Canon 80D has been among the best SLRs available for shooting video, primarily because of its excellent dual-pixel AF system. Now that the T7i and 77D have also been given dual-pixel AF sensors, their performance should at least match that of the 80D. In fact, Canon has also implemented 5-axis electronic image stabilization for video (with a slight sensor crop) in the T7i and 77D, giving them a leg up.
However, the Canon 80D can shoot with either IPB (interframe) .MP4 compression or All-I (intraframe) .MOV which produces a much larger file size. The 77D, on the other hand, can only shoot video as IPB MP44 …though it can shoot time-lapse as All-I .mov format files .
Most casual video shooters prefer IPB MP4 files because the files are so much smaller than All-I. For example, at 30fps, IPB files take up about 216 MB of space per minute, while All-I shot on the 80D takes up 654MB per minute: All-I will use up three times more disk space than IPB.
Beyond the recording formats, both cameras can shoot the same frame rates, though the 80D can only shoot All-I up to 30 fps, and the 77D can shoot 720p at 30fps (the 80D can't). They both shoot 60fps 1080p with IPB compression.
It's also worth mentioning that the 77D does not have a headphone jack.
The Body & Handling
Unlike the T7i, the 77D has most of the body features that have long been standard with the 80D and other mid-lineup cameras. Among the most important of these are the camera-top LCD display and the rear body thumb-wheel. The 80D's "movie mode" switch is located on the "record" button, while the 77D has moved it to the camera's main on/off switch, but the 77D does have its own dedicated wi-fi connection button.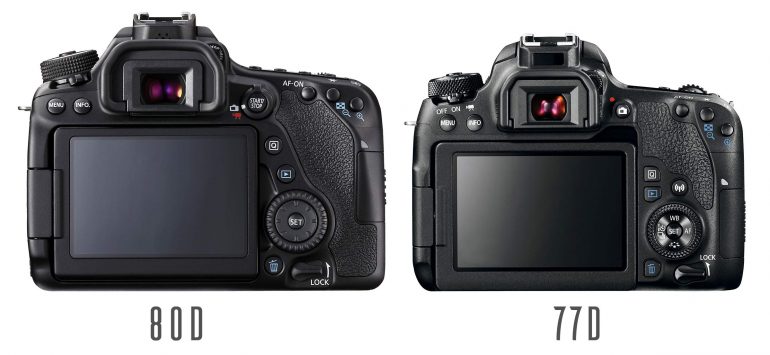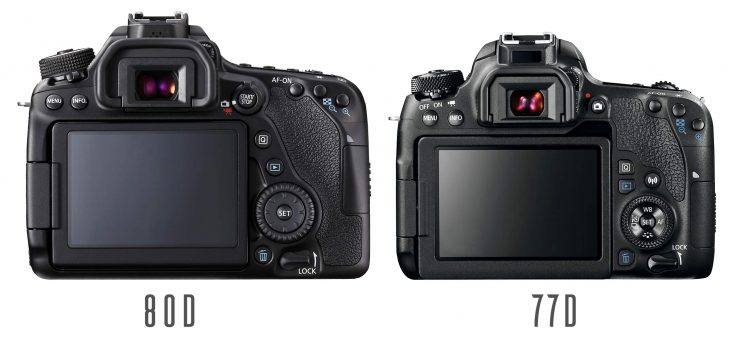 However, the 77D still has a smaller body. This can be an advantage for those who wish to travel light, as the 77D body weighs abot 25% less than the 80D, and the body is also smaller (8mm narrower, 6mm shorter). This also means that the battery compartment (and thus, the battery) is smaller, and instead of using an LP-E6 battery, it uses an LP-E17 battery and has only about 62% the battery life of the 80D.
Conclusion: Which Should You Buy?
For most people, the Canon 80D is still the better camera for most purposes, but my general advice is always this: buy the least expensive camera that will meet your needs and the best lenses that you can afford. With current rebates, if you order the 80D with the 18-135mm STM lens, it's the same price as the 77D with that lens, which makes the decision easy (if you were planning on a kit), and the 18-135mm is the lens I'd recommend. However, there are a few reasons why you might want to buy the 77D instead:
Buy the Canon 77D if:
Buy the Canon 80D if:
your eyesight isn't great, the 80D has a larger, brighter viewfinder with better coverage
you shoot action and need the fastest shutter speeds, the 80D offers speeds between 1/4000 and 1/8000th sec.
you shoot production quality video and want All-I compression
you're planning on shooting long events (like weddings) and don't want to worry about changing batteries, the 80D has much better battery life
you have stabilized lenses or shoot from a stable rig and don't need the electronic stabilization in the 77D
These are surprisingly similar cameras, and they'll both allow you to create amazing photos and videos.
Questions? Comments?
As usual, I'm happy to answer any questions that you may have below in the comment section. Still need some advice about which camera to buy for your particular needs? Let me know, and I'll do what I can to give you a recommendation.