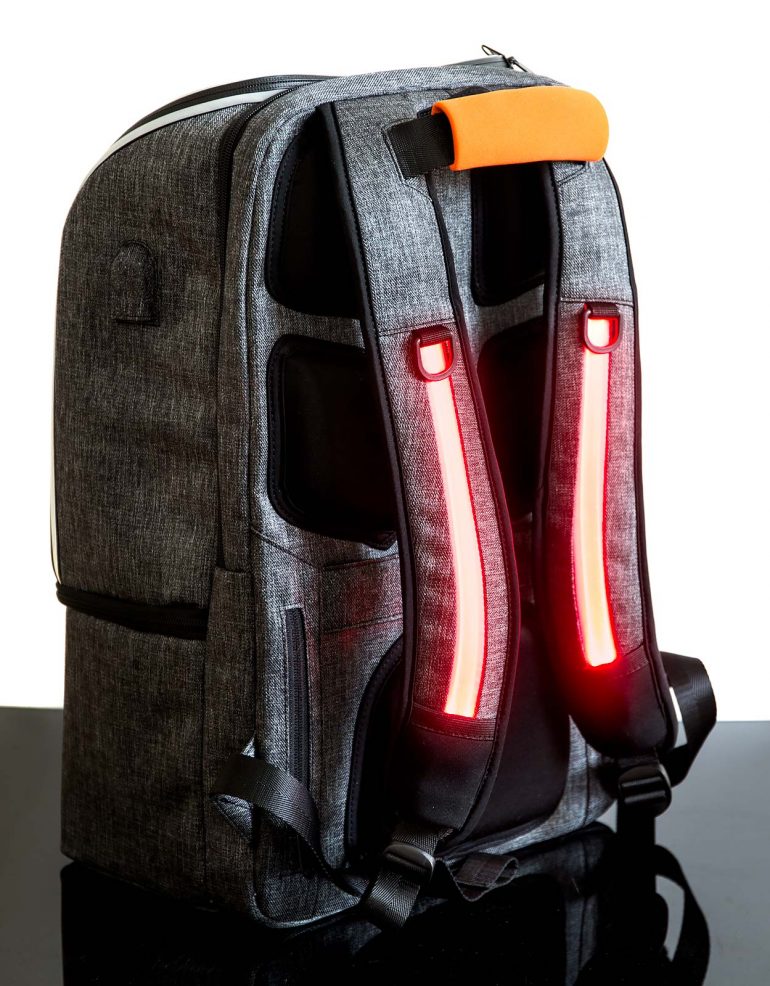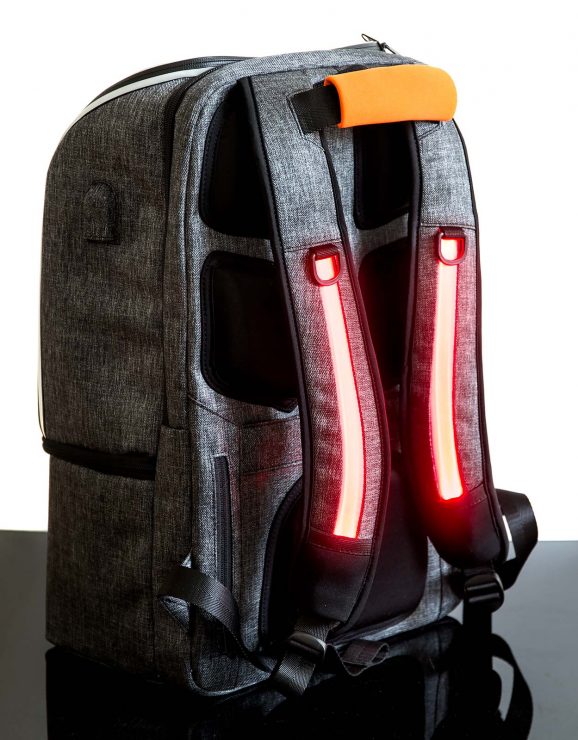 The Udee Backpack
Though not strictly a camera bag, the Udee backpack may appeal to photographers who want to carry a minimal camera kit and still have plenty of space to use as a day pack. Along with a padded lower compartment to hold camera gear, the pack boasts a 25 liter volume and a long list of 18 additional features. The pack is launching on Kickstarter right now with an early bird price of $109 and a retail price listed as $229.
Is it worth it? I've spent a few weeks playing with the bag's features and giving it a rough test, and my findings are below[1.I received a review copy of this backpack, free of charge. I always strive to be honest and unbiased in my reviews, but as usual, take everything you read on the internet with a grain of salt. I've tried to not let the price affect my review.].
Appearance & Volume
If nothing else can be said for the Udee backpack, it's pretty sharp looking. The main panels are dark grey with the texture of denim, with highlights of silvery reflective material. For contrast, the top handle is a bright orange that is matched by an orange front zipper and nameplate logo. And if that's not enough for you, you can click on the front strap switches and the LED lights turn on, giving you a matching bright orange glow. And of course, the straps and back padding are black (which goes with anything). It's a snazzy combination.
The shape of the bag is a bit on the boxy side, as the material and padding makes it rather rigid. The bottom compartment is rectangular, while diagonal seams in the top of the bag make for an angular, structured shape overall.
In the upper compartment you'll find a large open area with no dividers, although there are two padded flaps that can be used to secure books or a tablet. The interior houses a variety of pockets, some with mesh fronts and zippers, and others that are open. Below the main compartment is a padded section with two dividers that is intended for camera and lens storage, though it can double as a soft-sided cooler. It's large enough for a full sized DSLR with a large 70-200mm f/2.8 lens and perhaps a flash, or a more compact SLR and two or three lenses.
Behind both of these compartments is a laptop computer sleeve with three pockets, making it great for a laptop and a tablet.
Features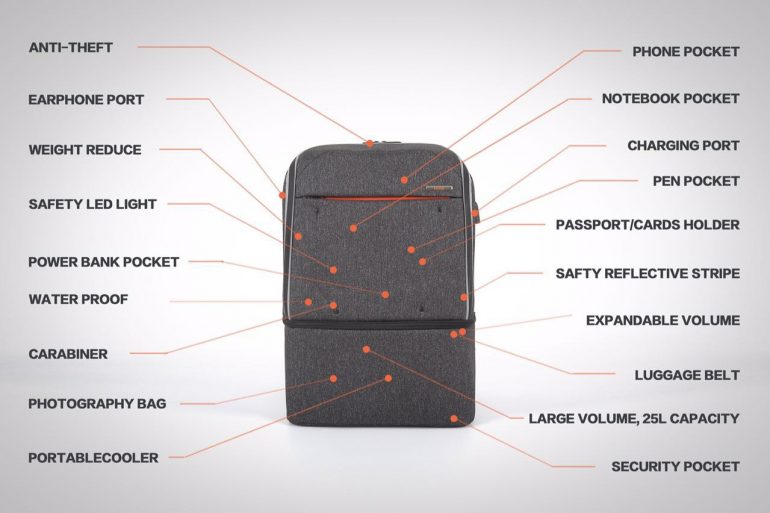 The main selling point of this bag is ostensibly its long list of features; nineteen of them to be exact. Upon closer inspection, though, many of these features are just statements of the obvious and common (e.g., 1. photography bag, 2. phone pocket, 3. notebook pocket, 4. pen pocket, 5. passport/cards pocket 6. power bank pocket). These are pretty common with any school kid's backpack, and some of these pockets are just pockets.
Others features are a little less common, but are still not very exciting ( 7. lightweight, 8. safety reflective stripe, 9. large 25 liter capacity). A couple of the features are pretty questionable (9. expandable volume: this actually only means that there's a zippered divider between the two compartments, but OK, and 10. portable cooler: this just means that the padding in the lower section of the pack doubles as insulation. This is true of any padded camera bag.)
One feature doesn't appear to exist at all (11. carabiner). I looked all over for a carabiner, but didn't find one. Perhaps they mean the keychain clip.
This still leaves us with a list of seven features that are worth exploring a little further.
Charging port
Earphone port
Anti-theft
Safety LED light
Water proof
Security pocket
Luggage belt
Ports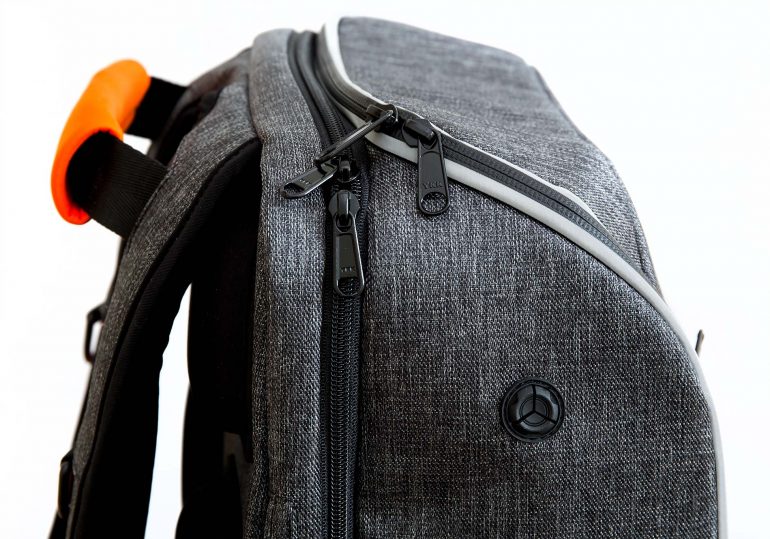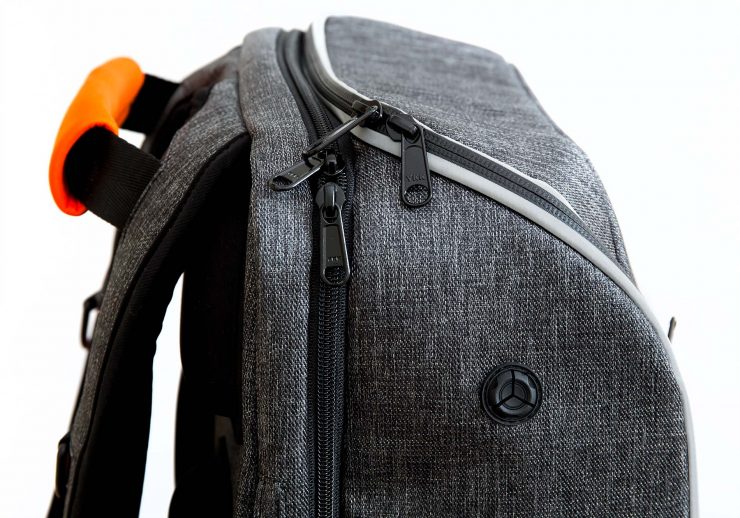 An earphone port is a handy feature, especially for sports oriented backpacks. These allow you to keep your phone or iPod in your pack, where it's protected, and string the earphones out the side. If you have a pair of smart earphones that allow you to adjust volume, and skip tracks from buttons on the cable, you're all set.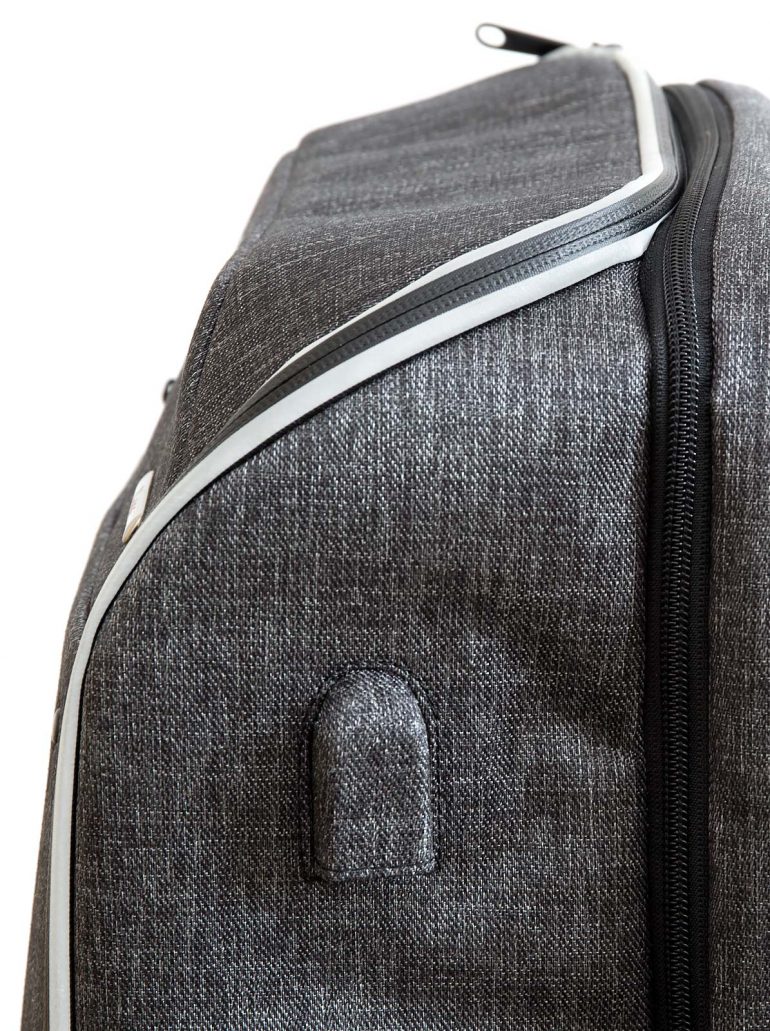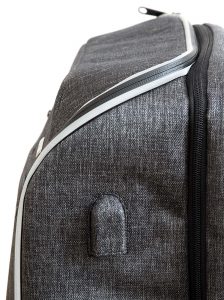 The external charging port is also a cool (if somewhat less practical) feature for those of us who are slaves to battery powered devices. If your phone is not in your pack but the battery is running low, you can simply plug your USB charging cable into the port on the outside of the bag. I say impractical because this is supposed to save you the step of unzipping your backpack to either get out your charger (and put it in your pocket, for example) or to plug your charging cord directly into the power-pack, but of course, unless you walk around with a USB cable dangling from your phone, you're going to have to open your backpack to get one out anyway… and if you're doing that, you might as well just run it out between the zippers of the top compartment. But nevermind that, it's cool to have a USB port on the side of your backpack, in a nerdy sort of way.
Anti-Theft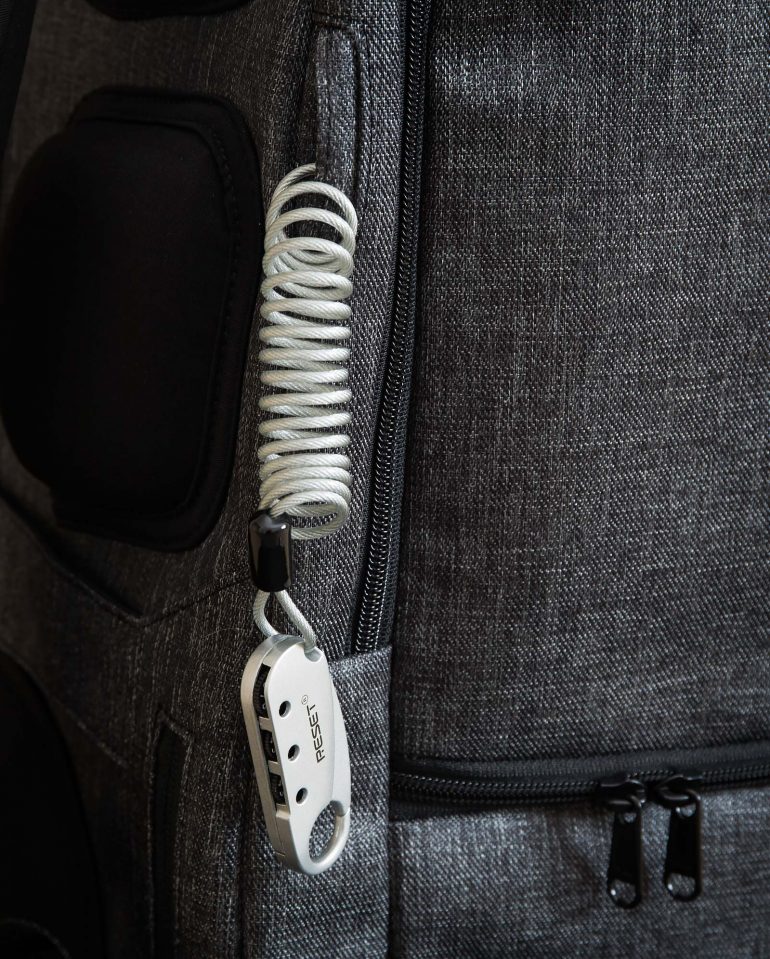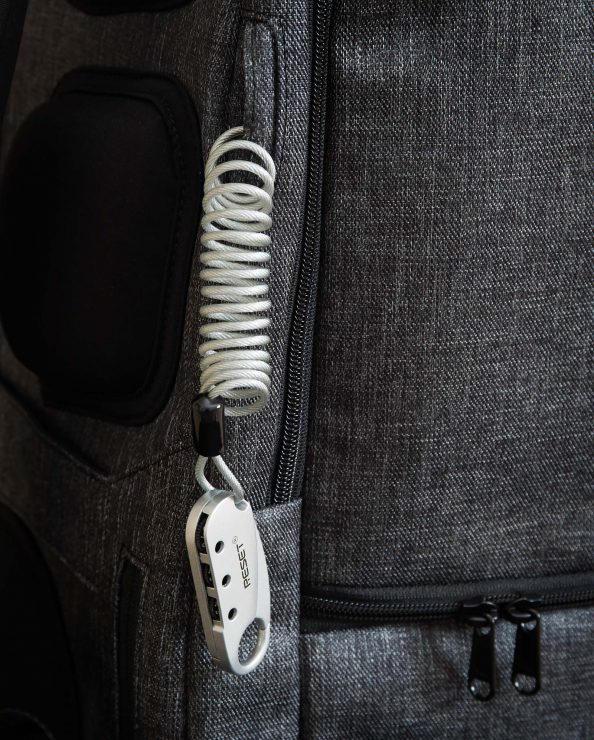 This is an interesting feature for travelers, or even those who frequent mass-transit. If you'd like to put your camera bag on the overhead rack on the bus or train, but you're afraid that someone might run by and snatch it and hop off, this backpack includes a small, built-in combination lock and steel cable that will keep your pack safely attached to the rack.
Of course, the lock can also be used on some of the pack's zippers, which is also handy. Either way, this is a great idea.
Safety LED Lights
As I mentioned in the "Appearance" section above, the LEDs in the front straps are snazzy looking and actually serve a practical purpose for those who walk along roadsides at night. With a click of a button on each strap, the LED strips with either blink slowly, blink quickly, or will stay continuously on. Each LED module can be removed from the strap and can be plugged in to a standard micro-USB charger, so there are no batteries to replace. I wish that they'd taken this idea a step further and included an LED stripe somewhere on the back of the backpack (to warn those who are coming up behind you and are harder to see), but the reflective stripe around the main compartment zipper will have to do. Another good idea, for those who are willing to use it.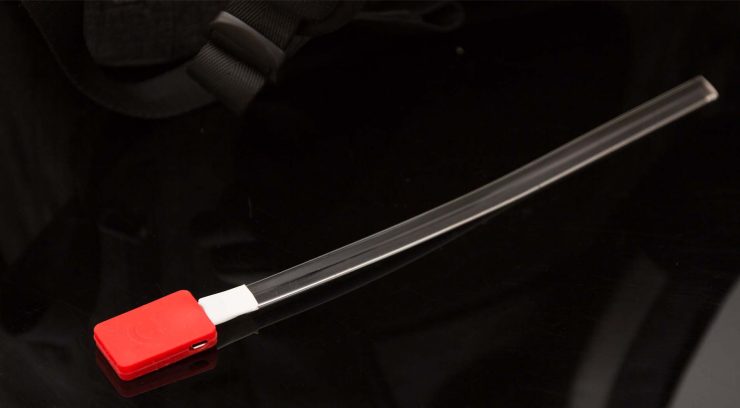 Water Proof
Since a camera bag's job is to protect our expensive electronic equipment from the elements (and most of us have thousands of dollars worth of cameras, lenses, phones, tablets, etc), this is a very important consideration.
I've long since learned to take any claims of waterproofing with a grain of salt1 When I got my first pair of Gore-Tex ski gloves when I was 13 years old, I immediately put them on and dunked my hands in water, and of course, I started feeling the water seeping in at the seams after several seconds. More recently, I bought a tent with a waterproof rain-fly and got drenched during a downpour in Florida. . When I poured a bit of water onto the fabric of this backpack, I found that it did a decent job of keeping water out, though the interior did start to feel a little damp.
But the backpack has much bigger problems than that. Although the cloth sides of the bag may be water resistant, the zippers are not… and they're not protected. There are no flaps of cloth to cover the zippers, and what's worse, the design of the upper bag acts as a funnel to direct rainwater directly into the phone-pocket zipper, where it can then soak into the rest of the bag. Take a look:
This is a pretty dismal failure, and the laptop and camera compartment zippers are just as bad. This bag is not waterproof. This bag should ship with a rain-fly, like ThinkTank bags do.
Security Pocket & Luggage Belt
On the back of the backpack (that is, the surface that would rest against your back while you're wearing the pack), there are two handy features. First, there's a luggage belt, which allows you to slide the backpack over the handle of your rolling luggage while you're in the airport (or otherwise rolling along). The designers have included a patch of Velcro in the middle to help keep the backpack from twisting and falling to the side. Nice.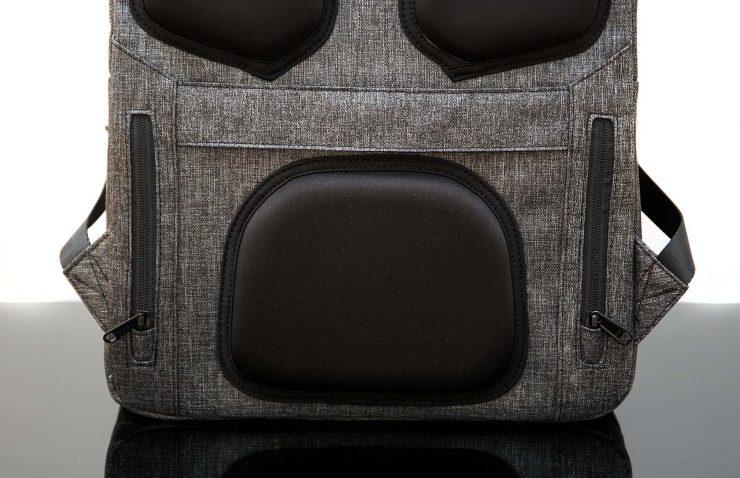 Also on the back of the pack are two small pockets with zippers. Since these pockets will normally be flat against your back, they're particularly difficult for thieves and pickpockets to access, making them ideal for carrying your cash, passports, tickets, and other important small items.
Laptop Pocket
Though it's not mentioned in the extensive list above (maybe THAT's what they meant by "notebook pocket"?), there's also a laptop pocket and tablet pocket behind the two main compartments. It will easily hold a 15″ computer, plus a standard iPad or other tablet. The computer sleeve is padded for a little extra protection.
Quality & Comfort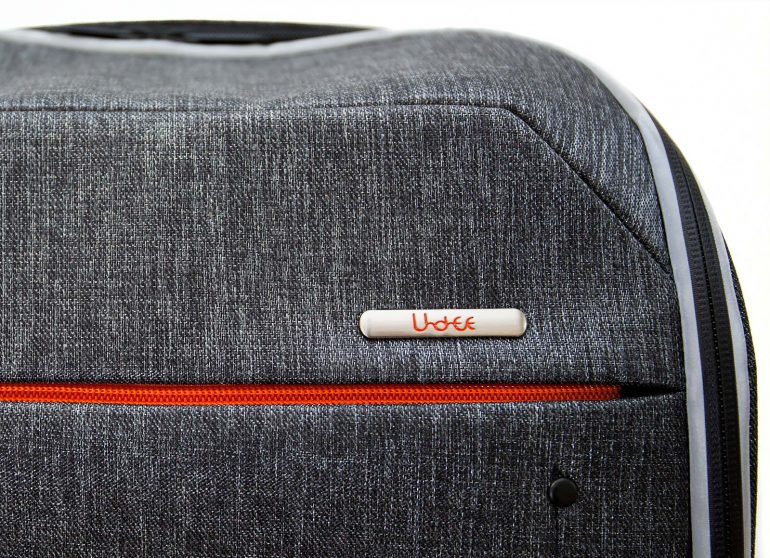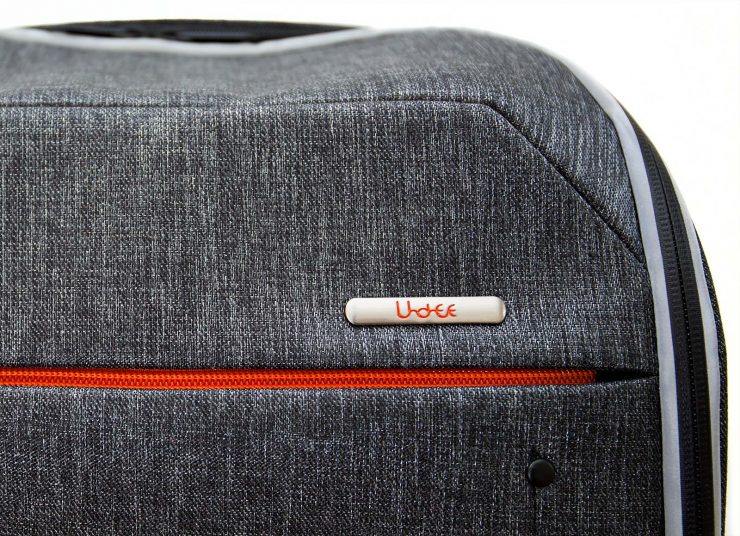 For a brand that I'd never heard of before (Udee?), the quality of construction of this backpack appears to be pretty good… it doesn't feel like cheap junk, though it's hard to really evaluate something like this in a couple of weeks. The materials feel sturdy, the padding on the back of the pack is thick and soft, and I see none of the telltale signs of shoddy workmanship (hanging threads, uneven seams, etc).
The shoulder straps are wide and comfortably padded, the strap webbing is sturdy and smooth, and even the orange neoprene around the top handle is soft and easy on the hands.
On the other hand, the D-rings on the straps are plastic rather than metal. I'd much rather carry the extra gram or two of weight to know that they're not going to break if needed.
My main concern about the quality of the pack comes with the zippers. Although the zipper pulls are marked as "YKK" brand, they do not all have the smooth operation that I'd expect. Actually, all of the zippers feel fine except for the main compartment zipper, which is not smooth at all and makes a sound like ripping cloth when I zip it up. It hasn't actually failed yet, but it makes me nervous. I'll keep my eye on it.
Design Concerns
I've already mentioned the problem that the front-pocket zipper presents in the rain; it funnels water directly into the interior of the pack, which is a serious hazard.
Almost as troubling to me, though, is the accessibility of the lower compartment… the part of the backpack that counts as the camera bag. The problem here is this: the laptop compartment, which is about two inches thick, runs from top to bottom of the backpack. However, this part of the backpack should be a hinge between the two compartments, lowering the bottom section away from the main compartment so you can easily access your equipment. As is, in order to get into the lower portion of the pack, you have the bend the two-inch thick side-walls of that compartment, which is not easy… and that's if it's empty. If you have a laptop in there, it doesn't hinge at all. In that case, the only way to get at the equipment there is to try to grab the compartment front and stretch the opening wide. It's a pain.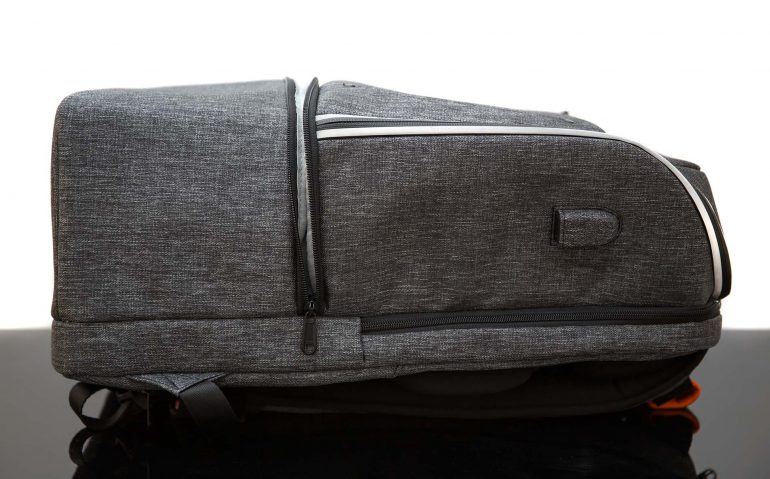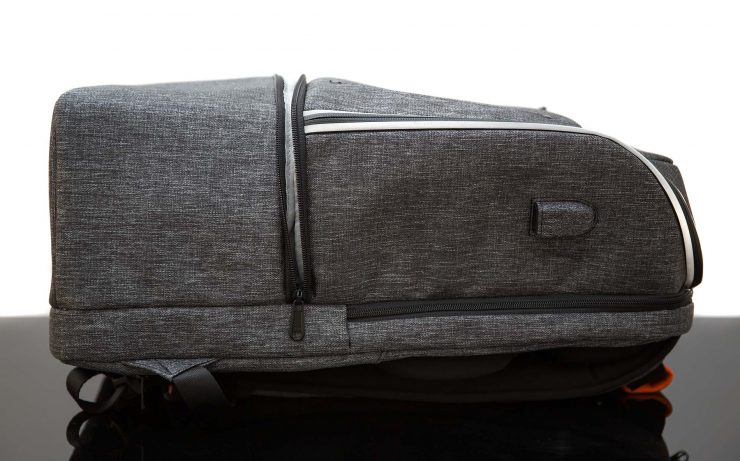 Now, it is possible to access that compartment from the interior of the backpack, since the divider has a zipper around it. However, that's not practical if the upper compartment is also full of stuff.
Value
We've been told that the retail price for this backpack will be $229, which seems a bit high, considering the bag's feature set. Yes, they've added a couple of ports, and for those, I'd reasonably expect a $10 price hike. For the LEDs, perhaps another $10 (LED-lit shoes cost about $30, these days). But $60 more than the Pelican U100 truly waterproof backpack? Or as much as the Pelican Sport Elite or ThinkTank ShapeShifter? Hard to justify.
However, we've been told that the Kickstarter pre-sale price for this bag will be $109 (or $99 for a version without the LEDs), which is a much more reasonable price for this pack. It's still a little high, considering the problems with their waterproofing claims and the camera compartment accessibility, but if those things don't bother you, it could be worth a shot.
Conclusion & Rating
The Udee backpack is a snazzy looking backpack of generally good build quality. Its list of features includes some cool hits and some serious misses, and the poorly designed lower-compartment access is troubling. All in all, the retail price of $229 seems exorbitant, but the Kickstarter price is low enough that it might be worth a shot if you're looking for a hybrid backpack/camera-bag and you rarely get caught out in the rain.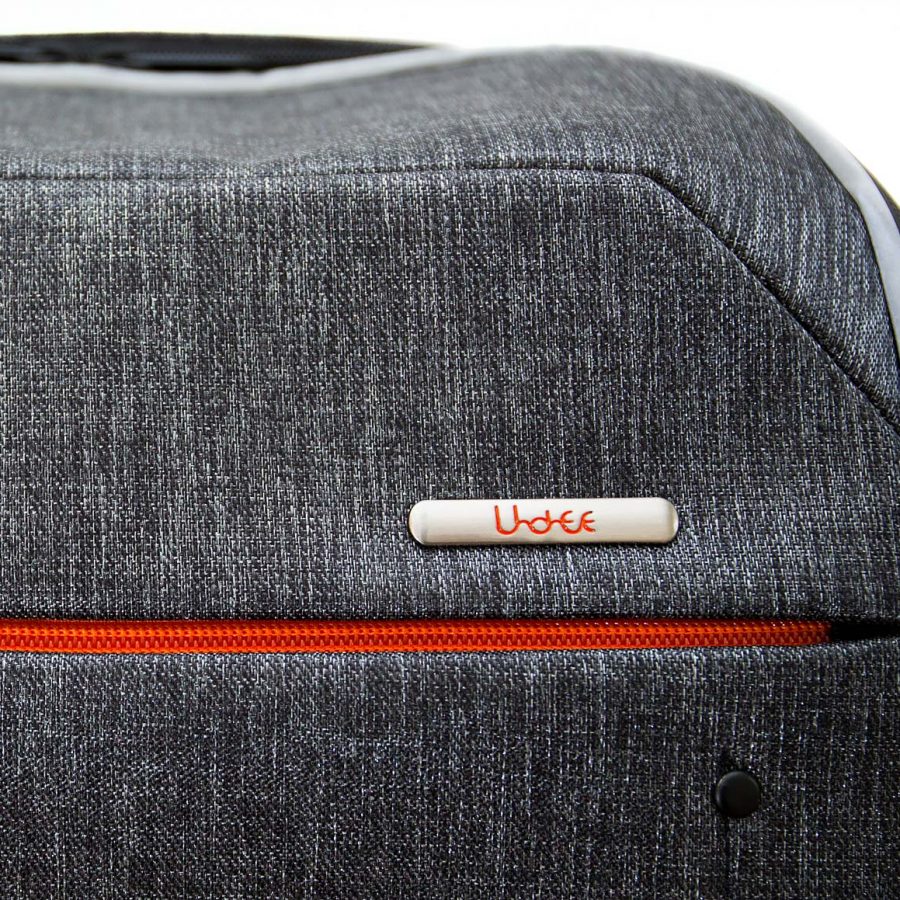 Snazzy looking. Packed with good ideas, poorly executed.
This is one of those products that tries to pack so many features into one place that none of them get the attention they deserve. The build quality and design is mediocre.
Questions? Comments?
As usual, I'm interested to hear any questions or comments that you may have about this review or this backpack. Just let me know in the comments section below!
Update: Givaway!
Just Comment Below to Enter
From what I've been told, it appears that the company who promoted this product on Kickstarter may have taken the money and ran. People are reporting that they have not received their backpacks, which means that I'm one of the few who has one! And I didn't pay for it, so I'm giving it away… hopefully to one of the backers who paid but didn't get one.
Just comment below (with a valid email address) and I'll draw a name from the list on October 15th, just over a week from now. Don't worry… you won't be added to any email lists, and you won't be spammed. The pack is lightly used, of course… I tested it for the article, but it is otherwise unused. Good luck! I can only ship to USA residents! Sorry.