After switching from my Canon DSLRs to mirrorless, I decided it was also time to switch to a more compact travel camera bag, too. Looking for something flexible and portable but not too bulky, I found the ThinkTank Essentials rolling backpack. And it's nearly perfect for me.1This bag was provided to me by ThinkTank for review, at no cost to me. We do receive affiliate commission from ThinkTank and Amazon on sales, but we do not ever provide positive reviews in exchange for compensation; our reviews are always as honest and unbiased as possible.
Would it be perfect for you? Here are some things to consider.
Size & Capacity
I travel a lot… or at least, I used to. A few months ago it appeared that the world was getting back to normal, and more than anything, I was excited to start traveling again and I started getting my gear organized. For the past decade, I've been using a large Pelican 1560 hard case, and it has done it's job, but a hard case isn't always practical. They can be heavy and hard to pack, and mine is just too big for a lot of plane cabins (especially internationally).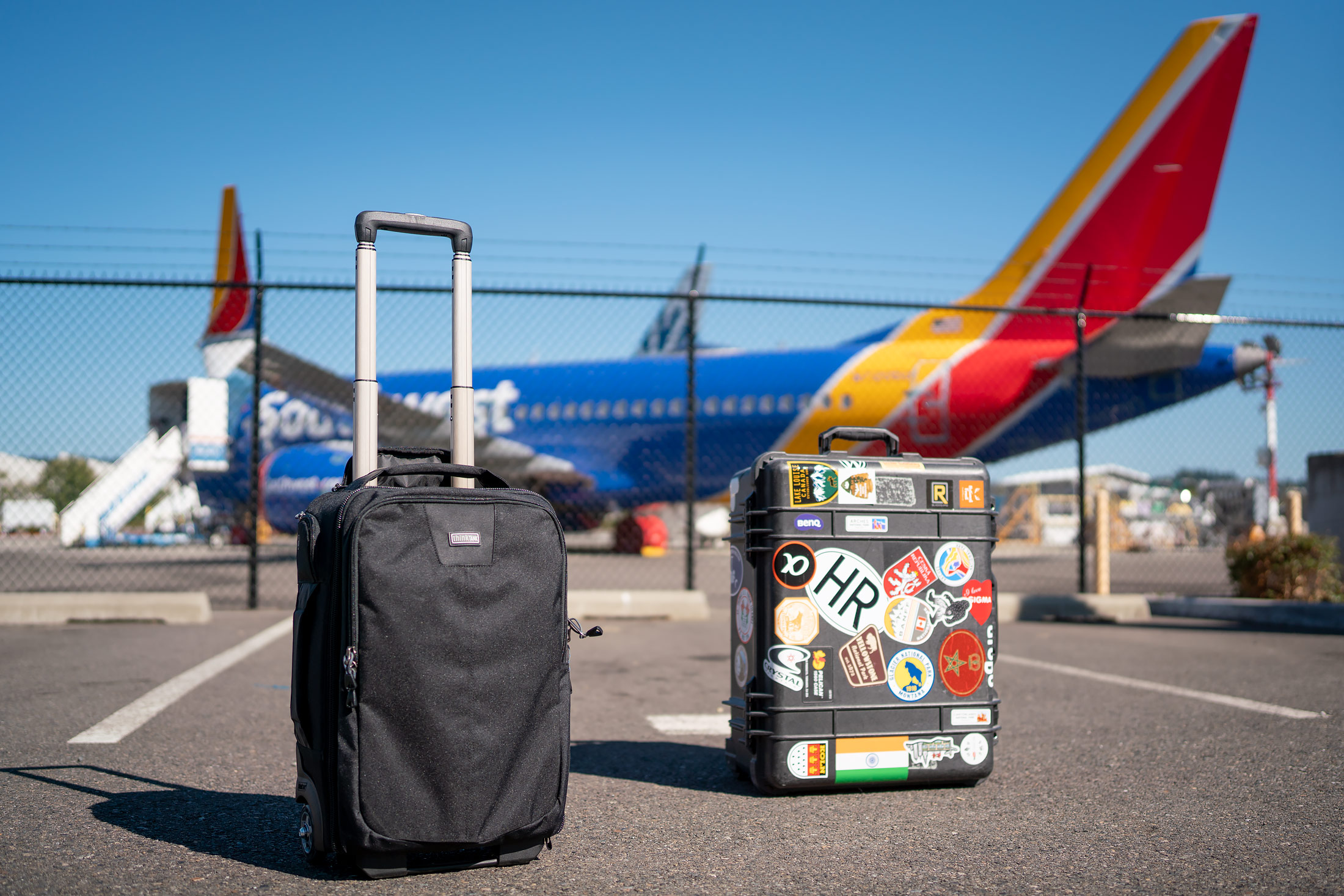 The ThinkTank case is compact in comparison, but because of the inefficiency of the foam-padding system in the Pelican, they have about the same capacity (though I feel more confident in the safety of my equipment in the Pelican in the worst conditions).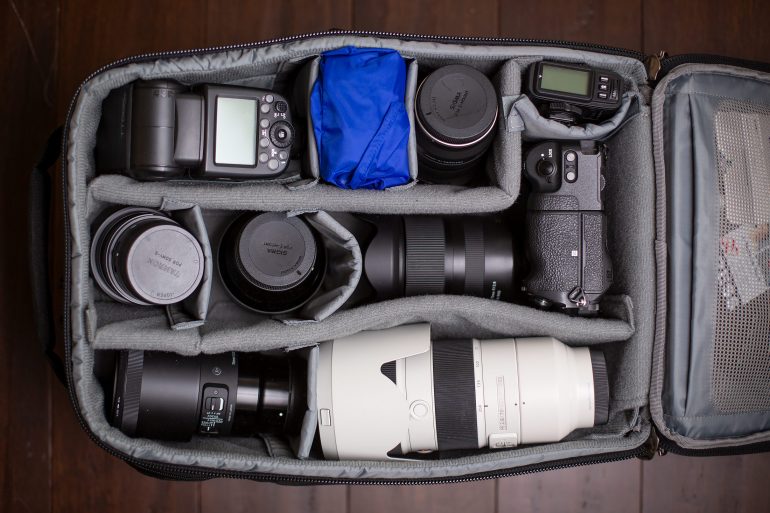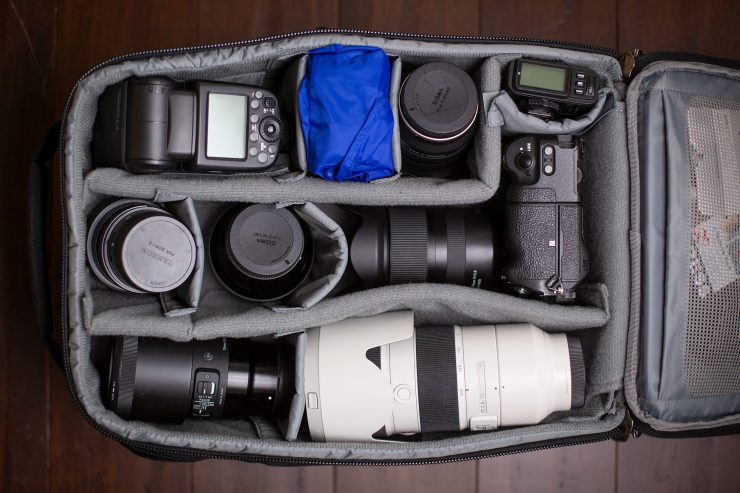 The ThinkTank bag can easily carry a couple of camera bodies and several lenses. I've tried a few different configurations, and have temporarily settled on one that fits my camera body and eight lenses (or 6 plus a loosely stowed flash and the bag's rain-cover, which also can be carried on the exterior of the bag. When I'm traveling internationally, I usually carry a body and the so called "holy trinity" of zooms for flexibility (the Tamron 17-28 f/2.8, Tamron 28-75 f/2.8, Sony 70-200 f/2.8), and then a couple of specialty lenses if I think I'll need them: a 1:1 Macro, an 85mm prime, or a 35mm prime. Even if I carry all of those lenses, they fit into the ThinkTank Essentials bag with no problems.
As you'd expect from a bag like this, there's plenty of space for filters, cables, and extra batteries in the case's interior, zippered pockets. If this is going to be checked baggage at the airport, I usually pack a couple of extra t-shirts onto the top of the equipment to keep it from shifting around in any open space that might be left, but I generally use this as a carry on.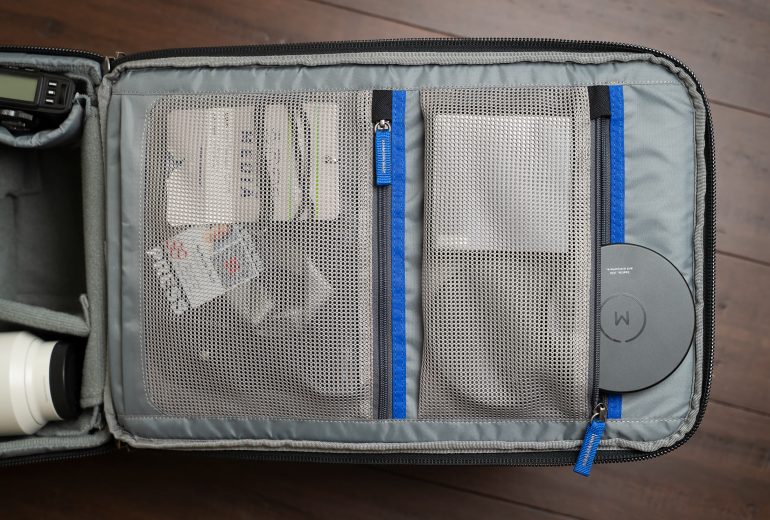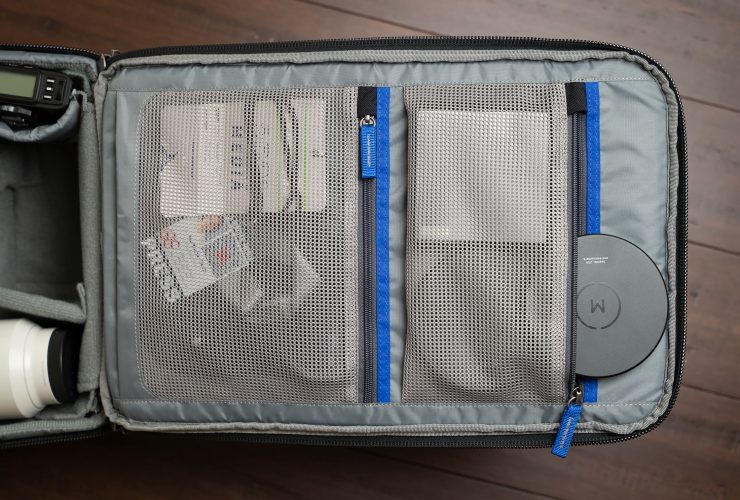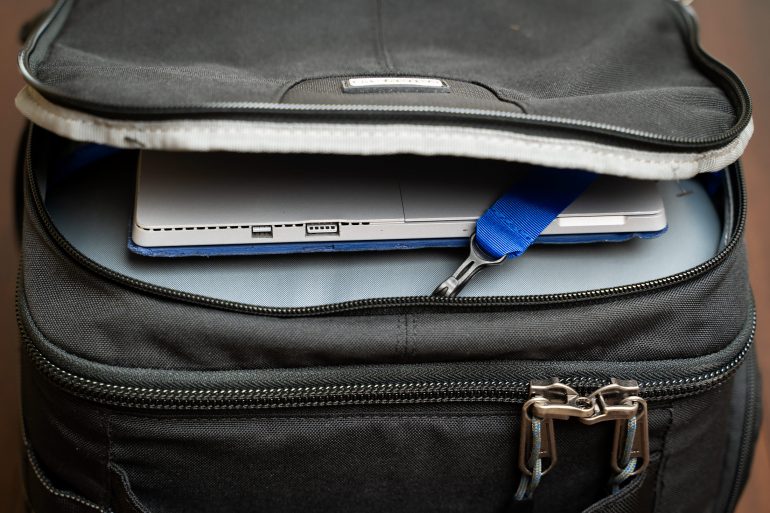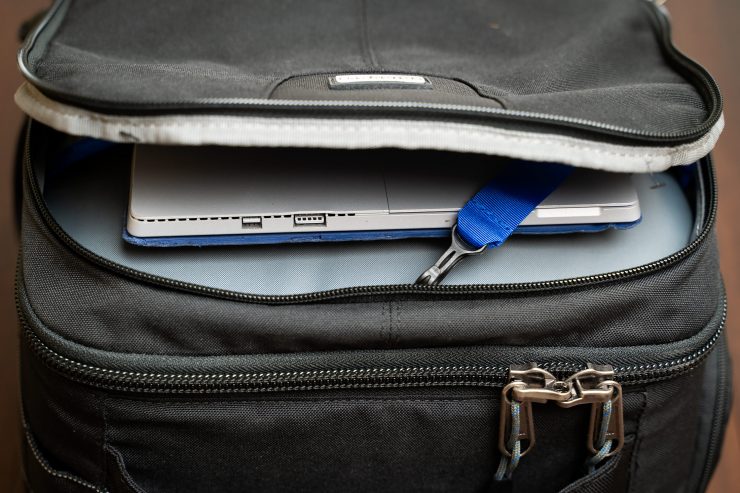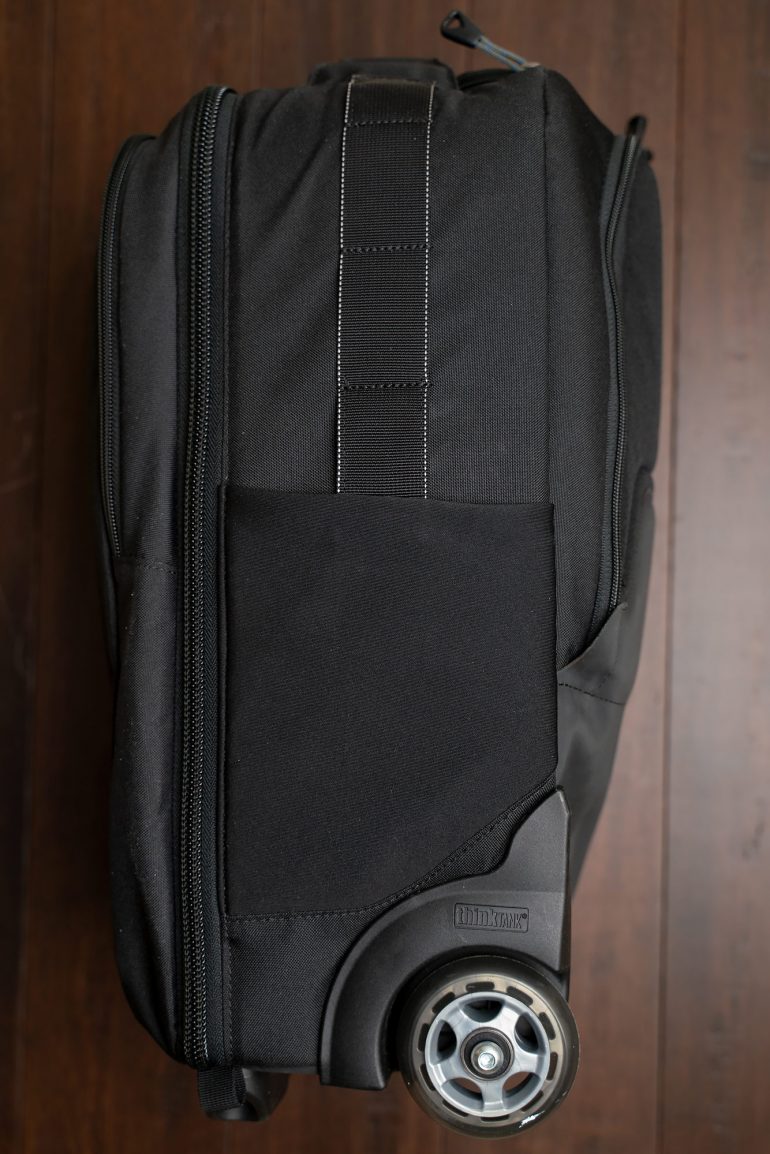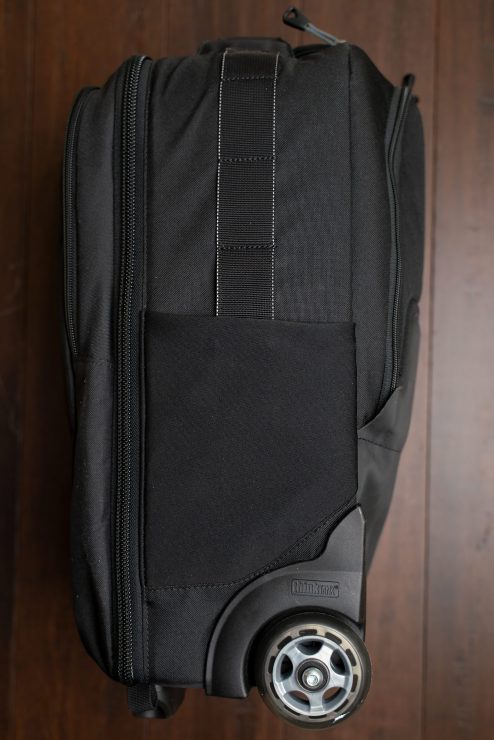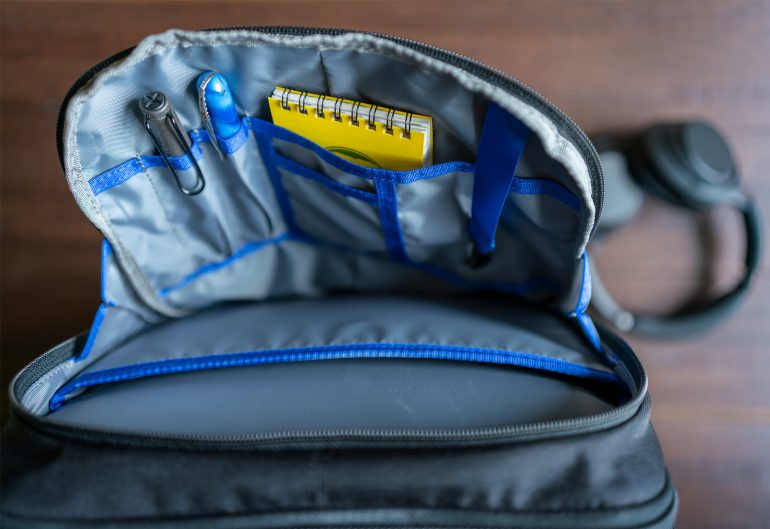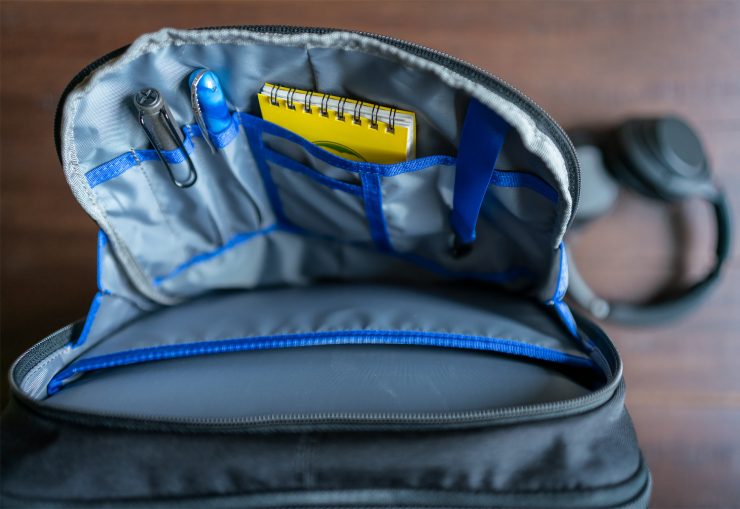 At the top of the front flap of the bag there's a zippered laptop pocket. It should fit a 15″ laptop with no trouble, and it might fit some larger laptops if they're sufficiently thin. My little Surface Pro slides in easily.
With the quality of modern day cameras and lenses, I would rarely need more space than is provided by this bag, the exceptions being those times when I need to carry a large ultra-telephoto prime like a 400mm f/2.8, in which case I'd probably use the lens's dedicated case and carry it separately.
As A Backpack
When I'm traveling, especially if I need to walk from a train station to a hotel, it's a big help to be able to carry my camera bag on my back. Generally I carry the ThinkTank Naked Shapeshifter, but I like the flexibility of the Essentials Roller Backpack.
The backpack straps are normally stowed in a zippered flap on the back of the pack. When zipped open, the flap folds down and attaches with Velcro to the bottom of the bag creating a good pad where the pack rests against your lower back. There's also an adjustable chest strap (adjustable in height and width).
All things considered, the bag is remarkably comfortable as a backpack. Because the straps are designed to be stowed away in a pocket, they're not as thick as a dedicated hiking pack's would be, but they're as comfortable as most of the school backpacks that I used to use, if not better.
Build Quality and Special Features
Like every ThinkTank bag in my collection, the Essentials roller is sturdily built for true professional use. The YKK zippers are beefy. The exterior is 1680D ballistic nylon (with water repellent coatings) and isn't going to rip or tear, and the seams are held fast with heavy 3-ply bonded nylon thread. Exactly as you'd expect from ThinkTank.
The roller wheels are smooth, quiet 80mm inline-skate style wheels that are easy to replace if they wear out (or you you want to add a pop of color to make your bag stand out at baggage claim).
In a pocket on the left side of the bag you'll find a small combination lock and steel cable which can be used to lock the main compartment's zippers together or to lock the bag to the luggage rack while you're on the train in India. It's not going to stop the Lock Picking Lawyer, but it's way better than nothing.
One of the great things about this bag, especially if you're pulling out of overhead compartments frequently, is that it has handles on the top and bottom as well as the side, so it's easy to maneuver in and out of tight places.
If I have any complaints about the build quality of this bag, it's that the pull up handle (to use it as a roller) rattles a little more than I'd like. That said, it doesn't create any sort of actual problem, and this is one place that I'm OK with them saving a little weight rather than going with some sort of over-built handle.
Conclusion & Rating
Like most ThinkTank equipment, the Essentials Rolling Backpack is well designed and well built for serious professional use. It's a great size for travel: big enough to hold enough gear, small enough to be manageable in planes and trains. As a roller it is nearly faultless, and as a backpack, it's surprisingly comfortable if you're walking across a city (but probably not the best choice for, say, the Pacific Crest Trail). For its quality, it's very reasonably priced at $279. You can buy it directly from ThinkTank, but it's also available on Amazon or at B&H.
There are, of course, cheaper options of dubious quality. There's a bag made by CADeN that costs only about $90 on Amazon, with complaints of zippers falling apart and fabric ripping. But looking at packs from reputable companies, many options are either too large, more expensive, or both. The Lowepro LP37272 costs $384.62 and weighs 8.5lbs, empty (but may be more comfortable as a backpack). A Neewer option costs $175 but is a foot thick! Vanguard's 55T and 58T ($340.61) are both similar in size to the ThinkTank Essentials, and a little less expensive, but weigh 8.5lbs and 10.5lbs, respectively, and can only carry up to a 14″ laptop (the ThinkTank can manage a 16″).
So, for those of you looking for a Goldilocks sized bag for travel with excellent build quality, we think that the ThinkTank's "Essentials" is a great option at a reasonable price.
Review: ThinkTank Essentials Rolling Backpack
To Sum Up:
If you're looking for a Goldilocks sized bag for travel with excellent build quality, we think that the ThinkTank's "Essentials" is a great option at a reasonable price.
Pros
Sturdy & Well Designed
A great size for travel; not too big or too small
Flexible; smooth rolling, useful as backpack
Cons
Backpack straps not ideal for multi-hour hikes