The high degree of similarity between Canon's two new cameras, the Rebel T7i and 77D, is obscured by their names; the previous generations of these two cameras were called the Rebels T6i and T6s. It seems that Canon has deliberately attempted to make these cameras appear more different than they really are: in their original press release, Canon only mentioned that the 77D features anti-flicker technology, and the term "anti-flicker" is completely absent from the T7i feature-list page on Canon USA's current website. However, both cameras share the exact same metering sensor and anti-flicker technology (as can easily be seen by downloading the T7i PDF manual, p.179).
So what are the real differences between these cameras? Let's take a closer look.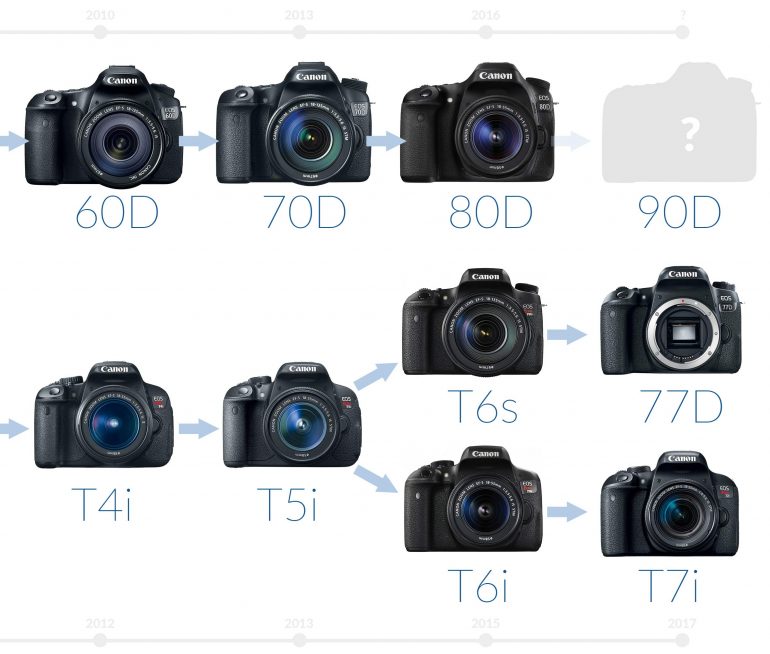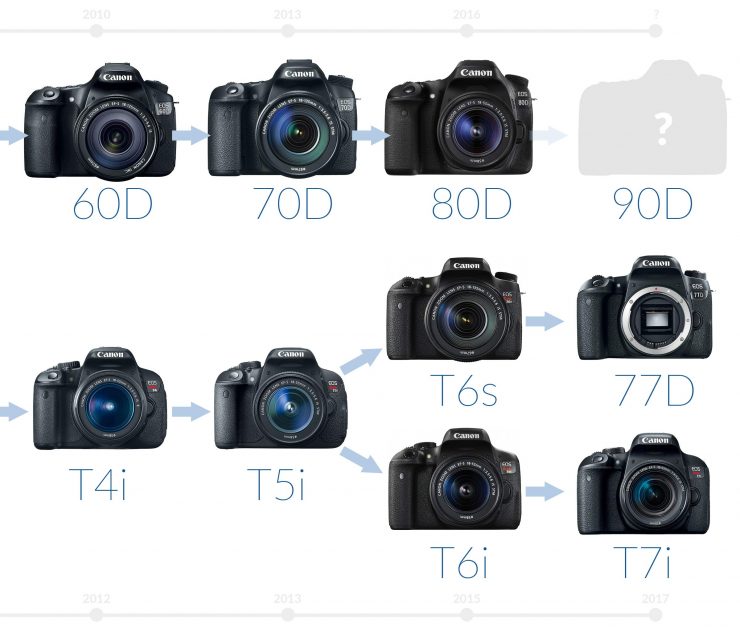 The Major Specs
Before we get into the details, take a look at the general specs for these two cameras. Differences are highlighted in green.
Canon T7i
Canon 77D
Body Price
(current Amazon)
$
$
Body + 18-135mm Lens
(current Amazon)
$
$
Rear LCD
1,040,000 pixel
Touch Sensitive
1,040,000 pixel
Touch Sensitive
Sensor Resolution
(Megapixels)
24.2
24.2
Processor
Digic 7
Digic 7
ISO Range
100-25600
+51200
100-25600
+51200
Shutter Speeds
30-1/4000
30-1/4000
Flash Sync
1/200th
1/200th
Max. Frame Rate
6 fps
6 fps
Max. RAW Burst
21 or
27 (w/ UHS-I)
21 or
27 (w/ UHS-I)
Max. JPG Burst
(fine)
190 or
Unlimited (w/ UHS-I)
190 or
Unlimited (w/ UHS-I)
Autofocus Points
(All Cross Type)
45
45
Meter Sensor
7560-pixel RGB+IR
7560-pixel RGB+IR
Anti-Flicker
YES
YES
AF Sensitivity
-3 - 18 EV
-3 - 18 EV
Autofocus For Video
Yes, Dual Pixel CMOS AF
Yes, Dual Pixel CMOS AF
Touch Screen AF
YES
YES
Electronic Image Stabilization
(For Video Only)
YES
YES
Video Resolutions
1080p @ 24, 30, 60 fps
720p @ 30, 50, 60 fps
1080p @ 24, 30, 60 fps
720p @ 30, 50, 60 fps
Card Slots
1 SD (SDXC)
UHS-I Support
1 SD (SDXC)
UHS-I Support
Connectivity
Wi-Fi
NFC
USB
Bluetooth
Wi-Fi
NFC
USB
Bluetooth
Interval Timer (Photos, Video)
NO, YES

YES, YES

Feature Assistant
(User Interface for Beginners)
YES
YES (Off by default)
Battery Life
(CIPA)
600
600
Size
131.0 × 99.9 × 76.2mm
131.0 × 99.9 × 76.2mm
Weight
(CIPA)

532g

540g
Viewfinder Type
Pentamirror
Pentamirror
Viewfinder Coverage/
Magnification
95%
.82x
95%
.82x
As you can see, the cameras are practically identical, internally. The Canon 77D simply does not have any major features that the T7i lacks, though the built-in interval timer on the 77D will certainly come in handy for those who shoot time-lapse work. The cameras are otherwise identical. They use the same processor and sensor, so with the same settings, there will be no difference in image quality between the T7i and 77D. But that doesn't mean that the table above tells the whole story.
Body Differences
So where are the differences between the two cameras? They're all in the body and control layout. The Canon 77D has three main body features that the T7i lacks:
top LCD panel
rear quick-control thumb dial
eye-proximity sensor (turns off rear LCD when you hold camera near your face)
dedicated thumb-button for focus (for action photographers)
The top LCD gives users quick access to their main exposure settings (shutter speed, aperture, ISO), battery level, and image count. This can be very useful for photographers who don't use a full-automatic shooting mode, but since the information can also be accessed via the quick-info button on the rear LCD, it is somewhat less important than it once was. For photographers who grew up using autofocus film SLRs and cultivated a habit of using the top LCD it remains an important feature.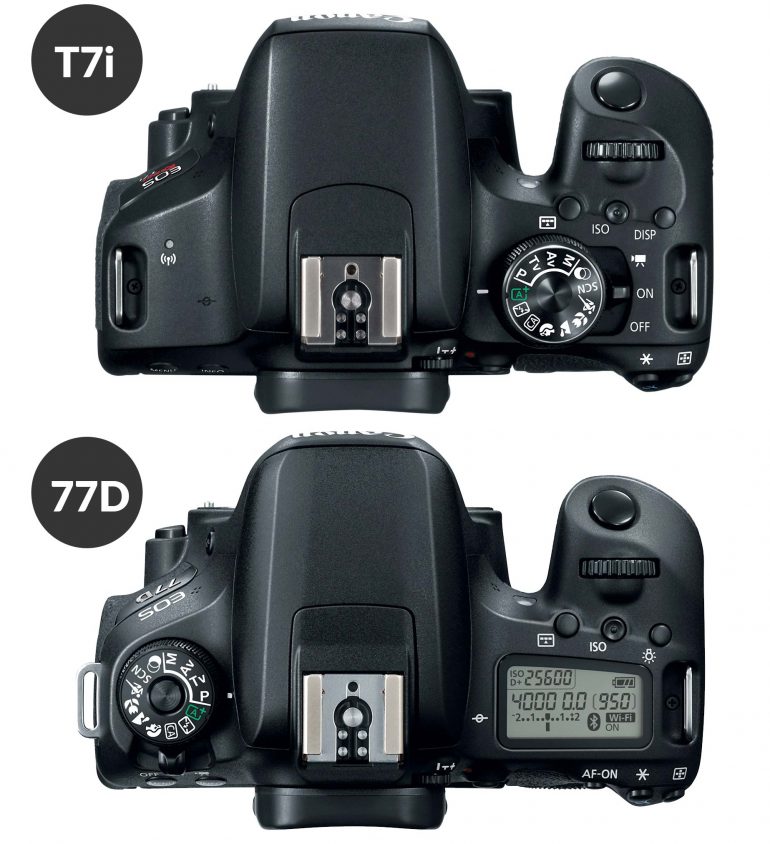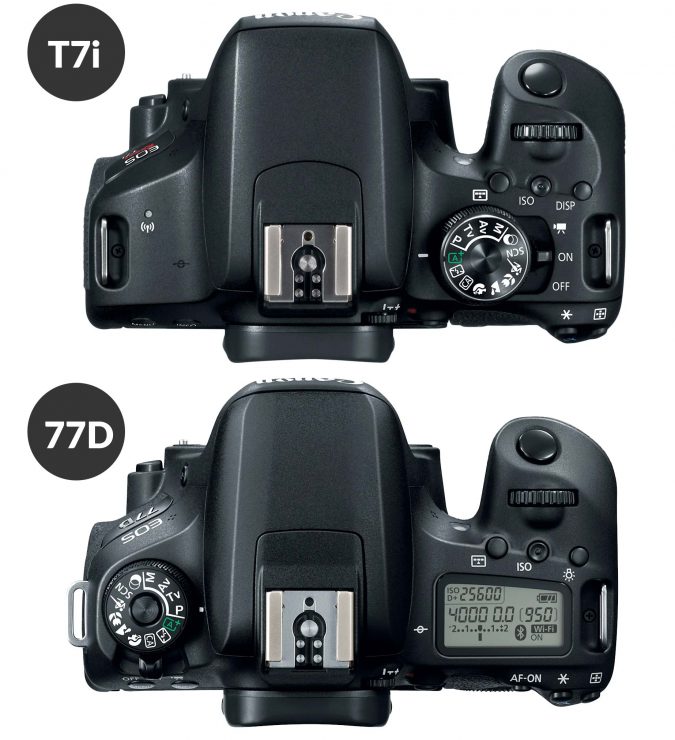 The rear quick-control dial is used to quickly control exposure compensation (how bright or dark your image is), perhaps the most important feature in separating beginners from advanced photographers. While both cameras do provide exposure compensation, only the Canon 77D has quick access to it by default (without pressing buttons or entering menus). When would you use this? In strong back-lighting situations, camera auto-exposures will frequently under-expose the subject, creating a silhouette or at least deep shadows on the subject (eg, a person standing in front of a sunset, against a bright sky, etc). The opposite may also occur, and your subject may be blown out when he or she is in bright light but the background is dark. This dial lets you quickly correct the camera's mistakes, if you know how to use it. The images below were shot with a different camera, but all required exposure compensation to some degree.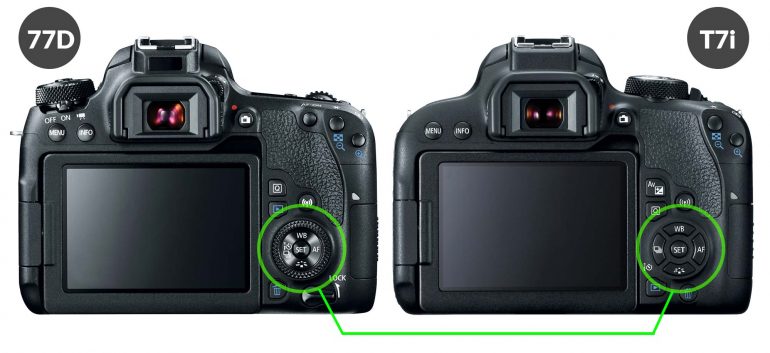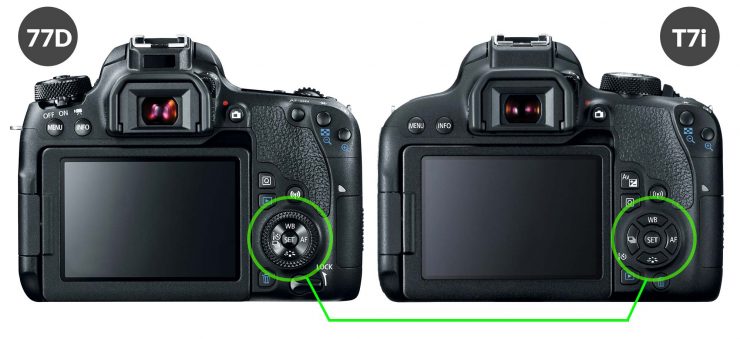 The proximity sensor may be handy for photographers who frequently use live-view, or frequently switch between shooting video and stills, and want to save a little bit of their battery's juice.
Finally, the 77D has a dedicated back-focusing button for those photographers who want to use their thumb to start AF operation and only use the shutter button to take photos. This is popular with sports photographers, and is getting more popular with portrait photographers as well.
Conclusion: Which Camera is Right for You?
If you're looking to buy a new Canon T7i or Canon 77D and can't decide which way to go, here's how I'd look at it: if you're interested in a camera that can take sharp, vibrant, high-quality photos and video, go with the T7i. If you're interested in photography and learning to be a better photographer (and those high-quality images), then get the 77D. Both cameras will give you the same performance and the same image quality. The only difference is in how much easy control you'll get over your camera's advanced features.
And more generally, my advice is always this: buy the least expensive camera that will meet your needs, and buy the best lenses that you can afford. High quality lenses will make a larger difference in your photography, and they retain their value much better than camera bodies.
Looking for the best lens for your area of interest? Feel free to ask for recommendations below.
Find this useful? Help out by ordering from the links on this page!
Buy from Amazon: Canon 77D | Canon T7i
Buy from B&H Photo: Canon 77D| Canon T7i
Questions? Comments?
Please feel free to comment! Still aren't sure which one to get? Think that I missed something? Just let me know in the comment section below, and I'll answer as quickly as I can.