If you've been looking at buying a new camera in the past year or two, you've almost certainly been confronted with the dilemma: mirrorless or DSLR? And if you've been considering the Nikon D7500, the introduction of the Nikon Z50 should bring that issue to the forefront. They're both excellent cameras, each with its own advantages. There are two main grounds that should decide the issue for you: camera performance, and the viability of the overall system. Let's start with performance.
The Basics
Before going on, here's a look at the basic specs of the two cameras, with the major differences highlighted in green where one camera has an obvious advantage.
Nikon Z50
Nikon D7500
Price (body)

$856.95
$996.95
Price With Kit Lens

$997 with 16-50mm VR
$1,396.95
Lens Mount
Z-Mount
F-Mount
Viewfinder Type
2.36 million dot OLED electronic viewfinder
Optical Viewfinder (pentaprism)
Viewfinder Coverage
100% Frame
1.02x Magnification
100% Frame
.94x Magnification
Body Material
Magnesium Alloy
Plastic Monocoque Body
Dust/Weather Sealed Body
Yes
Yes
Sensor Resolution
20.9 Megapixel
20.9 Megapixel
Optical Low Pass Filter
(Reduces sharpness, prevents moire)
NO
(Confirmed 12/16/2019)
NO
ISO Range
100 - 51200
100 - 51200
Total AF Points

209

51
AF Light Level Range
-2 to +19 EV

-3 to +19 EV

Autofocus Fine Tuning
Adjustments

Not Necessary

YES
Shutter Speed Range
1/4000th - 30 sec.
+bulb
1/8000th - 30 sec.
+bulb
Max Frame Rate

11 fps

8 fps
Max RAW Burst
(buffer size)
?

50 shots 14-bit compressed

Max JPG Burst
(fine, Large)
?
100
Flash Sync Speed
1/200th sec.

1/250th sec.

Wireless Flash With
Built-in Commander
Yes
Yes
Nikon RADIO Wireless Flash Compatible
?

YES

Auto FP Flash Mode
(High Speed Sync)
Yes
Yes
Media Slots
1 SDXC (UHS-I)
1 SDXC (UHS-I)
Quick Access User Modes
(Saved U1, U2 programs)
YES
YES
LCD Size
3.2"
1,040,000 dots
3.2"
922,000 dots
LCD Articulated
YES
YES
LCD Touchscreen
YES
YES
Bluetooth
YES
YES
Built-in WiFi
YES
(2.4, 5GHz)
YES
Body Weight
395g (no battery)
450g (with battery & card)
640g (no battery)
720g (with battery)
Body Size
126.5mm x 93.5mm x 60mm
135.5mm x 104mm
x 72.5mm

Battery Life
300 Shots CIPA Standards
(EN-EL25 Battery)
950 Shots
CIPA Standards
Full Sensor 4K

Yes

No
Video Resolutions
3,840 x 2,160 (4K: 30, 25, 24 fps)


1920 x 1080 (120, 60, 50, 30, 25, 24 fps)


1280 x 720 (60, 50 fps)
640 x 424 (30, 25 fps)
3,840 x 2,160 (4K: 30, 25, 24 fps)
1920 x 1080 (60, 50, 30, 25, 24 fps)
1280 x 720 (60, 50 fps)
640 x 424 (30, 25 fps)
Headphone Jack
No

YES

Connectivity
USB 2.0
USB 2.0
The Major Differences
There are two major differences between the cameras that first need to be considered: the lens mount, and the viewfinder.
The "mirrorless" part of the discussion comes from the lack of mirror between the lens and the sensor which normally reflects an image up to the (optical) viewfinder in an SLR1the "R" in SLR stands for "Reflex", for the reflection of the image up to the viewfinder from a mirror. The mirror allows you to look directly through the lens to compose and focus, but then has to flip up out of the way when you take a picture to allow light to reach the sensor. All of those extra moving parts slow down the camera, introduce vibrations, and increase the risk of camera-failure.

With a mirrorless camera like the Nikon Z 50, that mirror is gone. Instead, the light passes through the lens and directly onto the sensor, and the sensor feeds the image to an electronic viewfinder (rather than an optical viewfinder). This also means that the light falling on the sensor is used to focus the lens (while a DSLR uses light reflected from the mirror to focus, and an assumption of how that light will be focused on the sensor when the mirror moves out of the way when the picture is taken).
The electronic viewfinder can give you a very good preview of what your exposure will look like, and it can provide more information than a standard viewfinder, but it does require more battery power.2For more information about the advantages of each type of viewfinder, see my article on the subject, here. Since a mirrorless camera has to constantly power an LCD or OLED monitor, their battery life is often rated at about 1/3rd that of a DSLR. In real use, though, you could get thousands of shots on a single charge if you shot them quickly; the problem comes when you are shooting those shots over a long period of time. If you shoot a lot of long events, you'll want a battery grip or a couple of spare batteries.
The Nikon Z50 uses the new Nikon Z mount, which is significantly larger than the F mount, and as it is new, there are far fewer lenses made for it (though older lenses can be attached with a Nikon adapter). The larger mount provides the potential for better data transmission between the body and lens and allows for larger maximum apertures (like f/1.2, or even f/0.95) that allow more light to get to the sensor.
It also means that there are only a handful of lenses available for Nikon Z mount right now, and only two specifically designed for DX sensors (though FX lenses can also be used).
The Other Differences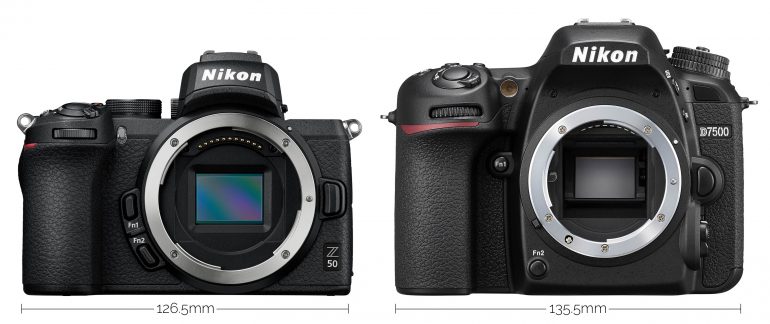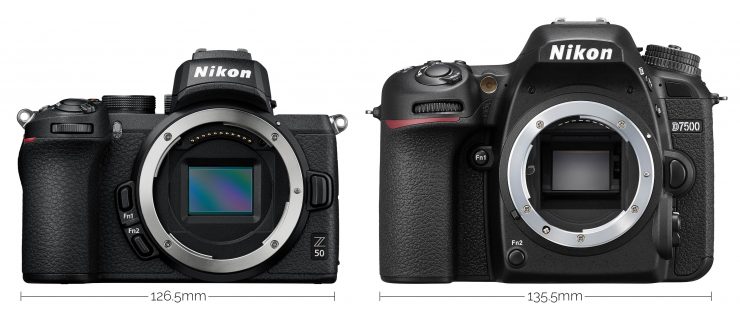 Size & Body
Probably the most obvious difference between the cameras will be in their size and weight. Although the Nikon Z50 has a partial magnesium alloy body (like the old D7200) and only looks a bit smaller than the D7500, it weighs about HALF as much (54%, to be precise). This makes the Z50 an excellent camera for travelers, hikers, and street photographers who want to be discreet and lightweight.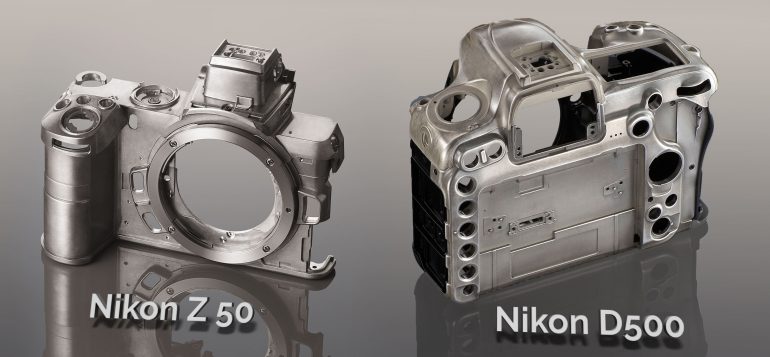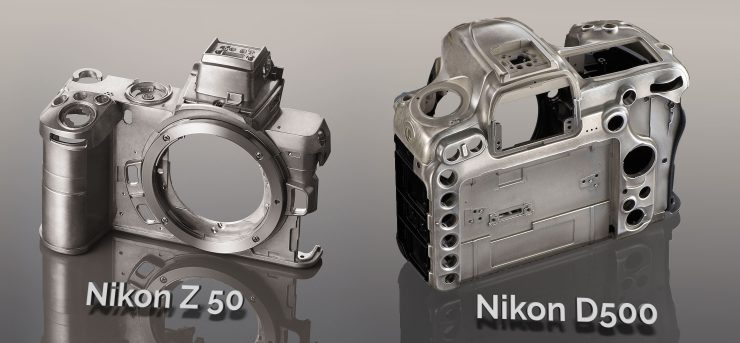 There are also numerous differences in the controls as a result. The Z50 does not have a camera-top LCD screen, and the mode dial has been moved to the right of the viewfinder. However, the dial does retain the U1 and U2 user modes.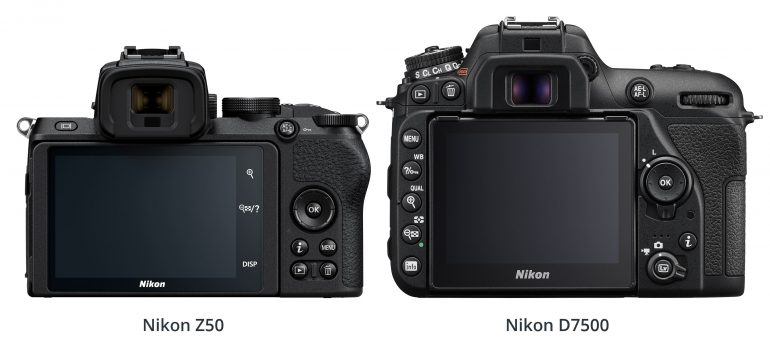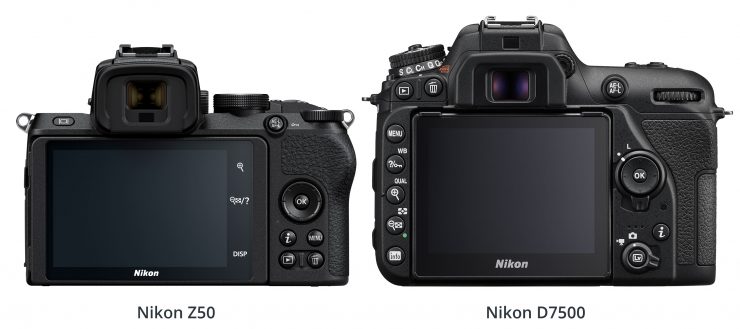 Autofocus
I've had a limited amount of time to shoot with the Nikon Z50, but the conditions were good for testing autofocus (ie, poor lighting), and I was favorably impressed with how it performed, though I was not allowed to insert an SD card or keep any images.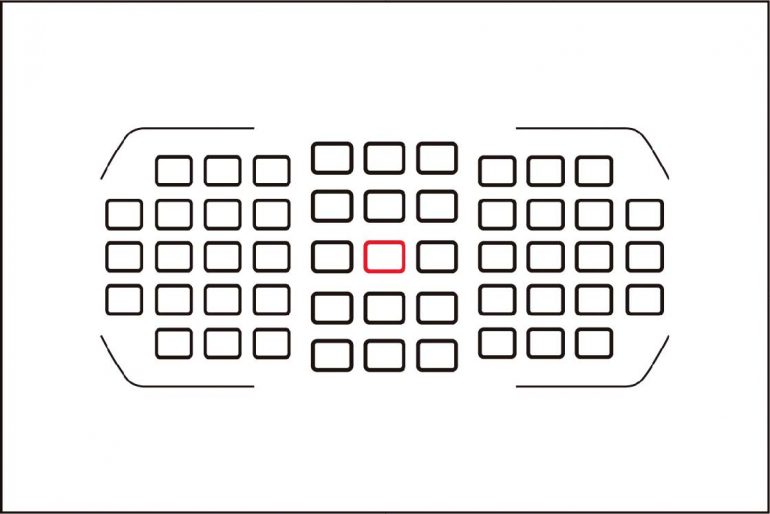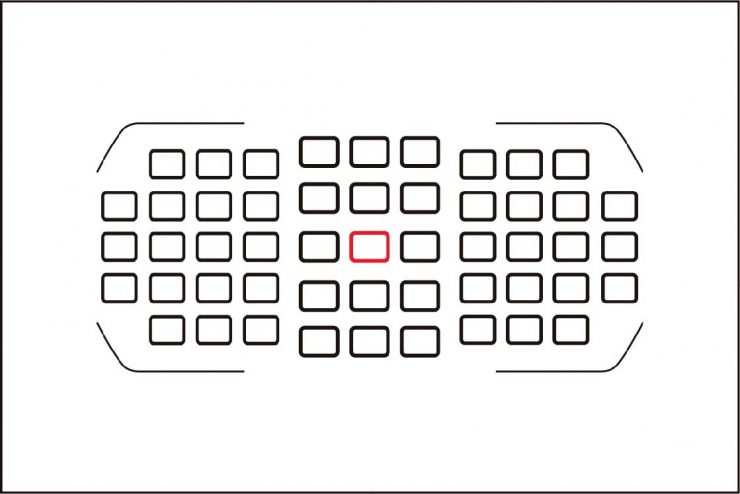 The Nikon Z50 has more than four times the number of autofocus points as the D7500, and they cover a larger portion of the viewfinder3Keep in mind that not all AF points are created equal: many of the D7500's points are cross-type, which means that they'll focus on horizontal OR vertical lines (non cross-type points will focus on one or the other). See my video on cross-type points for more info. Of course, even if we count each of the D7500's as two points, the Z50 has twice as many.. Another advantage of a mirrorless autofocus system is that implementation of eye-detection and subject tracking is much easier4Currently, the Canon 90D is the only DSLR with eye detection, as far as I know. Face and eye-AF is available on the Z50 (but not the D7500), dramatically improving your chances of getting sharp focus on your subject's eyes.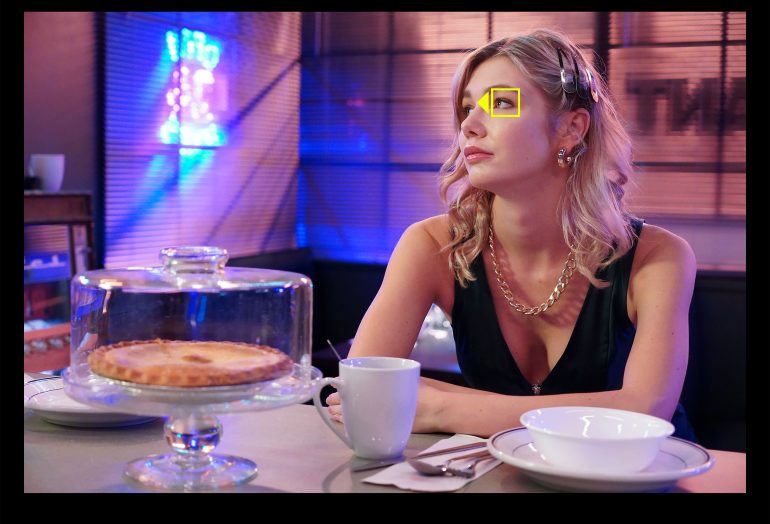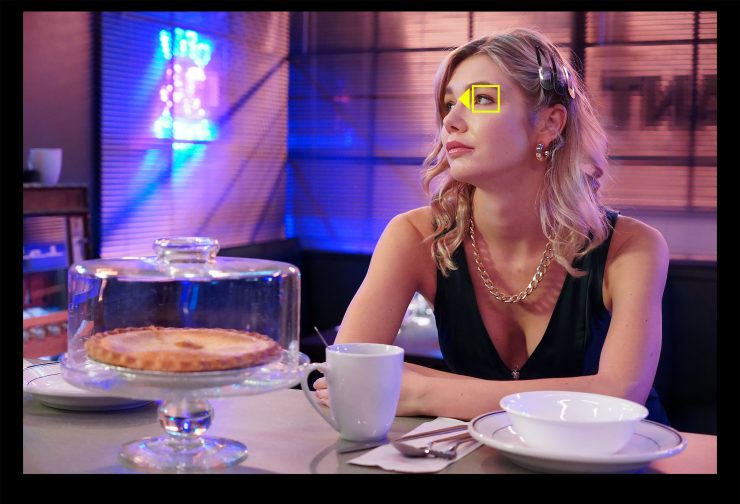 Nikon's eye detection AF is implemented somewhat differently than Sony's; in a Sony camera, when you focus the camera (either using the back button or by pressing the shutter button halfway down), the camera starts detecting and tracking the eyes of your subject. On the Nikon, though, as you're looking through the viewfinder, the camera begins tracking the eyes, but if you press the shutter button halfway, it locks focus at that particular point in the frame, whether or not the eye remains there.
That said, Nikon users will be familiar with the fast, accurate AF performance of their DSLRs like the D7500. Focus is reliable and unquestionably suitable for professional use, even without eye detection.
Speed For Action Photography
While the Z50 is small, it packs a punch, shooting 11 frames per second with autofocus tracking (matching the Sony a6400), besting the action-oriented D7500 by 3 frames per second.

That said, the shutter speed range of the Z50 only extends to 1/4000th second, while the D7500 reaches 1/8000th. Only the most dedicated action photographers will care, though; even 1/1000th sec. is enough to stop the action in most sports. The minor-league baseball shots above were all captured at 1/2000th of a second (with a Sony camera).
Image Quality for Portraits and Landscapes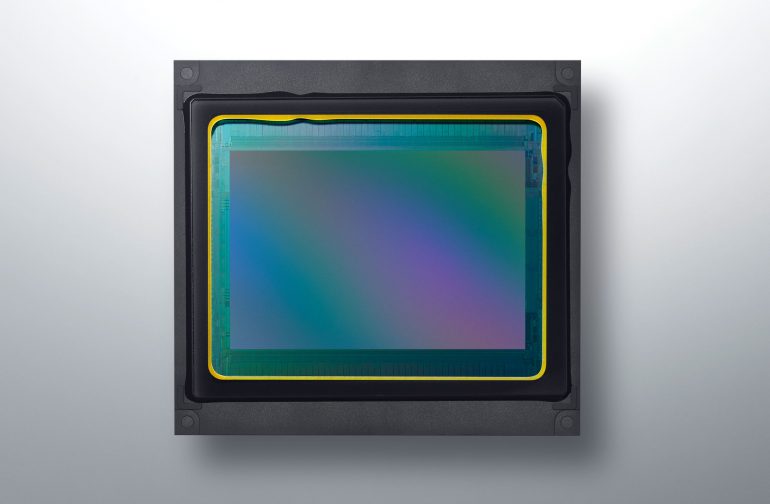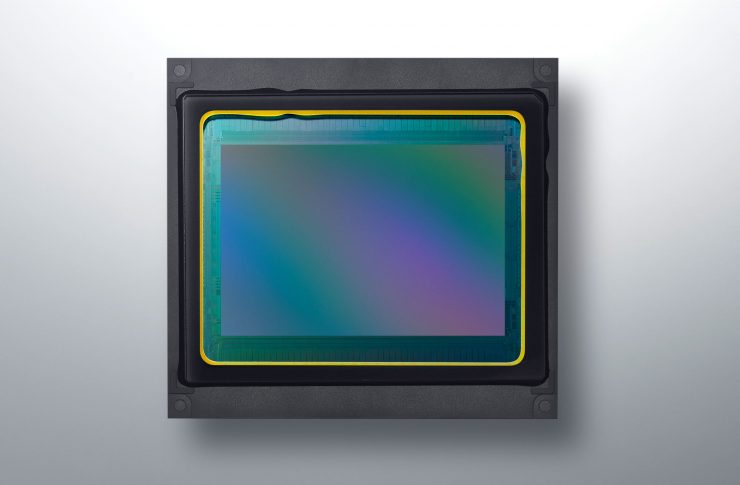 Both cameras house a 20.9 megapixel sensor, so RAW shooters should get virtually identical image quality and color. However, the sensors are not identical; the Z50′s sensor includes phase-detection autofocus pixels.
I've just finally confirmed5As of (12/16/2019), I've updated this article to reflect the fact that the Z50's sensor has no OLPF; the previous version stated that it might have one and consequently not be as sharp as the D7500. That is not true. that the Z50's sensor also does not have an optical low-pass filter (OLPF), so it's the same as the D7500 in that regard, and should be equally sharp.
Video
First: I'm a photographer, and hardly shoot video at all. I recommend that you look elsewhere for a full review if video is one of your main concerns for these cameras. That said…
However, the Nikon Z50 has some very clear advantages when it comes to video. While the Z50 shoots 4K video with the full sensor, the D7500 crops to the central 8 megapixels of the frame, making it very difficult to shoot wide angle.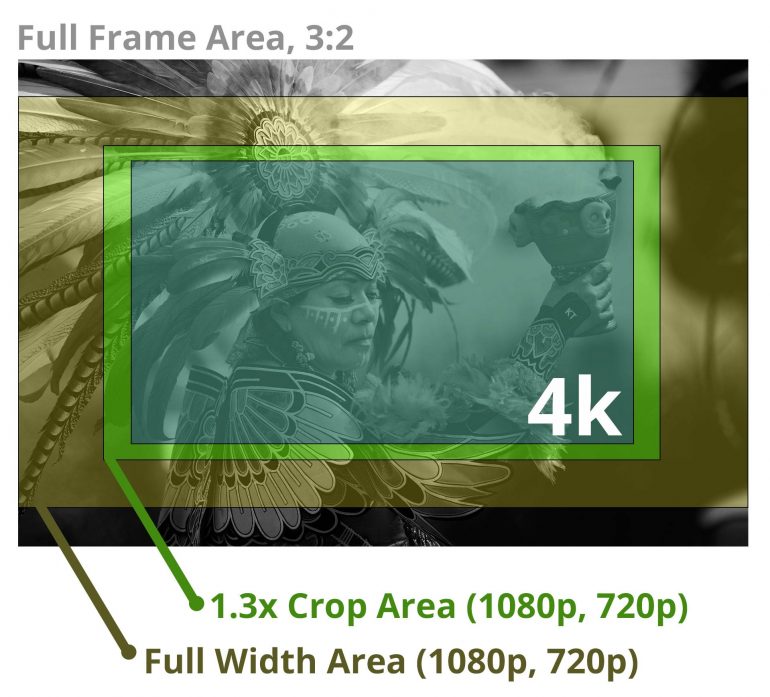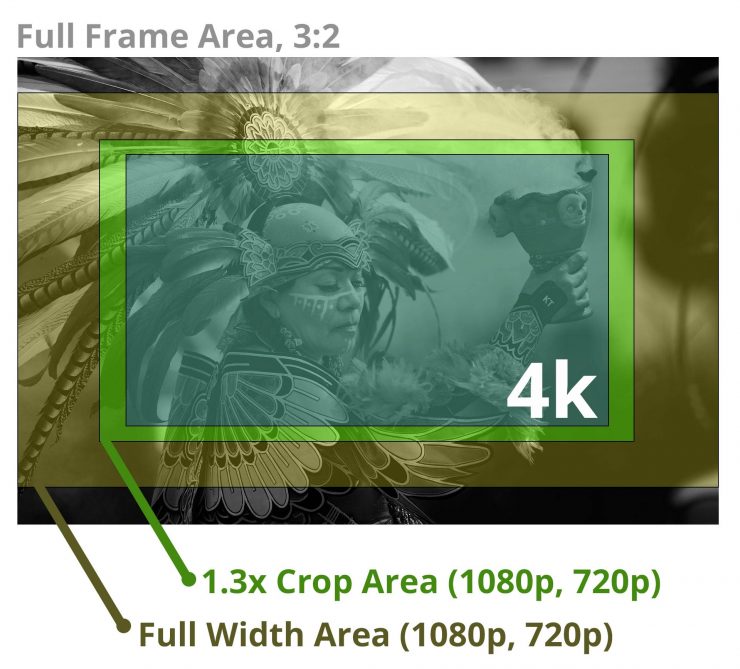 Perhaps more importantly, though, is that the D7500 has seriously limited autofocus functionality when shooting video. The D7500 relies on the slow, old system of contrast detection (which requires the sensor to focus slowly to the focal plane, then focus past it, and then return to the point with the best contrast; this is a separate system from the phase detection AF system that it uses for photography, which is excellent, but relies on the mirror to operate.
The Z 50, on the other hand, uses the same phase detection autofocus system to focus photographs and video, which is fast and reliable.
The Overall Systems
Currently, the Nikon Z system is only about a year old, and although older lenses are compatible with adapters, that's a hassle that not everyone wants to deal with (even if there really is no performance loss with the adapter, which is doubtful), and the lens choices for Nikon Z are still limited.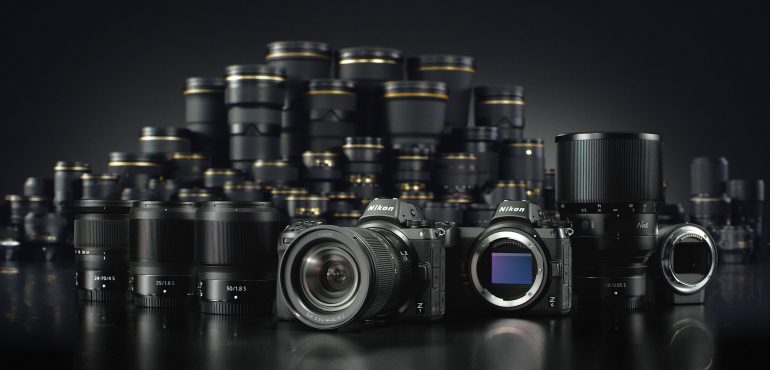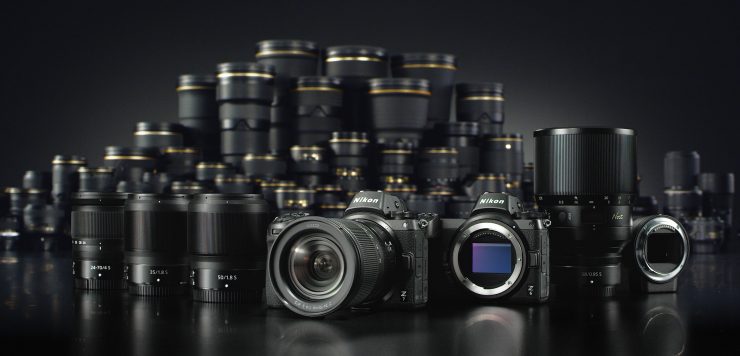 However, the Nikon Z system is the company's future. Though they say that they'll continue to develop DSLRs along side their mirrorless cameras, it's clear that their focus will be on the Z system, and the Z-mount offers much more room for development. As I've said before, the days of DSLRs are limited (and sales of DSLRs have dropped dramatically over the past few years).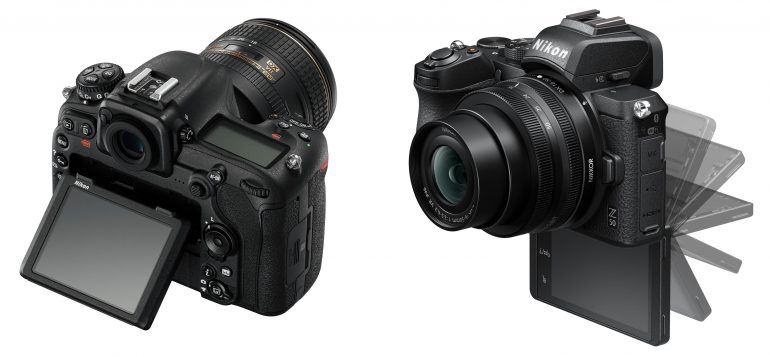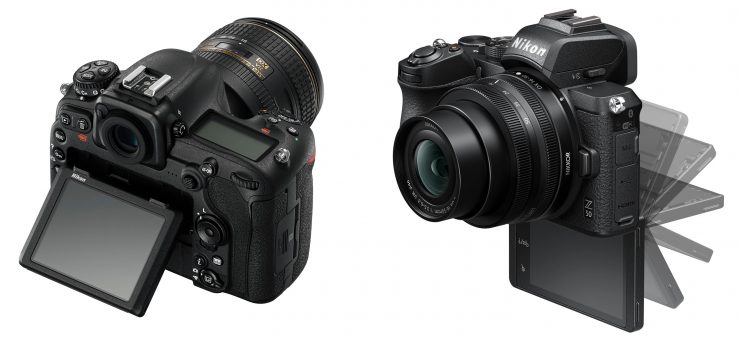 Conclusion
If you can do it, this is the time to make the switch to mirrorless.
However, make sure that the lenses exist to meet your needs in the Z-system, or that adapted lenses will be sufficient for you. If you need long telephoto lenses to shoot birds, for example, there are no native Z-lenses available. In my experience with the FTZ adapter, the lenses focus just as quickly as native, but I haven't tested super telephotos… and the FTZ adapter also doesn't work very well with Sigma and Tamron lenses, which cuts down your options. To wrap up:
Get the Nikon Z50 if you want:
the smallest, lightest camera, with equally good image quality
a blazing fast frame rate for shooting sports
to get the latest features, such as eye-detection focusing
a viewfinder preview of your exposure, and a larger viewfinder image
to future-proof your purchase and get into Nikon's newest camera system
If you don't mind using adapted lenses for those that are not yet made in Z-mount
you're already heavily invested in Nikon F-mount bodies or lenses and you don't want to use them with an adapter, or want the option to buy less expensive older lenses
you absolutely need a to use shutterspeeds that are higher than 1/4000th second
you prefer the comfort of a larger camera
you prefer an optical viewfinder
you need the longest battery life possible
Still not sure? Just ask!
If you're having trouble deciding which one to get, feel free to ask me any further questions that you might have in the comment section below. I generally try to respond within a few hours (when I'm not traveling or on a shoot of my own).
---